Ordination makes history on many levels
Posted by Erik Alsgaard on
Updated June 3, 10:45 a.m.
One of the high holy moments of any Annual Conference Session is the service of commissioning, reception and ordination. The 235th BWC Session was no different, but in many ways, totally different than any other in its storied past.
That's because, for the first time, two openly gay candidates were approved by the Clergy Session: one for commissioning and one for ordination. It is the Clergy Session, acting on behalf of the Annual Conference, that approves – or "elects" – candidates to ordained and commissioned ministry. Paragraph 33 of the Book of Discipline states that the "annual conference is the basic body in the Church," and thus has certain rights. One of those rights is dealing with "all matters relating to the character and conference relations of its clergy members, and on the ordination of clergy…"
Thus, at the worship service May 31, Bishop LaTrelle Easterling commissioned Tara Cressler "TC" Morrow as a provisional Deacon and ordained the Rev. Joey Heath-Mason as a full Elder. Both Morrow and Heath-Mason are married to people of the same gender.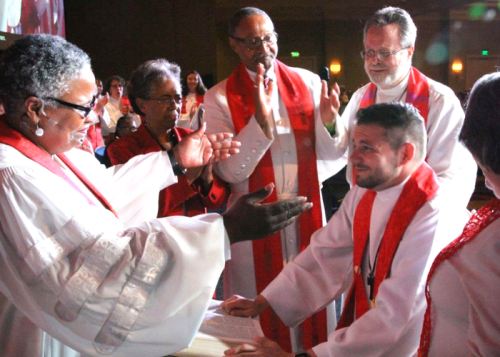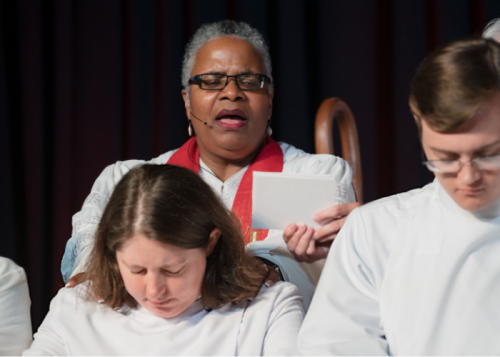 "I am feeling so wonderful right now," said Morrow immediately after the service, "and so surrounded by love and people that have been working for this day. I think this is an important day in the life of The United Methodist Church and whatever God is continuing to do in us and through us."
Morrow, who attended the 2019 Special Session of General Conference as an observer, said she left there with a "strong word from God." That word, she said, was "stay the course."
That Special Session passed legislation reinforcing the stance that "self-avowed, practicing homosexuals are not to be certified as candidates, ordained as ministers, or appointed to serve in The United Methodist Church." It also adopted stronger penalties for clergy who conduct same-gender weddings, something also prohibited. Most of the newly adopted Traditional Plan takes effect January 1, 2020.
Commissioning in the UMC is next-to-last step towards full membership and ordination. Morrow, who works at the National Religious Campaign Against Torture in Washington, said she continues on that track and prayerfully expects to be ordained a full-member Deacon in three years.
"We don't know where we'll be in three years as a denomination," she said, "but I will continue to be on the path to ordination."
Heath-Mason, who serves as a chaplain at American University in Washington, said after the service that he, too, was overjoyed and thankful.
"It feels a little surreal," he said. "This was never supposed to happen — at least the church says so — but God had other plans."
Both Heath-Mason and Morrow are members of the Queer Clergy Caucus, and pledge to be active in the future of whatever's next for the church.
"Something new is coming," Heath-Mason said. "Whether it is a birthing or a reforming… something new is coming and I'll continue to work at it and make it possible for others to follow behind me."
Heath-Mason also takes his ordination and Morrow's commissioning as a sign that God isn't done with the church just yet.
"God is still speaking and moving," he said. "The Holy Spirit is calling us somewhere, even if we don't quite understand it. God is calling us to do work that we can't even comprehend, but that work is going to include everyone."
The service was also historic because, for perhaps the first time, a bishop commissioned her husband as a Provisional Elder. Bishop Cynthia Moore-Koikoi, resident bishop of the Pittsburgh Area, and a daughter of the BWC, returned home to commission her husband, Rafael Koikoi Jr.
"I knew that she was going to be a part of the service," said Koikoi. "But I'm kneeling there, and I feel hands on my shoulder, and there's something familiar about the hands. And then I hear her voice and all I can think is, 'What a God moment.' At a time when the church says we're splitting up, here you find a husband being blessed by his wife."
Bishop Moore-Koikoi said it was a wonderful experience to commission her husband, and that she felt the presence of God in a powerful way. As she was commissioning him, she raised her right hand high in the air and her voice crackled with emotion.
"I was receiving from heaven and imparting to my husband," she said. "That level of intimacy was witnessed by thousands of people was just phenomenal to me."
Bishop Moore-Koikoi, who was a clergy member of the Baltimore-Washington Conference when she was elected a bishop in 2016, said she asked her husband what he wanted her to be in the moment of commissioning: her wife or a bishop. His response: "Both."
The service was also historic because, for perhaps the first time, an infant joined his parents in ordination. The Rev. Lemuel Dominguez was ordained accompanied by his wife, the Rev. Bonnie McCubbin, and their son, 18-month old Abraham.
Bishop LaTrelle Easterling, in her sermon, reminded the newly commissioned and those about to be ordained that they were not volunteers, but servants.
Volunteers, she said, decide when they'll show up, how they'll show up and for whom they'll show up. "You are servants of the living God," she said. "Lose yourself in the service of others."
Bishop Easterling commended the class for continuing to follow their call even after the Special Session of General Conference earlier this year.
"You felt the tectonic shift and you have continued to say yes, anyhow," she said. "You are entering the ministry in a time in the church not seen in 150 years."
The bishop ended her sermon with the same charge she gave the graduating class at Wesley Theological Seminary: today marks the end of a season of your journey, she said, but your time of formation is not over.
"Love the people," she said. "Love the people."
Not all people in the BWC were happy with the bishop's decision to commission and ordain. Pastor Patricia Bittner, who serves the Flintstone Charge, said during a moment of personal privilege Friday afternoon that by commissioning two candidates "who we all know do not meet the requirements, we are openly and blatantly disregarding our current Book of Discipline guidelines. As our Bishop, representing all the people in the Baltimore-Washington Conference, I feel that if they are commissioned and ordained this evening, you are sanctioning this disobedient action and possibly encouraging further disobedience to our Book of Discipline, thus creating more division among us."