Oklahoma Churches Offer New Pathways for Shared Ministry
Posted by Guest Author on
Rev. Rodney Smother, the Director of Leadership and Congregational Development for the Baltimore-Washington Conference, shares this story of creative discipleship. If your congregation is interested in exploring creative models for sharing spaces, contact your district superintendent or Rev. Smothers at 410-309-9958.
By Chris Schutz
From the Oklahoma Conference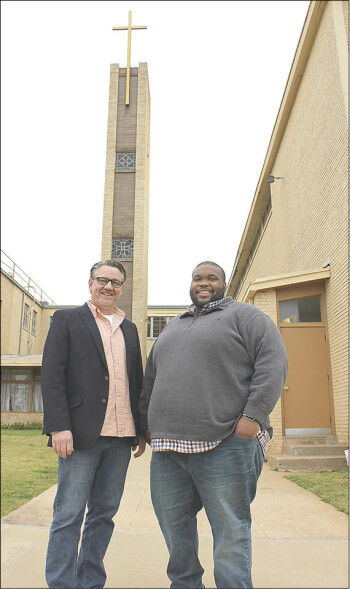 Two United Methodist churches — one majority African-American congregation and one mostly white — joined hands Dec. 10 to share the same space in downtown Oklahoma City.
That day, First Church, welcomed The Christ Experience, which moved out of its building, after worship on Dec. 3.
A move became necessary because of costly maintenance for The Christ Experience's 71-year-old building, said the Rev. Nicholas Lee, pastor of The Christ Experience. "The building itself was a strain."
The new arrangement could last several years, Lee said.
With the move to a better space, The Christ Experience will be able to commit more of its tithes and offerings to mission, rather than fixing maintenance problems, Lee said.
In a larger sense, the partnership of the two churches says something important in an era of heightened racial tensions in the United States, both pastors said.
"It makes a statement about what it means to be a child of God," said Pastor Lesly Broadbent of First Church.
Members of First Church remember being displaced after the 1995 Murrah Building bombing and being welcomed to hold their services at another church during several years of rebuilding, Rev. Broadbent said.
Now, the congregation of First is eager to extend hospitality at a time another church needs it, he said.
"I honestly believe this is a God-ordained thing," Lee said. "Somebody has to be the leader in racial reconciliation. It's a great opportunity for us to grow and thrive and be people who build the Kingdom."
He credited Heartland District Superintendent Greg Tener with the idea of bringing The Christ Experience and First under one roof.
Putting the two congregations in the same building "will bring its own issues with it," Lee said. However, "we need each other to grow."
He expects differences to arise, drawing on his own experience as the father in an interracial family. "I come at this from kind of a personal side," he said. "We'll come together and have the hard discussions, and I think we'll both be better because of it."
The Christ Experience's move to a location just over two miles away "gives us the space to do new ministries now," Lee said.
Both congregations are committed to ministering to the poor and homeless and believe the partnership will strengthen their efforts in that area, Rev. Dr. Tener said.
Lee expects his congregation to help with First Church's Friday Night Alive worship service, which especially reaches out to homeless people. The Christ Experience has an Alcoholics Anonymous ministry that is expected to continue, he said.
He wants to assure the faithful in the neighborhood of The Christ Experience that "we are not leaving the northeast side alone." The move will allow the church to "do it better." He also sees a growing population of young people downtown of various races and ethnicities and looks forward to connecting with them.
At First Church, Harris Hall will serve as The Christ Experience's sanctuary. First's congregation will continue to worship in the main sanctuary.
First Church has been doing "hospitality things" to get ready for the change, such as making improvements to the sound and projection system in that space, Broadbent said.
"They're going to be able to grow in this location. It will be a great fit for them and a great fit for us," he said. Lee expects the physical proximity of the two concurrent services will encourage people to check out each service.
Broadbent wrote in First Church's newsletter: "Please know we are already working on scheduling events, comparing calendars, and examining ministries to help ensure few conflicts in scheduling ... Please be patient with both church leadership teams as we navigate these uncharted waters ... Please join us in praying for our sisters and brothers at The Christ Experience."
Lee said that The Christ Experience's plan is to take three to five years to accumulate capital to buy or build another building. He called the agreement with First "a long-term partnership."
The Christ Experience will take bids to sell its old building, also known as Christ United Methodist Church, he said.