By Melissa Lauber
UMConnection Staff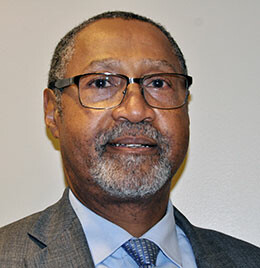 Rev. Gerard A. "Gerry" Green, Jr.
Bishop Marcus Matthews has named the Rev. Gerard A. "Gerry" Green, Jr. to serve as superintendent of the Greater Washington District. His appointment begins July 1.
Green will replace the Rev. Joseph Daniels, who has been serving as a superintendent and senior pastor of Emory UMC in Washington. Beginning in July, Daniels will focus more fully on Emory and the congregation's creation of a $56 million affordable housing project.
"Rev. Green will serve the Greater Washington District and this annual conference well," the bishop said. "He is someone who knows how to grow a church. He is a pastor's pastor who understands the value of relationship and partnership. He has a heart for mission, is wise, and brings a multitude of gifts to the Cabinet table."
Green has served in Extension Ministry since 2011 as a staff pastor and pastoral counselor at Asbury Methodist Village, a continuing care retirement community in Gaithersburg. Prior to that, he served for 13 years at Epworth UMC in Gaithersburg and Metropolitan UMC in Severn. Before entering the ministry, we worked for 34 years as an educator and counselor in the Howard County Public School System.
Green is also a licensed clinical professional counselor. His doctoral degree is from Loyola University in Maryland. He has two Masters degrees from Boston College and a Masters of Divinity degree from Wesley Theological Seminary.
Green said he was initially surprised when the call from the bishop came. However, after hearing about the district's missional priorities and its work in clusters meeting the holistic need of individuals and communities, he is deeply excited about the possibilities.
As a leader, Green defines himself as supportive, resilient, and as a resource. Our pastors, he said, have the gifts and graces and know what is going on in their communities. "As a district, I hope we'll be living out the Great Commandment and exemplify our love of God by how we care for one another. … As followers of Wesley, we'll do all the good we can, for all the people we can, wherever we can."
This receiving and deepening of faith and putting it into action has been a part of Green's life since he can remember. As a child, he remembers observing his mother, Ida Pearl Green, who is now 97. She would go into the living room and kneel in prayer. He knew that she might be upset about something, but after she finished praying there was always, in her, a sense of relief.
"I knew that if my mom could take her concerns to God in prayer, I wanted to have that also," he said. "She has always been my example. Hers is the type of faith I want to have. Regardless of the challenges, God is always present. There is nothing, with God's help, that one cannot overcome."
Green's mother made sure he attended church. He remembers when he was still in elementary school and attending Pleasant View Methodist Church. The pastor, Thomas Barrington, said from the pulpit, "one of you might be called to ministry."
"Something, maybe the way the light from the stained glass window hit his glasses, made me believe he was speaking directly to me," Green said. "From that point on I was being nurtured."
When he was a young man, Green recalls, a church meeting in which Pleasant View, a black church, was meeting to consider merging with the white congregations of Hunting Hill and McDonald Chapel.
The three did come together, creating Fairhaven UMC. But during one of the meetings about the potential merger in April 1968, a knock on the door interrupted the conversation and those present were told that the Rev. Martin Luther King Jr. had just been assassinated.
Green kept his eyes open during the prayers and watched the white pastor pray fervently, with tears streaming down his face, for a black man and for justice. "Dr. King's life and death wasn't about black folks. It was about community and coming together," he said.
Many years later, Green attended an event in Washington commemorating Dr. King's March on Washington and he began to feel "that sense of calling coming back again." This time he answered.
This sense of history being interwoven with the present and future is very real to Green. "I want a sense of from whence I've come, so I can get a clearer sense of where I'm going," he said.
He notes, for example, that there were three ex-slaves who formed Pleasant View Church, along with a fourth man who funded the endeavor – Gary Green – his great grandfather.
The church, along with a school and cemetery, are in the village of Quince Orchard, which has been swallowed up the city of Gaithersburg.
Green's mother grew up in Quince Orchard, and today his son and daughter are creating a documentary about the place.
This sense of love and family is at the center of Green's identity. He has been married to his wife, Rita, for 42 years, has three children and three grandchildren.
He is also defined, in part, by pastoral counseling he does. "I genuinely care about people," he said. "Each one of us has a story. I feel privileged when someone allows me to enter into their story and shares it with me. When that happens it's not just the two of you. There's a presence of the holy. That's a sacred time."
To those he counsels, Green works to instill a sense of continuing to experience the joy of living.
That joy is important to him. It's part of the journey he sees himself on.
"If you see life as a journey, you don't know what's around the next corner. Some things are unexpected, and you adapt. We encounter different roads and choices and we take all of it in," Green said.
"For me it's been a wonderful journey. The things I've experienced have brought me to this point. They've made me a better person and better able to serve as a DS."
Green says he very thankful to Daniels, the current superintendent, for his vision and the way he has created and nurtured such a strong district.
During Daniel's time as superintendent, the district saw numerical growth in a season when other parts of the church were in decline, and they were faithful in the payment of apportionments, supporting the connectional system with their giving.
Two new churches were also planted – Nueva Vida, a Hispanic/Latino congregation in the College Park/Hyattsville area; and Inspire D.C., a movement of one church with many expressions, targeted toward young adults in Washington.
The district has also started a number of ministries that address hunger. In the 20019 ZIP Code, one of the most neglected in the city, for example, there is only one grocery story for 70,000 people. Churches are bringing food and hope to the people there. The district has also been active in ministries of racial reconciliation.
Daniels said he attributes the growth and vital ministries in the district to the leadership of great pastors and lay people. "We're growing because our leaders and congregations are starting to look externally, not just internally," he said, "and churches are looking to be relevant, looking to see how they can be a blessing in people's lives."
Bold visions and huge undertakings, all wrapped up in dependence on God, have been one of the hallmarks of Daniels' time as superintendent, leading the district's 66 churches in 15 ZIP Codes. The ZIP Codes are important, because "our whole vision has been around claiming your ZIP Code for Jesus Christ. We've been encouraging clergy and lay leaders to see the community as a congregation.
"We serve a big God," said Daniels. "I believe that as we dream God-sized dreams and see God-sized visions, and have the courage and strength to go after them, phenomenal things can happen."