New faith community, the Bridge, to premier at Asbury
Posted by Melissa Lauber on
By Melissa Lauber
UMConnection Staff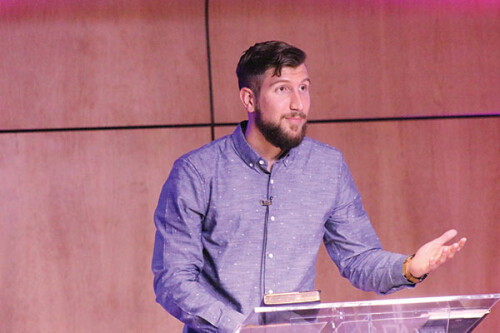 Matthew Wilke preaches at a preview service.
When The Bridge's leadership team gathered at Asbury UMC in Washington, D.C., earlier this year, Matthew Wilke looked around the room and realized that "literally nowhere else in the world would this group of people be sitting together in a room."
Even in a city as diverse as D.C., this was uncommon diversity, he said. However, it was diversity with a purpose – all kinds of God's children gathered together to create a unique weekly experience that would draw people into an encounter with Christ.
He couldn't wait to get started.
The Bridge, a new faith community designed to bring the community around Asbury UMC for "the Word, worship, wheat and wine," is scheduled to launch Sept. 25 at 6 p.m.
Two preview services were held in July and August.
Among the more than 50 in attendance were people of different genders, ages, cultures, sexual orientations, economic status, religious backgrounds and family experiences.
"We don't all have a lot in common, but when people come together around worship in Christ, in this kind of environment, amazing things can happen," Wilke said.
The initial plan for The Bridge, said Asbury's senior pastor, the Rev. Ianther Mills, called for the re-creation of "a walkable parish," at Asbury, where the new downtown community could walk to church. The people living around 926 11th St. NW in D.C., are millennials, said Mills.
Asbury is a historic African-American congregation, with two traditional worship services on Sunday mornings that tend to be highly liturgical. Currently, half of the worshippers drive in from Maryland and half are D.C. residents. But none live close enough to walk to church.
The Bridge will include some members of the congregation, but it's being designed for a new faith community to grow.
This faith community, led by a diverse leadership team, is focusing on great contemporary music, easy to follow worship, free-flowing discussions, and Communion as a mystery that binds people together and with God.
What will draw people in? "We'll all be making sure in our own lives that we're actively seeking people outside of the church and invite them in," said Wilke. "Sometimes church people make visitors feel like aliens." He advises them: "Just don't be weird. Be normal. When we all partake in something together it's just a beautiful thing."
Wilke has some experience with feeling like an alien in church. As he was growing up in Kansas, the church didn't feel very relevant. In high school, he played electric guitar in the band Mental Rush Hour, had long hair, wore skinny jeans, skateboarded and partied.
Gradually, a feeling began to grow in him. Life, everything, started feeling superficial. "I started to have a longing for something more real," he said.
His father is a United Methodist pastor and his grandfather is a bishop. He looked at the lives of people in his family and began to think, "what do they have that I don't have?"
Something was missing.
Something began to tug on him to read the Bible. He opened it at random and these words, from John 13:34 jumped out: "I give you a new commandment, that you love one another. Just as I have loved you, you also should love one another."
I really did fall in love with Jesus that night, Wilke said. "Go and love? That night everything changed."
He sensed a call to become a worship leader. He moved to Chicago and began attending Urban Village Church, a new United Methodist church plant whose "mission is to create Jesus-loving inclusive communities that ignite the city." He then spent eight months in Jerusalem studying archeology.
In the midst of these two experiences, Wilke experienced a call to ordained ministry.
When the position of associate pastor opened at Asbury, conditions conspired to lead him to Washington, accept the job and enroll in seminary at Wesley Seminary.
He will be joined in leading the Bridge experience by Rev. Alexis Brown, the BWC's campus minister at Howard University. Brown will be creating new connections between the university and the church.
The service will be held in a newly renovated fellowship hall. Originally, the plan for The Bridge was to do "church in a box," said Mills. But Asbury's trustees realized a beautiful space, with a renovated stage and state-of-the-art technology, that allows all of the church's services to be live streamed, would be the better solution.
The renovations began last January and cost $700,000. The space is already being sought after by community groups, and is also being used for classroom space by Wesley Seminary, by jazz and drama ministries, the Geriatric Center, and the monthly neighborhood breakfast that feeds 250.
"It's a well-used space," said Mills. "We're being faithful to being church, to be in mission, to making disciples of Jesus Christ, to being faithful to who the church is supposed to be."
"The fingerprints of God are all over this," Wilke said. "We'll be coming together to experience God in a real way. We're just getting started."