Maria: A Story of Immigration, Child Separation, and Faith
Posted by Guest Author on
By Melissa Lauber
To ensure their safety and protect the identities of those involved, some names in this story have been changed.
"Sometimes there are no more tears to cry," said Evelyn, a pastor in the Baltimore-Washington Conference. Evelyn has been journeying beside Maria, a migrant from Central America, over the past 17 months.
Evelyn's heart breaks and mends with Maria's. The story is soul-shattering. The ending is still being written.
Due to growing violence and a lack of opportunity in their homeland, in 2019, Maria's partner Tom fled Central America and made his way to Maryland with their oldest child, Lucy. Maria followed in August but was confronted with a choice: she could only bring one of her two other children with her. She chose the nursing baby and left her middle child with godparents.
On March 5, an aunt and cousin attempted to bring the now four-year-old child to the United States. Customs officials separated the child from her family and took her into custody. From Friday night until early Monday morning, her parents did not know where she was or her condition. On March 8, at around 5 a.m., Maria received a call. She was able to talk to her daughter by phone, but the four-year-old just cried and could not be comforted. Officials would not tell Maria where her child was located.
Later, Maria learned, her child was flown by plane with a stranger to Michigan and taken by car in the middle of the night to a foster home.
Between 3 and 4 a.m., the foster family allowed her to speak with her child. Evelyn was with Maria when she received the call. The child "could not speak, only whimpered. It felt like she had no more tears to cry. She looked traumatized and terrorized," Evelyn remembered.
Maria was not given any details about how she might be reunited with her child. Evelyn contacted an attorney who put her substantial legal skills to work. Evelyn also contacted U.S. Rep. Jamie Raskin's office to try to get help.
People at the church prayed. They had supported Maria for a year-and-a-half since she arrived at the church. What was happening felt barbaric; this child's story felt too awful and frightening to be real.
On March 13, Maria and a small group of people from the church went to the airport and she was reunited with her child. They melted into one another and clung on with all their hearts.
Living the Gospel
For Evelyn, this has always been a matter of faith, of seeking God's presence in the human story. The same is true for Bishop LaTrelle Easterling, the episcopal leader of the Baltimore-Washington Conference, who is a leader in the denomination's immigration ministries.
"Whether we draw from the Hebrew Bible or the New Testament, our Scriptures remind us to love the immigrant in our midst, to welcome them, and to offer hospitality," the bishop said. "In the Book of Matthew specifically, we are reminded that how we welcome the stranger is the measure for whether or not we have welcomed Christ himself."
For the senior pastor at the church where Maria attends, it's easy to lose track of people in discussion of "the immigration issue." It's more than just being on the "right side of the issue." Each person in this family is a beloved child of God. Jesus himself identifies with their situation when he says he was a stranger and we either did or did not welcome him. We are called to love our neighbors -- including our immigrant neighbors – because God loves them both as beloved creations and as those who need to be especially loved in their suffering.
Evelyn resonates with that Scriptural image. It reminds her of Maria's trip to the Baltimore-Washington area. Shortly after Maria crossed the border into the U.S., her infant son became ill and needed antibiotics. At the bus station where she would begin her journey north, she met Pastor Rob Spencer, a United Methodist in Paris, Texas. Just before she got on the bus, Spencer gave Maria something to eat and a little money. He then, put the connectional system to work and called ahead to the next stop, and the next, and the next.
When she got off the bus in Houston, Maria was met by the Rev. Nataly Negrete, who spoke Spanish.
"I was concerned about my child, I was tired. I didn't know where I was going, and I did not understand the language," Maria told a reporter with the Texas Annual Conference. "Nataly treated me with so much sensitivity, love, and respect, and that made me feel secure and free."
At stops all along the way, Maria was met by United Methodists who brought her medicine, a phone, clothes, money, and food. Nurses also showed up to help the baby.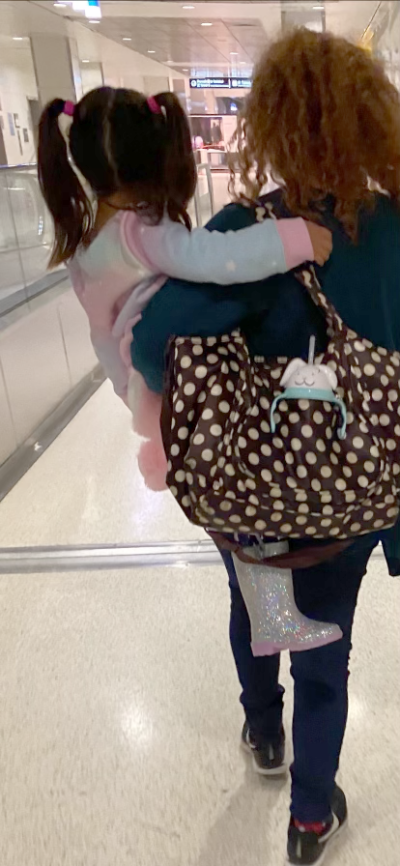 When she arrived on the East coast, members from Foundry UMC met her and reunited her with her husband and eldest child. Soon, Maria found Evelyn's church. She and her husband decided not to live together, so Evelyn offered Maria a home in the parsonage where she was staying.
The local church jumped into action. "It was remarkable how people lived out their faith," Evelyn said. They gave so generously to Maria and her children. "Everything that was needed was given. We were in the flow of ministry and living that out."
Working in ministry with Maria has transformed the congregation.
"To see people's beautiful hearts shining through," changes things, Evelyn said. "God is right here, alive and moving in this congregation to care for this family."
It's also shaped Maria's faith.
"Her faith is the air that she breathes," Evelyn said. "God has been her compass and what has sustained her. There have been many, many nights when she has not been able to sleep during the year and a half she was separated from her daughter. It was always her hope and prayer they would be reunited."
Now that this prayer has been answered, they are at the point of soaring, Evelyn said. "There is so much hope ahead of them, and yet there's still a lot to get through."
Seeking Justice, Living Mercy
For one of the pastors who leads the church where Maria attends, being able to know Maria and her children has been an important reminder that "at the end of the day, this isn't just a political problem, and no problem of injustice is. This is about people. We need to be active disciples in both charity and justice. We can get very discouraged when we try to tackle a problem and don't seem to be making headway.
"But if we're also ministering to people at the same time, the victories are easier to see. We still have a lot to do on the issue of immigration, but we were able to see God work in powerful ways to bring this family back together. That helps to strengthen our resolve as we tackle the structural injustice."
Addressing these larger issues of injustice is essential to United Methodists, Bishop Easterling said.
"Our Social Principles are also instructive on this matter," she said. "We stand opposed to, 'policies that separate family members from each other or that include detention of families with children, and we call on local churches to be in ministry with immigrant families.' (2016 BOD, Social Principles, Para. 162) The congregation assisting Maria is acting as the hands and feet of God, and I am grateful for this witness.
"The state-sponsored separation of children from their families is morally and spiritually unconscionable," the bishop continued. "It is our Gospel call to address these hardships and to offer hope. Many of God's children are now facing sorrow upon sorrow. Hope must be created, and justice must be done."
At this point, what Maria needs most are the funds for a larger apartment where she can create a home for her three children.
The BWC Immigration Rights team has also released an Action Alert to address Families Separated at the Border, to assist churches and individuals interested in working on this justice issue.
"It was powerful to be present at the reunion of Maria and her four-year-old child," Evelyn said. "There was one moment recently when all three children were crying and asking for her to hold them. It was beautiful – with her two arms, she reached out and held all three of her kids. She has this heart that is enormous."
Sometimes there are no more tears to cry.