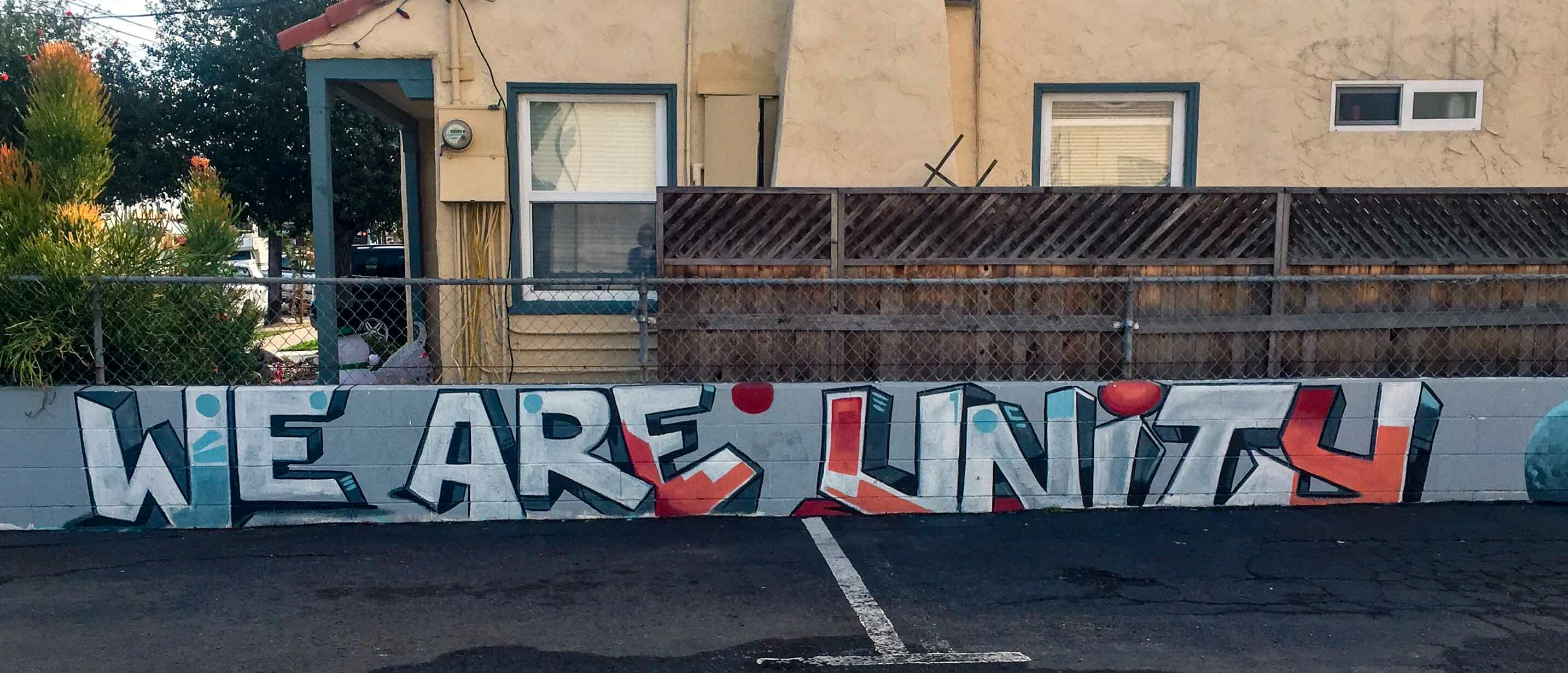 Love at the Border: Visit to Christ Ministry Center
Posted by Christie Latona on
The first official event for the United Methodists engaging in the Love Knows No Borders kickoff event was a visit to Christ Ministry Center led by Rev. Bill Jenkins. Watch the video to learn more about the context of this ministry.
This ministry center is a 501c3 with many components to it:
Support Center. Where non-profits and charities meet needs of the BODY rooted in Matthew 25:35: I was hungry, thirsty, naked, sick, in prison and a stranger and you cared for me!

Spiritual Center. Where congregations meet needs of the SOUL and SPIRIT. Christ Ministry Center is home to a dozen or more churches and consider themselves an ecumenical incubator for new congregations and home to several established ethnically diverse churches--including Exodus UMC.
Impact Center. Where a co-working hub meet needs of the MIND. This incubator and business accelerator for public benefit social entrepreneurs, offers support and shared work-spaces for innovative startups seeking to improve the social, cultural and environmental issues of our area.
Safe Harbors. A coalition of individuals, congregations and organizations who care about refugees, immigrants, asylum seekers, migrants in detention and families broken by deportation.
It was there that our Baltimore-Washington Conference team--Emma Escobar, Coordinator of Hispanic-Latino Ministries; and Julie Wilson, chair of our Immigration Rights Task Force (connected to our Advocacy and Action Board)--joined many United Methodists from across the U.S. As appropriate, we started with extremely diverse, passionate worship with Exodus UMC (a "nested" congregation at Christ Mission Center).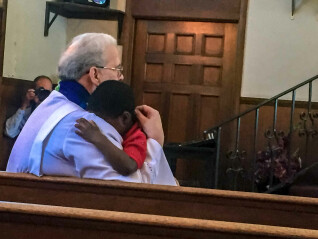 As we were getting ready for worship, I was drawn into the loving relationship between Pastor Bill and Harry--a migrant baby who unexpectedly became a part of the Jenkin's life. Harry and Bill were inseparable throughout the service. Even during the preaching moment.
The multicultural leadership at Exodus was striking and inspiring. We sang gospel, hymns, read three scriptures and prayed. The Old Testament reading from Isaiah 10 especially spoke to me--especially versus 1-2.
Woe to those who make unjust laws, to those who issue oppressive decrees, to deprive the poor of their rights and withhold justice from the oppressed of my people, making widows their prey and robbing the fatherless.
A variety of nationalities led us in worship and the gospel choir blessed us greately. As Bill and Harry took their place in the pulpit area, Bill complimented the music ministry: "If that doesn't light your fire, your wood is wet!"
During the sermon we discovered that Christ Mission Center was the largest refugee center in the area and was established during the time when Haitian immigrants were coming in. We discovered that the wall behind the cross held a shelter with six beds for temporary emergency housing (different than Transitional Housing). We learned that 118 people were able to in that shelter, throughout the center and at some adjacent churches that were part of the Safe Harbor Network and that this ministry is the only immigrant welcoming shelter in Southern California. We rejoiced in the fact that UMCOR was providing grant funding to expand their facilities to meet the huge needs.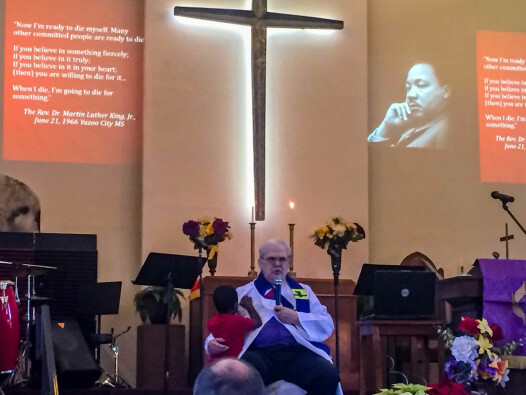 One of the things that struck me about the holistic nature of ministry happening here was how similar it was to both the vision of my home congregation and the emerging vision and overlap of all five of the Discipleship Agency areas (leader development, new faith expressions, young people's ministry, advocacy and action and abundant health). The particulars change from context to context, community to community, but the understanding of how strong United Methodists develop and live out our faith has a common core.
Our worship concluded with a foot washing ceremony. Faith leaders were invited, amidst tears, to come forward to wash the feet of migrants.
Whose feet are you washing?
How is your congregation expressing the full spectrum of salvation as understood by spiritual, emotional, physical, spiritual, relational, mental and financial well-being?
Note: Christ Mission Center was a part of BWC's exploratory border trip in the Spring of 2018. Emma Escobar, Coordinator of Hispanic/Latino Ministries will be taking another trip in September 11-14, 2019. Please mark your calendars and stay tuned for details and registration information.