Is Baltimore 'rising' a year after Freddie Gray's death?
Posted by Guest Author on
Commentary by the Rev. Cynthia Moore-Koikoi
Baltimore Metropolitan District Superintendent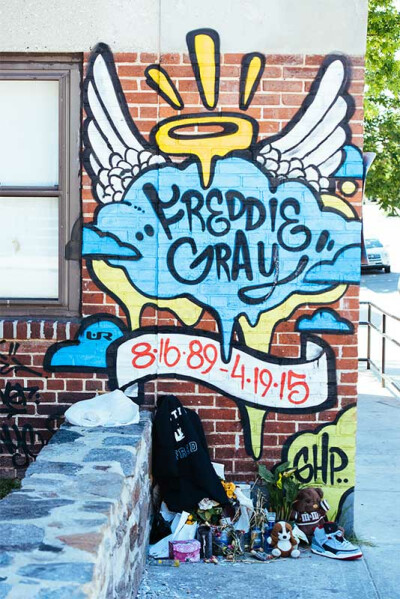 "Still I Rise," by Maya Angelou, has been a source of empowerment for African American women since it was written. It has become a source of inspiration for the city of Baltimore since the unrest last spring. As I have reflected on the events of the past year, I have heard the city defiantly speak these final words of the poem to me.
Out of the huts of history's shame
I rise
Up from a past that's rooted in pain
I rise
I'm a black ocean, leaping and wide,
Welling and swelling I bear in the tide.
Leaving behind nights of terror and fear
I rise
Into a daybreak that's wondrously clear
I rise
Bringing the gifts that my ancestors gave,
I am the dream and the hope of the slave.
I rise
I rise
I rise.
Baltimore is rising. For-profit and not-for-profit organizations are working together to reclaim many of Baltimore's abandoned buildings in order to provide sensible housing and small business opportunities. The CVS has reopened. As part of their training, new police officers are now required to spend time outdoors interacting with youth one-on-one. Penn-North Kids Safe Zone has expanded to provide a safe haven for children from 8 a.m. to 8 p.m., seven days a week. Mentor programs such as Yo have popped up all over west Baltimore. There are murals commemorating the life of Freddie Gray all over Sandtown-Winchester. Baltimore is rising, but there is still more work to be done.
As Baltimore is rising, it is fair to ask if The United Methodist Church in Baltimore is rising, too. A year ago, on the day after the unrest started, Baltimore City Public Schools were closed and our churches opened to provide a safe place for students. I met a young adult who came to help at Metropolitan UMC. He told me that he was an atheist, but had heard about what The United Methodist Church was doing and thought he would come to help. During a lull in our work, he and I sat down and talked. He told me that he thought the church was complacent in the issues of poverty, racism and economic injustice that fueled the unrest. It was clear to me that he thought the church had power to change systems and organizations, but that we, the church, had chosen not to do so in order to preserve our own interests. It was also clear to me that this young man's professed disbelief in God was a direct result of his observation of the church. He did not believe in God, because we had not shown him a God he should believe in.
So over this last year, I have asked myself what message we are sending to others about who God is.
Are we portraying a God who is eager to come down from lofty places in order to be with the people who most need God's love? Are we portraying a God who chose to sacrifice God's only Son on the cross? Are we portraying a God who is willing to fight for the salvation of God's people? Are we portraying a God who has enough power to resurrect Jesus from the dead? Are we portraying a God who is rising? You decide.
With funding and volunteers from churches all across this annual conference and denomination, we were able to run three, two-week camps simultaneously in Sandtown-Winchester and the surrounding communities last summer. Camping ministry also held a week-long day camp for the first time in Baltimore City. Metropolitan, along with the Bar Association and Baltimore United for Change, held several sessions of passive resistance and peaceful protest training for young adults. Ames, John Wesley, Metropolitan and Unity UMCs became distribution centers for food, toiletries and baby supplies to the Sandtown-Winchester community. All summer long, volunteers from our connection brought themselves, their supplies and their prayers to the city. Last summer more than 2,700 people were served at just one of our churches.
Into the fall, winter and spring, we continued to work at making greater connections with the community in order to address some of the issues that led to the unrest. Mt. Zion hosted "Black Lives Matter: The Seven Last Words of Summer." Epworth Chapel has been working with the Baltimore County Police Department and local government on issues of public safety and church-community-police partnerships. The Baltimore Metropolitan District collaborated with community activists, the Baltimore City Police Department and mental health professionals to provide training for those who wanted to join neighborhood trauma response teams. Part of that training included ride-alongs with the police department.
During our Annual Baltimore Region Laity Gathering, the laity were charged with using their power to revolutionize our church to be more relevant and contextual. They were asked to use the power of love to fight for the salvation of God's people. This spring, the district partnered with Vibrant Communities to provide a workshop led by Romal Tume, to discuss "Gangs of the Gospel" and "Clerestory Ministry and Leadership in a New Light."
Donations to the Stronger Baltimore Fund and other sources, along with volunteers from many organizations including Howard University and the Black Staff Association of The United Methodist Church, were used to spruce up some of our church buildings to make them more hospitable for ministry.
We are still evaluating proposals for the use of the remaining funds received for the Stronger Baltimore Fund. A group of pastors who named themselves "Thinking Beyond the Cathedral" has been tasked with developing a plan to utilize the building, property and financial assets we have in the city of Baltimore. They will be working with the District Building and Locations Committee to help us make some hard decisions about how we can use our property resources to do more effective ministry in Baltimore City.
There is still more rising to come. Gwynn Oak UMC is planning to open a community center that focuses on the arts. Ames Memorial is continuing its renovations so that it can open a housing center for veterans. Sharp Street Memorial is going to expand its YMCA partnership, "YMCA Together Hood at Sharp Street," to include monthly movie nights for the community. Mt. Zion is starting a a young adult Friday night street corner prayer ministry.
This summer, the BWC Camping Ministry is taking over the operations of the summer day camps specifically looking to recruit and train camping leadership from Baltimore City. Fallston and Reisterstown UMCs will be sending funding and volunteers to help run these camps.
I think about that young man I met at Metropolitan often. He did come back to volunteer at the church several times last summer. It has been my prayer that we showed him a more accurate picture of who God is. It is my prayer that we continue to show an accurate image of God.
Baltimore is rising. But if it is to continue to rise, it will need the power of the church. Even the atheists know we've got the power. With God's help, we will use it to the glory of God!