Fasting offers witness to freedom
Posted by on
By Melissa Lauber
Sometimes politics and faith collide in ways that can shape national agendas. One prayer, one fast, one word spoken from the heart has the potential to transform – at least that's the hope with the Fast for Freedom now underway in Washington, D.C.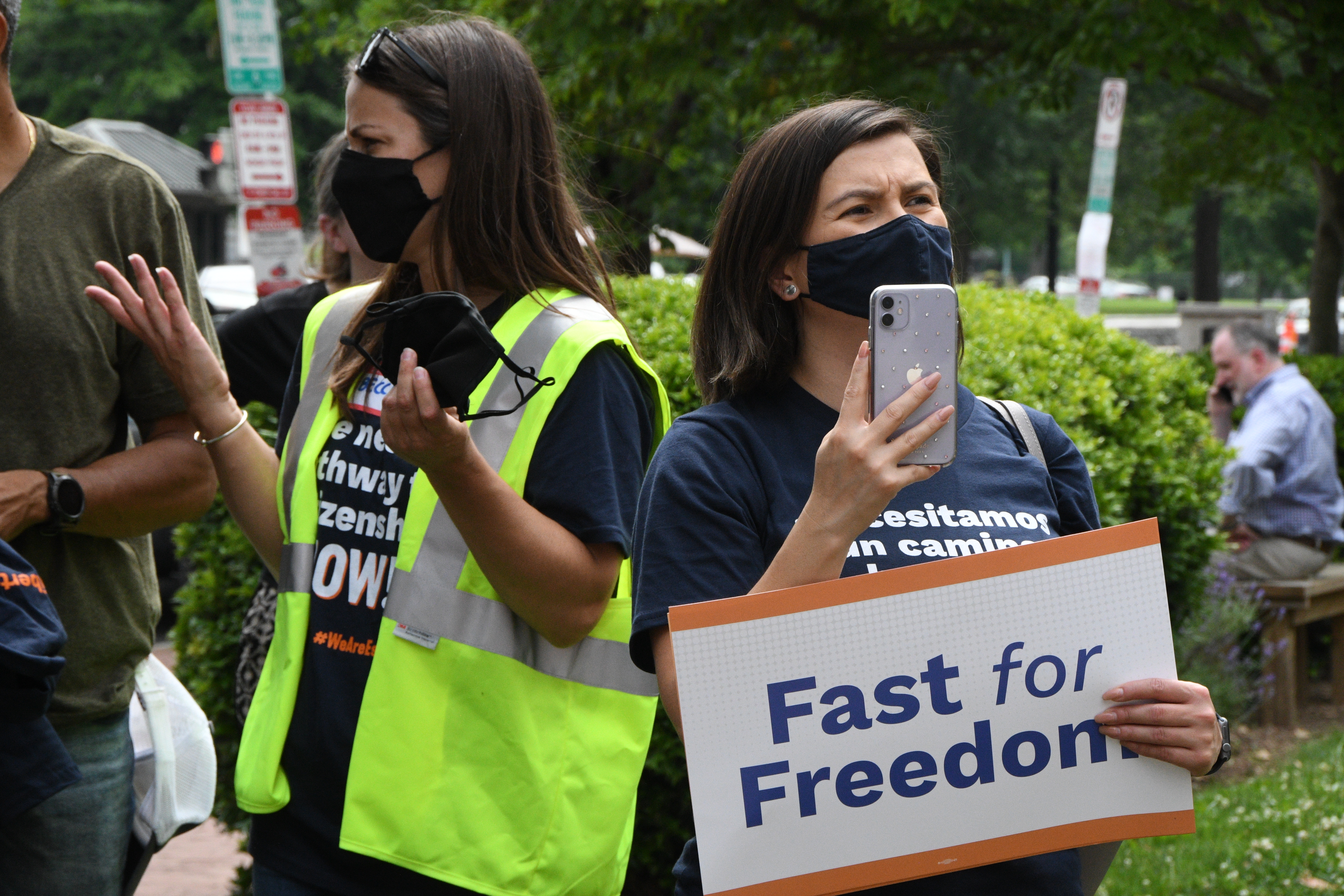 Emma Escobar prayed for the 11 people standing in the hot sun on June 9 on the steps of Lutheran Church of the Reformation, blocks from the U.S. Capitol. They were 11 undocumented and essential workers, TPS and DACA holders, and faith leaders from across the county. She asked God to give them strength and courage. She prayed that people of faith and government leaders would take to heart the story of the 11 – who stood for the 11 million undocumented people in the U.S. – and respond.
"This is important," said Escobar, the Coordinator of Hispanic and Latino Ministries for the Baltimore-Washington Conference. "Part of our work is to love our neighbors. We are living out our mission to make disciples for the transformation of the world. And this is how we transform the world. It's how we stand in the front lines and practice the love for our neighbors."
The Fast for Freedom is part of an ecumenical effort by the Congregation Action Network and Faith in Action to "shine a spotlight on our nation's moral obligation to fully and finally include our immigrant siblings as part of the American family. These fasters and several dozen more will gather in stages for at least three weeks to encourage Congress to utilize the jobs and infrastructure package and budget reconciliation process to codify a path to citizenship for 11 million undocumented community members – many of whom have kept our families and our economy functioning as essential workers during the pandemic," said Rebecca Cole, director of Grass Roots Organizing for the United Methodist General Board of Church and Society.
As The United Methodist Church, "we believe that every person is made in the image of God and should be honored and treated with dignity. Their civil and human rights should be upheld at all points and right now our immigration system in the United States doesn't do that," Cole said.
Part of recognizing that dignity, is acknowledging the disproportionate role that the Latino community played during the COVID-19 pandemic when they served as essential workers and put themselves and their families in harm's way.
"Essential workers, DACA recipients, Dreamers, and TPS holders have all faced the greatest risks amid the pandemic," said Bishop LaTrelle Easterling, episcopal leader of the Baltimore-Washington Conference. "They are part of our one family of God. These beloved children of God provide the basic goods and critical services which have helped us all make it through this terrible season. And yet, immigrant 'essential' workers have been treated as expendable, as exploitable: their labor has been extracted while their humanity has been denied. They have been excluded from full citizenship and from the full fruits of their contributions to our economic and community life."
The Rev. Neal Christie, the BWC Executive Minister of Connected Engagement, delivered remarks from Bishop Easterling during the rally.
"Those seeking legal status today are at the mercy of those who represent them and sponsor their legal processes. If these persons are lied to, taken advantage of, or led astray, they are branded by that conduct and their very safety is at risk," Christie said. "These manipulative and deceptive practices are beneath the dignity of our nation. The federal government is not exempt from acting morally and consistently."
In the Social Principles, United Methodists declare: "Any legislation to reform the United States immigration system must affirm the worth, dignity, and inherent value and rights of migrants, and must also include an opportunity for citizenship for all undocumented migrants."
With the political changes in Congress and the presidency brought about by the 2020 elections, some people thought the fight for immigration reform might ebb. Instead, Escobar and Cole said, this is an even more critical moment for the Latinx community to be represented and for people of faith to urge the president and Congress to act.
"It's been decades since Congress has passed immigration legislation that would provide undocumented people with a pathway to citizenship," Cole said. "We believe this is a critical moment to be engaging members of Congress and the administration and really demanding that this is the time. The immigrant community and the undocumented community have been waiting too long."
"It is time for us to be both cognizant and conscious," Bishop Easterling said.
Escobar agreed. "It's critical and important that we show up and that we raise our voices," she said. "Every action that we take is toward building up an opportunity for immigrants to feel welcome, to tell their stories, and also say 'hey, I'm here and I'm important in this country.' We build something when we come together. Let's raise our voices and continue to walk with our brothers and sisters in the undocumented community."
If You Want to Be Involved:
For those who want to be involved in this witness, Faith communities and individuals can fill a variety of roles, including leading an evening prayer at the host church, inviting elected officials to visit the fasters and sharing cards, offering artwork or musical performances with the fasters, volunteering on the ground, and more. See options and sign your congregation up here. We also welcome your ideas as well for how you/your congregation can be involved. SIGN UP HERE.
Volunteers are also being sought to support the core fasters as part of the Core Fasters Caring Team, offering non-medical (e.g., emotional, spiritual) support to the fasters. Sign up for a shift here.
Individuals and churches can also: