Epworth UMC celebrates African heritage, culture
Posted by Erik Alsgaard on
By Erik Alsgaard
UMConnection Staff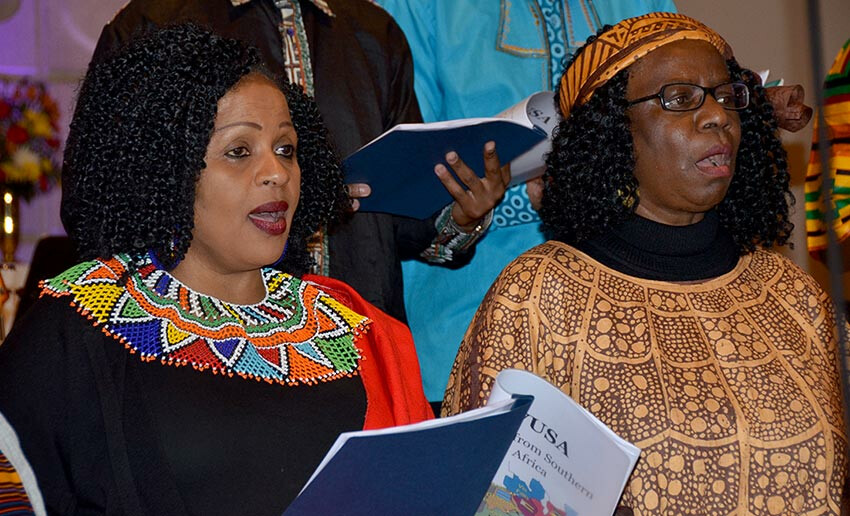 Members of the "Voices of Southern Africa" sing during Epworth UMC's African Celebration in Worship service Feb. 19.
It is said that God loves a cheerful giver. If that's true, then God must really, really love the people of Epworth UMC in Gaithersburg.
During their African Celebration in Worship service Feb. 19, motivated by soul-stirring music from a hot praise band, church members, visitors, and even Bishop LaTrelle Easterling danced their way to front of the sanctuary to bring their tithes, gifts and offerings.
It's their normal practice, said the church's pastor, the Rev. Jennifer Fenner; it's something they do every week in two of their three services.
The church, located in one of the most diverse cities in the United States, boasts more than 35 different nationalities and cultures among its members and friends. On this Sunday, the church came together to celebrate its African constituents and culture for the first time. Typically, Fenner said, the church has three worship services on Sunday, one of which is in Spanish.
"We have a growing African community in our congregation," said Fenner, "mostly from West Africa. The purpose of today was to celebrate that community in each of the three services."
God had other plans, though, when Bishop Easterling accepted the invitation to preach at Epworth. Her schedule did not allow her to preach at all three services, so, Fenner said, they combined them into one big celebration.
With the "Voices of Southern Africa" choir singing songs in several languages, but all in the same tongue of praising God, the worshippers heard Psalm 100 in five different African languages, read Luke 17:1-10 in two languages, received the benediction from District Superintendent, the Rev. JW Park, in English and Korean, and offered silent prayer in dozens more.
Moorosi Mokuena, the leader of Send Out Ministry at Epworth, was a founding member of VUSA and the person behind the idea for the celebration, Fenner said.
Bishop LaTrelle Easterling
Bishop Easterling preached on the high cost of discipleship, saying that the real work of a Christian is making more disciples of Jesus Christ.
"There are several categories," the bishop said, "several names by which we identify ourselves. And yet, the baptism vows that we took, the communion liturgy that we recite, I hope, at least once a month, and that Lord's prayer that we utter on a regular basis, in and through them we have said to the world, that we have surrendered ourselves to Jesus the Christ."
One of the first lessons of the high cost of discipleship, Easterling said, is that we ought to be proud to first and foremost identify ourselves as disciples of Christ. And if that's true, she added, she doesn't understand how we can harm and/or hurt one another.
Jesus, Easterling said, explained that a disciple lives their calling in every aspect of their lives. "Disciples' lives are lived to the glory of almighty God," she said, "not to self-aggrandizement."
Easterling encouraged the congregation to live a life poured out for the sake of the Gospel, even when it appears a person doesn't have enough resources to do so.
"People say, like the disciples in the Gospel lesson said, 'If I had more faith, then I could serve as you're asking me to serve. Then I could forgive my brother or sister,'" Easterling said, "'then I could live right, then I could share my faith with others.'
"Jesus responded by not appeasing their request, but by telling them, 'You have everything you need.'"
The bishop urged her listeners to "stir up their faith, to utilize the faith you already have, even if it is the size of a mustard seed," adding, "excuses are the tools of the incompetent."
But the highest cost of discipleship, she said, comes when we understand ourselves as servants and not someone to be served.
"It's not always about being high and lifted up," the bishop said. "We already have someone who is high and lifted up, his train filling the temple."
By being a servant, we learn humility, she said. We also learn how to love in the face of hate.
"It is our time," she said. "We are the disciples called for such a time as this. There are mountains to be moved, mountains of hate, poverty and discrimination. Stir up that faith and move that mountain."
People native to Africa is one of the growing demographics in Gaithersburg and at the church, Fenner said.
"We are clearly a church that is reaching new immigrants," Fenner said. "Much of our new immigrant African community comes to us already familiar with Methodism.
The Rev. Jennifer Fenner
Fenner herself is fluent in both Spanish and English. She participated in the Mission Intern Program through The United Methodist Church, a three-year mission service program for young adults. She was appointed to serve in Nicaragua where she took three months of Spanish language classes. Fenner was appointed to Epworth, together with the Rev. Yolanda Pupo-Ortiz, when the conference merged Camino de Vida and Epworth UMC in 2010. Pupo-Ortiz is now Epworth's Pastora Emerita and the director of the Language and Computer Programs of the Ana A. Brito Foundation (AABF).
AABF is a foundation started out of Epworth to sustain the English and computer class ministries offered to new immigrants. With more than 160 registered participants, most from Central and South American, this is the largest outreach to the new immigrant community Epworth offers.
The issue of immigration is an important one at Epworth, Fenner said, since it is such a multi-ethnic congregation. People are talking to her, she said, expressing fears, doubts, and asking questions.
"We are a church that is supporting the new immigrant community in many ways," Fenner said. That includes working with Justice for Our Neighbors, a national ministry that welcomes immigrants by providing affordable, high-quality immigration legal services to low-income immigrants, engaging in advocacy for immigrant rights, and offering education to communities of faith and to the public. JFON has a clinic at Epworth.
"I have not yet seen a drop in Spanish service worship attendance," she said. "But if things continue as they do, I can't imagine people wouldn't start to pull back."
The immigration question, however, is not a new one at Epworth. For years, people have been trying to figure out how to live as immigrants, documented or not, in the area around the church.
"I firmly believe that the immigration system of this country is deeply broken," Fenner said. "The foreign policy of this country has had an extraordinary impact on the well-being of countries in Central, South America, Mexico, and Africa, and therefore, I believe that it is our Christian responsibility to be engaged in a process of a better system and a more just reality."
Epworth, she said, is "enmeshed" with families who are new to this country and who are a vital part of "who we are and what we do," she said. "The current political climate will probably force us to make decisions that we've never had to make before. And I pray that we make them with Christ at the center."
That is why Fenner said she appreciates the bishop's focus on "being one in Christ," because "from that, we should be able to navigate all other challenges that we face."