By Erik Alsgaard
UMConnection Staff
(Updated August 8)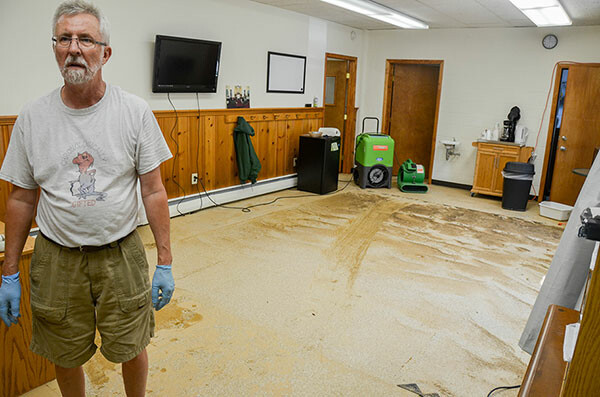 Richard Blood, a trustee at Emory UMC in Ellicott City, stands in the church's Education Building Aug. 1 as they work to clean up from the flash flood of Saturday, July 30. Photo by Alison Burdett.
A devastating flash flood hit Ellicott City Saturday night, July 30, causing two deaths and destroying several businesses and homes. The Baltimore-Washington Conference has two churches in Ellicott City: Emory UMC and Mt. Zion UMC. Neither church sustained damage, but the Education Building at Emory had raw sewage back-up into their building. Because of road closures, neither church was able to hold worship services Sunday, July 31.
An Ecumenical Prayer service was held at Emory UMC, 3799 Church Road, on August 4. Several local TV stations reported on the service. View the report from ABC2 in Baltimore.
Bishop Marcus Matthews has issued a call to prayer and to action for those affected by the flooding. At least two area business owners are United Methodists. Leaders at Glen Mar and Bethany UMCs, two large nearby churches, are expected to help assess and participate in relief efforts, along with Conference leaders. To donate money to help with flood relief efforts, visit the United Methodist Committee on Relief (UMCOR).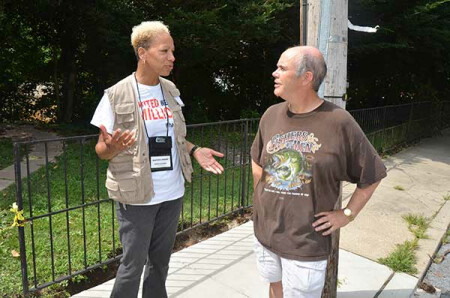 The Rev. Joan Carter-Rimbach, left, BWC's Volunteer in Mission Coordinator, speaks Aug. 1 with the Rev. Sam Moore, pastor of Emory UMC in Ellicott City. Photo by Alison Burdett.
HOW YOU CAN HELP
1) To donate money to help with flood relief efforts, visit the United Methodist Committee on Relief (UMCOR). You can also provide monetary donations through Grassroots Crisis Intervention Center, 6700 Freetown Road in Columbia (the money will be used to provide emergency hotel shelter for displaced people). Gift cards to departments stores (for clothes, etc.), gas stations and grocery stores are also needed. Learn more by visiting their website.
2) Donations of food are being accepted by the Community Action Council (CAC). You can drop off items at the Howard County Food Bank, 8920 Rt. 108 in Columbia. Items most needed are high-protein canned meals with pop-tops (ravioli, spaghetti, soups); single serve, ready-to-eat breakfast/snack/energy bars; paper plates, napkins, plastic forks and spoons; toiletries; diapers; baby food products; water; can openers. If you would like to volunteer at the Food Bank to sort donations, contact the CAC at 410-313-0703, or .
3) Flood buckets: Glen Mar UMC was a collection point last week for UMCOR's cleaning buckets. Congregations can still make these buckets and deliver them to our area mission hub at Liberty Grove UMC, 15225 Old Columbia Pike in Burtonsville or St. Matthew's UMC, 14900 Annapolis Road in Bowie. Please visit the UMCOR website for a complete list of items to be included in each bucket.
4) Donations of clothing are NOT needed at this time because there is no storage space. Instead, gift cards for clothing stores are welcome.