District renovates second parsonage for affordable housing
Posted by on
By Melissa Lauber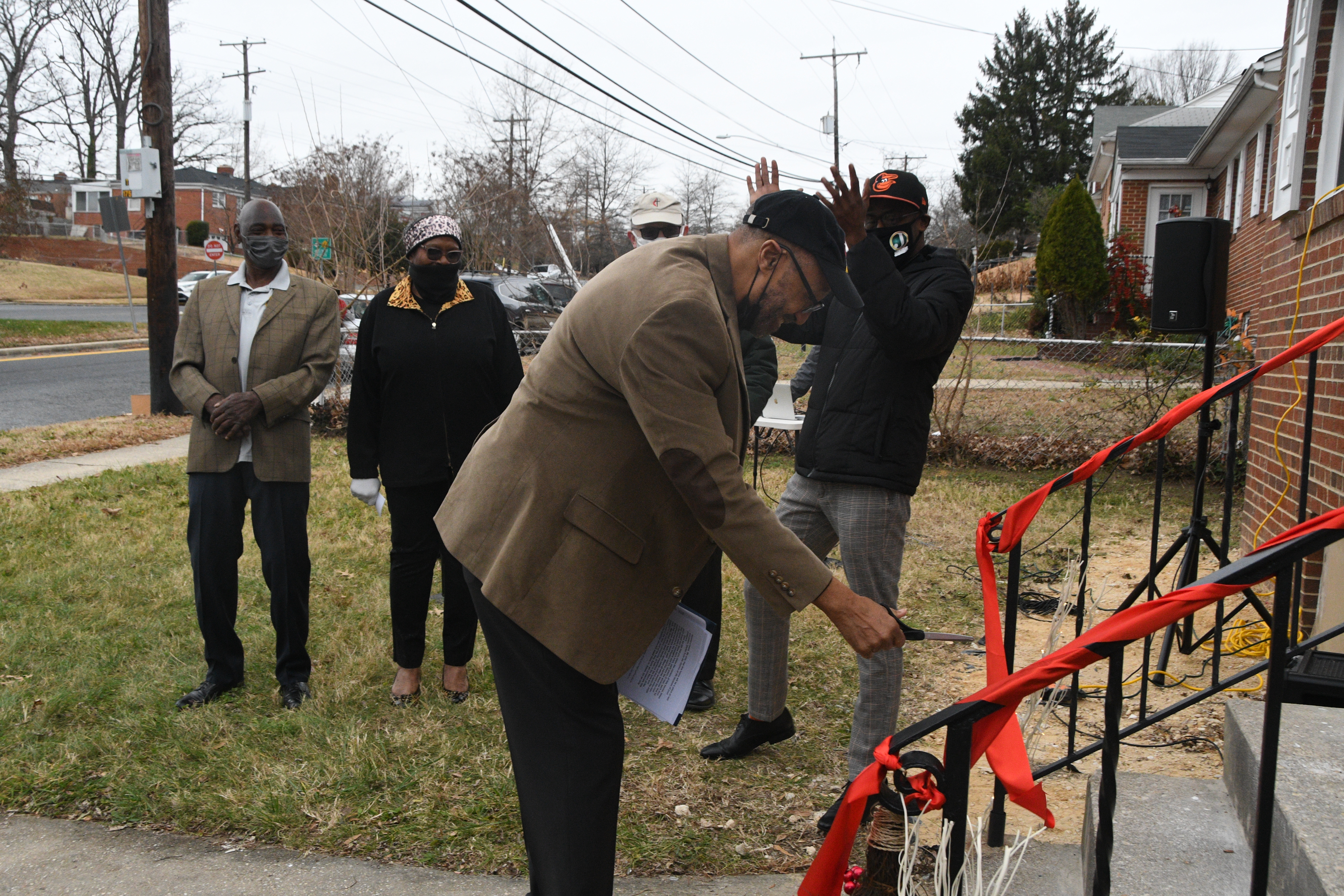 Over the past several months, God has been showing up at Journey UMC in Temple Hills "in all kinds of unexpected ways," said the Rev. Michael Parker. On Dec. 18, Parker stood on the front lawn of a former parsonage and consecrated it to become home for a family in need.
This is church – people creatively giving of what they have. "We pray big. We dream big. We do big," he said. "Angels today are rejoicing."
The Rev. Gerry Green, superintendent of the Greater Washington District, also felt God's presence on the lawn that morning. He thought about his father – also named Gerard, who was temporarily homeless at one point in his life. A family situation conspired against him and, while he was still a child, he found himself homeless, Green said. The instability of that situation caused him to drop out of school in the fourth grade.
Over the years, Green remembered, his father learned carpentry skills and went on to help construct affordable houses. Today, providing affordable housing is one of the innovative ministries of the district in which Green serves as the missional strategist. Tears swelled up in. his eyes as he thought about the symmetry and God's hand at work. "When people come together in faith amazing things happen," he said, looking up at the house.
Sylvia Terry-Fleming agreed as she got teary-eyed thinking about the legacy of her sister, the late Rev. Adrienne Terry, who was serving as pastor of Christ UMC in Washington when she died unexpectedly in 2016. Terry-Fleming flew in for the consecration of the house, which was renovated with funds raised by the district in honor of her sister, who had a heart for the poor and ensuring that they had homes.
"This is a legacy of love," she said. "Thank you for continuing her dream."
This is the second parsonage that the Adrienne Terry Fund has rehabilitated to provide affordable housing. The first was at Ager Road UMC in Hyattsville, said the Rev. Sam Marullo, a Deacon appointed to lead the Greater Washington District's Affordable Housing Task Force.
The churches donated their unused parsonages for this ministry and Marullo and worked with district leaders and funds donated to the Adrienne Terry Fund to renovate the house. A property manager is hired to be the landlord, and the house is rented at an affordable rate – one-third of the income of the family who lives there.
A family is expected to move into the home on 23rd Parkway soon, Marullo said.
He is excited that this vision of using church property and assets for mission and ministry and to generate income for local churches is being adopted throughout the Baltimore-Washington Conference in its new Missional Action Plan (MAP) initiative.
"This is part of a new way that churches are thinking about how to be in the world," he said. "We're thinking creatively about how to use our blessings to be a blessing."
Marullo is also working with Parker and the trustees at Journey UMC on the beginning stages of building a 100-unit apartment building for older adults on the church property.
"Today is an example of manifested prayer," Parker said. Marullo agreed, sharing the biblical vision of how providing safe and affordable housing "can help people flourish and grow into the full humans who God created us to be." Affordable housing connects people to education, health care, employment opportunities, grocery shopping and transportation options and so much more.
Providing affordable housing is part of the church's mission, said the Rev. Stacey Cole-Wilson, the BWC's executive minister of Beloved Community. She thanked those present for embodying their faith with the creation of the new home. "To further human rights by providing adequate housing that is affordable, equitable and safe for all persons is our moral obligation," she said. "We give God glory for the great things God has done and is doing right here and right now."
As the ribbon was cut on the house words were read from Bishop LaTrelle Easterling. "May this home offer a haven to all who enter, providing a sacred space where all can live as beloved children of God. May it be a place of peace, of hope, and of courage, where hearts are healed and love is celebrated."