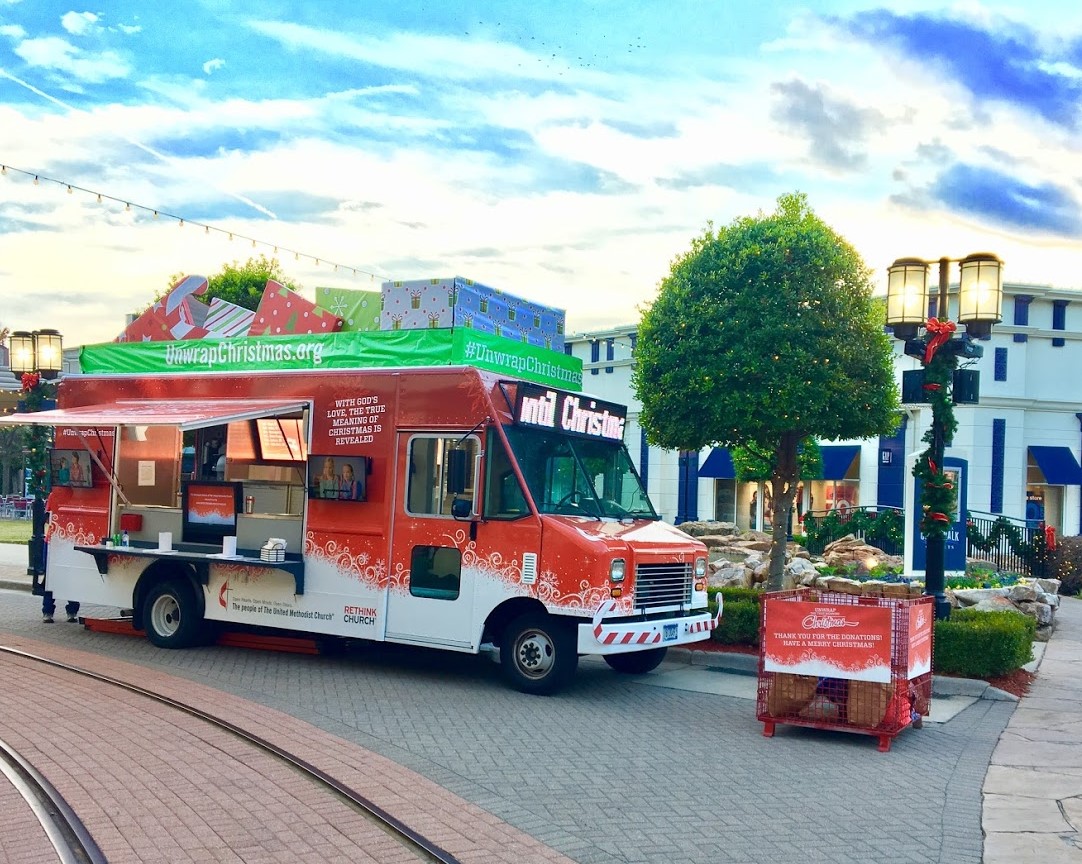 Delivering Christmas invitations and cheer by the truckload
Posted by Guest Author on
FOR IMMEDIATE RELEASE
November 26, 2018
Delivering Christmas invitations and cheer by the truckload
National Christmas tour coming to Baltimore on November 29
Baltimore – Those strolling through Inner Harbor with visions of sugarplums thanks to the famous Christmas Market might also get a glimpse of the true meaning of Christmas – and it comes with free hot cocoa.
An easy-to-find gift-wrapped tour truck will be the centerpiece of The True Meaning of Christmas Tour festivities from 4 p.m. to 7 p.m., Thursday, Nov. 29, on the promenade near the ice rink at the Inner Harbor, 201 E. Pratt Street.
Baltimore is one of 11 stops for The United Methodist Church as it hits the road in 11 states over 23 days to offer free hot cocoa and an invitation to join with others to unwrap the true meaning of Christmas. The Baltimore Metropolitan District – Beloved Community Initiative that includes a dozen local United Methodist churches will co-host the event locally and the entire community is invited.
"Baltimore is excited to participate in the tour again this year," said Rev. Dr. Wanda Bynum Duckett, Baltimore Metropolitan District Superintendent, Baltimore Washington Conference of The United Methodist Church. "Any opportunity to share the joy of Jesus and be the Beloved Community is a blessing, especially at Christmas. For us, this isn't just at event, but an extension of who we are called to be as people of God all year long!"
The day's activities include an interactive photo booth for capturing memories. A craft station will also be on site for decorating greeting cards to be delivered to children served through the Board of Child Care of The United Methodist Church. Attendees are also invited to share prayer requests, engage in conversations about the reason behind the season and to join local congregations for Christmas services and events.
Research shows that commercialization, crowds and spending money are what people like least about Christmas, while spending time with family and friends and religious reflection/church are favorite activities.
"Christmas is a joyful time for many, but it can bring about depression, stress and loneliness for others," said Dan Krause, chief executive of United Methodist Communications, which created the tour in partnership with local churches. "We want to help people remember that celebrating Christmas is not about to-do lists and shopping. If you're feeling stressed or alone, we want to invite you to connect with a local United Methodist church to experience fellowship and explore the true meaning of Christmas."
The True Meaning of Christmas tour will stop in 11 cities from November 25 through December 17. Follow the tour online at UnwrapChristmas.org and #UnwrapChristmas.
To reach even more people with a message of hope this Christmas, The United Methodist Church will also be running corresponding national advertisements created to inspire people throughout the holiday season.
###
About the United Methodist Church
The United Methodist Church has more than 12.7 million members globally and is in mission in more than 12 countries. It is the second largest Protestant denomination in the United States, with nearly 32,000 churches. The church's mission is to make disciples of Jesus Christ for the transformation of the world. Its tagline "Open hearts. Open minds. Open doors" embraces who we are and how we seek to put our faith in action. Learn more at UMC.org.
For more information:
Crystal Caviness
United Methodist Communications

615.742-5138 (office)
615.306.3401 (cell)