Daniels endorsed as BWC candidate for bishop
Posted by on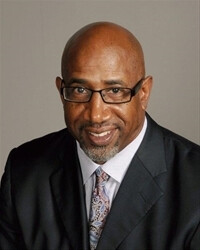 NOTE: On Aug. 25, the Rev. Joseph Daniels withdrew his name as the BWC's endorsed candidate for the episcopacy.
In a letter to the BWC's General and Jurisdictional Conference delegation, he wrote: "Every day since June 2 of this year, I have been overwhelmingly grateful for the high honor you placed upon me in selecting me to potentially represent the larger Church in this episcopal role. The fact that you powerfully and publicly declared that God has given me the gifts and graces to lead you as a bishop in the Church is deeply humbling and something I will always treasure with an abundance of thanksgiving."
He went on to state that, "God has confirmed in me that in this season, I need to continue to work for the wholeness and well-being of people through my ongoing service as a local church pastor in my city and in the regional, national and global community in which the Emory United Methodist congregation and I currently labor.
"Thank you from the depths of my soul for the love, affirmation, support and encouragement you continue to show. I look forward to our renewed journey together as we meet people's tangible needs while offering people the saving love and life-transforming gift of Jesus Christ!"
By Melissa Lauber
The Rev. Joseph Daniels, pastor of Emory UMC in Washington, D.C., has been endorsed by members of the Baltimore-Washington Conference to be a candidate for the episcopacy when the Northeastern Jurisdiction next holds elections for bishops Nov. 2-5.
"I am unbelievably humbled and honored," Daniels told Conference members as he accepted the endorsement. "I simply ask that God's will be done. If God's will is done, all will be well," he said.
Daniels has served for 30 years as pastor of Emory UMC and served as the district superintendent of the Greater Washington District. Emory was a congregation that had almost been closed on three occasions and sold twice. But under Daniel's leadership, the church experienced revival and moved from 55 people to more than 400 people in worship. As senior pastor, he also oversaw the construction of a $60 million, affordable housing project, called the Beacon Center, located on the church property.
He is also an adjunct professor at Wesley Theological Seminary, the BWC's Coordinator for the Zimbabwe Partnership, Co-founder and Co-chair of Washington Interfaith Network, and the author of four books.
In responding to an Annual Conference query on the biblical and spiritual foundations that shape him, Daniels wrote: "My call is rooted biblically in Jeremiah 1:4-10, a prophet to the nations, a minister who 'plucks up and tears down, destroys and overthrows, builds and plants.' My biblical, spiritual, and theological foundations are grounded in Jesus Christ who offers us the gift of holistic salvation – physically, emotionally/mentally, spiritually, relationally, and financially. I believe in this holistic salvation offered to us by grace through faith in Jesus Christ – a wholeness that can transform the world, revive communities, and give people eternal hope."
Daniels is married to his wife of 37 years, Madelyn Daniels. He is the father of Joia and Joey, the father-in-law of Tiffany, and the grandfather of 18-month-old Emory.