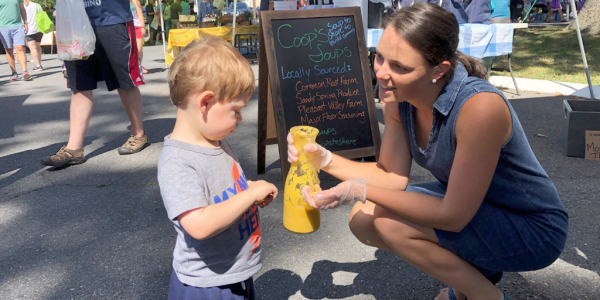 Cristin Cooper, right, stoops low to share a sample of
her soup at the Olney Farmer's Market.
In the Baltimore-Washington Conference, new ministries aren't just thinking outside the box; they're building new boxes.
Take Cristin Cooper, for example. She's doing ministry in her own context. She makes soup. But not just any soup; a soup that creates and builds community every step of the way.
A recent graduate of Wesley Theological Seminary, and formerly on-staff at Oakdale UMC in Olney, Cooper had a vision — a concept, really — of what she calls "neighboring." Inspired by that vision, Cooper quit her job at the church a year ago to pursue her call.
"What I had been hearing at that time was this concept of building community around the table and around meals," she said. "I quit my job so that I could free-up my brain space to be able to be creative and present and responsive to really what I can only say is this call."
Cooper said her call was to make disciples of Jesus Christ, following Jesus' Great Commandment. (Luke 10:27) She was also inspired by a January 2018 podcast episode featuring Kristin Shell, the originator of The Turquoise Table movement.
Shell was seeking a way to live out Jesus' words in her own Austin, Texas, neighborhood. Shell painted a picnic table turquoise, put it in her front yard, and sat down with her journal and a computer. Within three hours, a neighbor joined her. In a short time, so did others, even if it was for a 15-minute conversation and a cup of coffee. The idea, Shell said, was to create community in the neighborhood, rather than having to drive across town.
"I had this Holy Spirit moment," Cooper said. "I went to my knees and I just prayed. I said, 'God, it is very clear that you are calling me to neighboring. Is that my literal neighbors? Is that a concept? And, it doesn't look like it pays anything. I'm a little nervous."
In that same week, Cooper said, Cheryl Cook, on staff for Young Adult Ministries at the BWC, reminded Cooper of the Change Makers Project coming up. Cooper registered, even though she didn't have a project; only this idea of "neighboring."
Want to join in with Cooper and others doing missional innovation? Have a vision for doing ministry "outside the box?" Register for the Ministry Hatchery event, Nov. 14-16, at the Maritime Conference Center in Linthicum Heights. We encourage teams to attend to increase the impact. Learn more and register: bwcumc.org/hatch
Cooper became a part of the 2018 Change Makers Project, young adults seeking ways to make a difference in their communities. The Change Makers Project, according to its website, "supported young adults in hearing God's call to innovative ministry through mentoring, missional immersions, entrepreneurial community engagement, and vocational conversations."
The project was funded by a grant from the Young Clergy Initiative from the General Board of Higher Education and Ministry, the BWC, and Wesley Theological Seminary.
As part of that cohort, Cooper went to London, England, with a team from BWC's Connectional Ministries, to gather first-hand experience of what doing church differently might look like. That challenged her way of thinking about ministry. Instead of saying, "I'm here; how can I bring God to here?" her focus shifted to "God's doing something; how do I work in accordance with that?"
Energized by her experiences, last October, Cooper and her husband, Brandon, opened up their home "to build intentional community in the name of Jesus," she said. Their dinners, she said, were symbolic of Communion and included some neighbors and young adult friends.
On the menu: soup. And the soup was so good, people started saying she should sell it.
At first, Cooper thought the group was just being nice. "But they were serious," she said. However, Cooper is a self-confessed "slow cooker" when it comes to discernment. She was uncomfortable with the idea of just selling soup and making money. She wanted the soup to build community.
Last January, Cooper "put herself out there," she said, made some phone calls and started planning to gather the ingredients for her soup. One of those involved a farm near to where she lives. In exchange for working on the farm two days a week, they pay her not in cash, but in vegetables.
The soup is now made in a commercial kitchen on Fridays, with the help of others, and has become another community building opportunity. The 30 or so jars she makes are then sold on Sunday at the Olney's Farmer's Market.
"It has been an amazing process," Cooper said.
Today, Cooper and her husband have moved the meals out of their apartment to a local park. There, about 20 people gather Wednesday nights around picnic tables for a meal where soup is always on the menu. The oldest person is 45; the youngest is 8. "Church" happens, but it doesn't look like it.
"Our 'call to worship' is a toast, where we all hold up our water or our lemonade or our imaginary glass," Cooper said. "The conversation is based off the Lectionary text for the day, and I give a five-minute commentary based on the Scripture, along with some guided questions for the group."
The dinner church includes people who previously had no religious upbringing or affiliation, Cooper notes. A group of teenagers, around 16 or 17-yearsold, have started to become regulars, helping to make the soup of Friday, sell it on Sunday, and coming for the meal Wednesday night. One recently brought her mom for the first time.
"The Wednesday night community is really what wakes me up in the morning," Cooper said. "The soup is a tool for conversation; it's a vehicle to hold space for one another."
Right now, Cooper doesn't know where this ministry is headed.
"I'm really open-palmed about it all," she said. "I really started this whole thing with just this call, this intuition, this draw, and to now see it manifest, even if it's only two-months old, is very affirming. It still feels raw and new. But I'm okay with that."