Clergy take 'Day Apart' with bishop to prepare for Lent
Posted by Erik Alsgaard on
By Erik Alsgaard
UMConnection Staff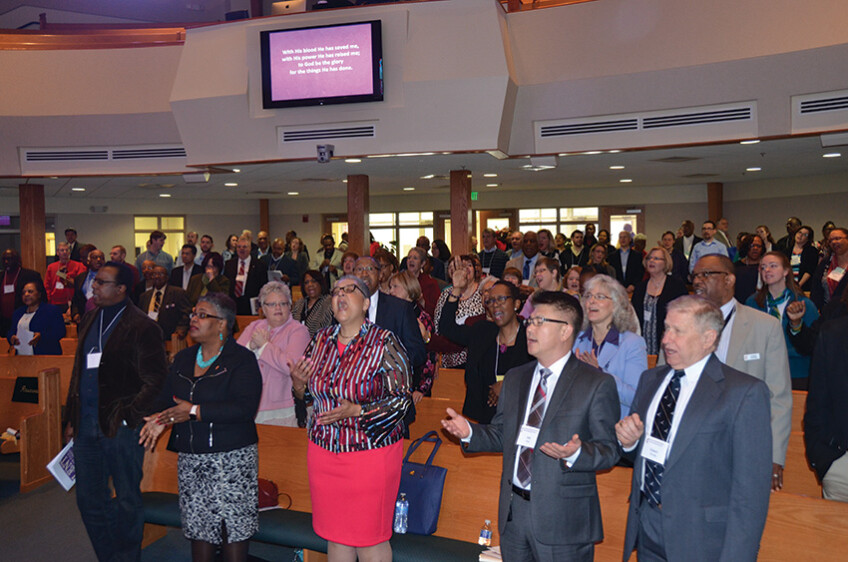 More than 200
clergy
gathered for the traditional Lenten Day Apart.
The season of Lent is one of the busiest times of the year for local church pastors. In the Baltimore-Washington Conference, there is a tradition of clergy gathering just before Lent to help prepare for what lays ahead.
On Feb. 22, more than 200 clergy met with Bishop LaTrelle Eastering at Queen's Chapel UMC in Beltsville to spend time together in worship, fellowship and learning.
"I love Lent," the bishop said. "It is an opportunity for us to do what we often don't spend a lot of time doing, and that's some introspective analysis."
Lent is the time, Bishop Easterling said, that if we're doing it right, we don't spend more time looking at other people and wonder "who else the pastor's talking about," but it's a time when we truly stand before God and say, "It's me, it's me O Lord, standing in the need of prayer."
The bishop introduced the guest speaker for the day, the Rev. Zina Jacque. The daughter of two sharecroppers, Jacque spoke in three separate sessions on "Lent and Other Four-Letter Words."
The first session, Jacque focused on "Rest." Rest is a four-letter word, she said, something we don't talk about in polite company.
"We begin our journey thinking how we will rest," Jacque said. "The word of God tells us - even the land rested (Leviticus 25:1-7). God rested. Even Jesus rested."
Jacque reminded the clergy that God has called them, not their work, adding that "work" has become the number one approved addiction in this country.
"It's counter-cultural to rest," she said. "Our humanity requires us to rest. Your systems won't work if you won't rest. But rest is associated with being lazy."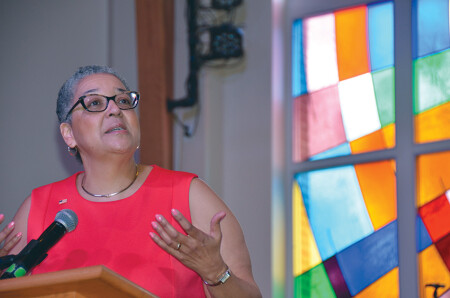 Rev. Zina Jacque speaks on rest, rise and walk as Lenten disciplines at the Bishop's Day Apart with Clergy at Queen's Chapel UMC.
Jaqcue, who serves as pastor of Community Church in Barrington, Ill., turned her attention to Exodus 31:12-17, where God gave instruction about Sabbath.
"In three verses," she said, "God tells Moses twice I'm going to kill you and put you out.
God is serious about rest. When I don't rest, I am killing myself, my spirit."
The second session focused on another four-letter word, "Rise."
After we rest, there is work for us to do, she said. It's in our nature to rise, but there's a caveat – we must rise in our season.
As an illustration, Jacque showed a photo of some budding flowers in her yard, taken during a warm spell in February.
"In their season - spring - they're small, fragile, strong but still young," she said. "If you're in your spring, you're tender. This has nothing to do with age. Where you are in your spirit time?
"Here's the thing about rising," Jacque continued. "We are able to rise if we've rested. We're able to rise because God's mercies are new every morning. Rise gently, caring for yourself; nothing is more important to God than are you."
And after we've rested and risen, Jacque said, comes the third four-letter word: "Walk."
"To walk," she said, "is a way of life, not perambulation. For we walk by faith, not sight."
Noting several instances in the Bible where God called people to walk into unknown places, Jacque said that God is inunknown place with us.
"Unknown places transform us," she said. "Every garden in the text gets us in trouble. Every wilderness is redemptive, transformative. In the garden, we think we're in control. In the wilderness, we stretch out on God."
The most unknown place we can point to, Jacque said, is the tomb. But we don't have to fear that; Jesus rose with all power. "We don't have to fear unknown places, because they are not unknown to God."
During the journey we're all on, Jacque said, it is one filled with purpose and promise. "God says, 'I won't leave you or forsake you.' There's provision, and that means God is with us. This day away is to remind us we're so precious to God."