Churches prepare for second Sunday during pandemic
Posted by on
by Erik Alsgaard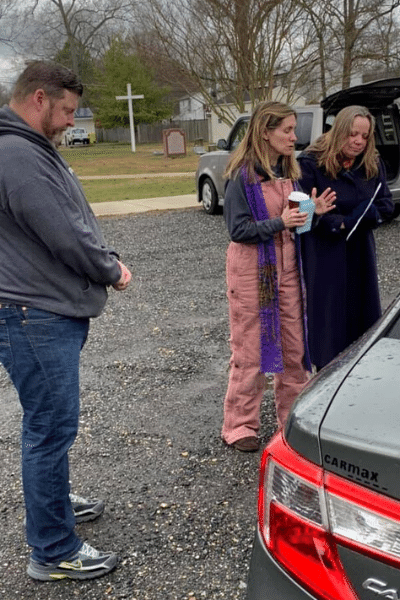 The Rev. Faith Wilkerson, center, offers prayer during "Drive-
Thru Church" March 15 at Centenary UMC.
As the second Sunday of self-isolating nears, churches throughout the Baltimore-Washington Conference are finding creative ways to worship and to stay in touch with their members and their communities.
This coming Sunday, like March 15, will be one where in-person worship is banned because of the coronavirus outbreak. Bishop LaTrelle Easterling, following guidance from the Centers for Disease Control and state and Washington, D.C., officials, has directed churches not to physically gather through at least March 29.
The BWC website has a resource page for local churches on the coronavirus: https://www.bwcumc.org/article/coronavirus-resources/
Emmanuel UMC in Laurel is also modeling this one-stop-shop for resources on its website, http://www.eumclaurel.org/emmanuel-to-go/. "Emmanuel To Go" lists information on what the church is doing, including links to online prayer gatherings and Bible studies.
The Rev. Leo Yates, the church notes, is also providing a Zoom gathering every Thursday at 6 p.m. for the Deaf community.
At Centenary and Mt. Harmony UMCs, the Rev. Faith Wilkerson is planning on doing drive-through church again this Sunday. Last week, she and a handful of other church leaders stood in the Centenary church's parking lot as people drove through for prayer and a brief word.
"Fill out your Prayer Card for submission to the one or all of the following churches: Mt Harmony-Lower Marlboro, Centenary, St Matthews, Franklin, Mt Zion UMC," read the notice on the church's Facebook page March 14.
The effort crossed racial and faith boundaries, Wilkerson said. The idea came from their successful "drive-thru Ash Wednesday" ministry.
"Everyone ended up with a prayer card," she said, "and if they gave an offering, we made sure it went to their church."
Wilkerson said that 22 people "and a non-denominational dog" came through.
At the Emory Fellowship and its nonprofit arm, The Emory Beacon of Light, located in Washington, D.C., the Rev. Joe Daniels said they are partnering with the Capital Area Community Food Bank to become a food distribution center during the coronavirus pandemic.
"While our church is closed in solidarity with Bishop Easterling's leadership," he said, "we are still serving nonperishable food items to families in need, and are participating with Ward 4 Councilmember Brandon Todd's office to be a site for resourcing families in need in all types of ways. We are supporting our community as a place of refuge and hope in the midst of fear and uncertainty."
In Baltimore, Epworth Chapel UMC, like most churches, is trying to continue to be the church through virtual means and maintain as much "normalcy" as possible, said its pastor, the Rev. Tony Hunt.
"For us, effective, consistent communications is essential," he said, "along with providing accurate timely information and education."
The church is using several tools to do this, including e-mail and social media.
"We have professional healthcare providers — nurses, medical doctors and social workers — in our congregation and our community who we are asking to give health updates, based on guidance from CDC and state and local health officials," Hunt said.
In addition, the pastor is offering a weekly pastoral update by e-mail and social networking to the church.
To address the spiritual life of the church, Epworth Chapel is providing multiple opportunities per week for people to connect. Hunt is teaching Tuesday and Wednesday Bible studies using teleconferencing and Zoom technology, and they do a virtual prayer meeting Thursday night by teleconference.
They are also working to sustain as much as possible some of the normal operational life of the church.
"The Church Council will meet through teleconferencing tonight," Hunt said. "I and the congregational care team are doing a good amount of pastoral care by phone, checking in on our sick and shut-in members, and we're planning to worship again next week and perhaps over the next few weeks using teleconferencing and Zoom, as these help us interact with each other."
On Sunday, March 15, Hung said they had over 300 people connect with us through two teleconference worship experiences and on Facebook.
Moving forward, the church's food pantry is expanding its hours to serve people who have needs in the church and community where they can pick up bags of groceries and go, Hunt said. They are also working with local schools to be sure that school-age children get breakfast and lunch on each school day.
Wilkerson said that if there is any silver lining in this time of crisis, it is that people are drawing closer, even if not physically able to do so.
"It is great to partner with other churches," she said, "and it's an exciting time to connect with colleagues whom we might not otherwise work with."
And, as Hunt said, "we're seeing this crisis as a great opportunity to reach new people for Christ."