Churches offer lodging for youth marchers
Posted by Erik Alsgaard on
By Erik Alsgaard
As thousands of people streamed into the nation's capital for the March for Our Lives, several United Methodist churches in and around Washington opened their doors to offer youth groups and their leaders a place to eat and sleep as they prepared for the rally.

At National United Methodist Church, across the street from United Methodist-related American University, about 140 youth came for a lock-in — an overnight youth gathering at a church. The event included pizza, sign-making materials, a guest speaker, and breakfast served by the United Methodist Women.
People from as far as Florida came and stayed at the church for the March 24 rally against gun violence, said Patrick Landau, director of youth ministry at National United Methodist Church.
Landau was a freshman in high school when the shooting in Columbine, Colorado, happened. He remembers exactly where he was.
"It's something that's been constantly on my mind, especially as we see these school shootings," he said.
Landau recalled that when his youth group worked with a group from a less affluent neighborhood, he learned that all the kids were afraid of being shot, regardless of their race, ethnicity, or income.
"It really struck me," he said. "That one thing these teenagers have in common … is this fear of gun violence."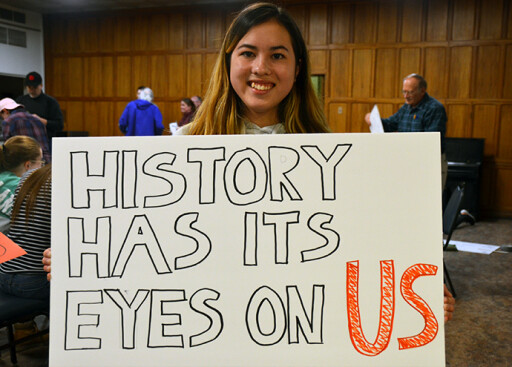 Olivia Greene, a member of National United Methodist Church was working on a sign at the lock-in that read, "History has its eyes on us."
"I have seen a lot of things done at my school (about gun violence), but I've never seen anything done at a church, so I think it's really cool they're doing it here," Greene said.
An 11th grader who attends Woodrow Wilson High School in Washington, Greene has done walk-outs at school to protest the inaction of political leaders. But she said she had never done anything in the area of gun violence.
"My school has a lot of security," she said. "We have metal detectors, conveyor-belt metal detectors; they take away your forks and glass bottles, but somehow people still get guns into the school. The fact that I have to worry about that? That shouldn't be a problem."
Maddie Ireland, a middle-schooler from Urbana, Maryland, was also part of the lock-in.
"This is all just horrible and it needs to stop," she said. "I'm tired of hearing about it all the time."
Devin Campbell said he was in Washington to let the government know that students had a voice, too. A sophomore in high school from Cleveland, Ohio, Campbell said he, too, feels scared to go to school sometimes.
"It's not right to feel that way," he said. "We just want to get an education and live our lives and not have them end short."
Campbell, a member of a Disciples of Christ Church in Cleveland, also participated in his school's walk-out on March 14, the one-month anniversary of the shooting in Parkland, Florida. He said that it was a powerful experience for him.
"It was really cool to see how many people care about this, how many people want to change," he said.
Hannah Beamish, an 11th grader from Rochester, New York, came to the lock-in with her youth group. She attends Asbury First United Methodist Church.
"I'm scared to go to school, and I'm sick of it. I'm so done walking into a classroom and looking for the place that we would need to go in a lockdown," Beamish said.
This was the first time Beamish had participated in any kind of organized protest.
Seeing the passion and motivation of the youth inspired Landau.
"I'm really hopeful," he said. "They are really inspiring, especially to us older folk, to do the work we once thought was impossible."