Church partners with Worldreader to help Zimbabwean students
Posted by Guest Author on
By Joey Butler*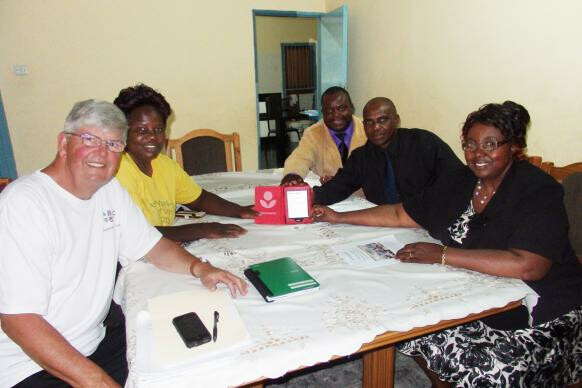 UMNS Photo: Charlie Moore (left) and staff at the Methodist Mission School in Murewa, Zimbabwe, pose with the school's first e-reader. Moore's church, Community UMC in Crofton, Maryland, is bringing 75 more e-readers to the school in March 2016.
The Rev. Faith Lewis didn't know what to expect when she attended the first Game Changers Summit in 2014, but she definitely didn't expect it to spawn a mission project.
Lewis heard a panel discussion that included Kristina Lee from Worldreader, an organization that puts digital books in the hands of students in developing nations.
Lewis' church, Mt. Harmony/Lower Marlboro United Methodist Church in Owings, Maryland, had a long-standing relationship with Methodist Mission School in Murewa, Zimbabwe. They'd been sending teams there every two years since 1997.
"I'm sitting there with people who had been on Volunteers-in-Mission teams, and we thought, 'Wouldn't it be great if we could implement something like Worldreader at Murewa?'" she said.
Lewis started a conversation with Lee to learn more about Worldreader and tell her about her church's mission projects in Zimbabwe. From that conversation, Lewis began to wonder if it might be possible to outfit the Murewa school with e-readers.
"When Faith came back from Game Changers with info about the e-reader initiative, we jumped on it pretty quickly," said Charlie Moore, a member of Community UMC who's been leading VIM trips for over a decade.
The church secured one device and took it on their next trip to introduce to the school.
"The kids loved it," Lewis said. "It's in Shona, their own language. It satisfied a deep need and they didn't even know it was a possibility."
Next came the tough part: How to pay for it.
"So we were interested, they were interested, now what? It was $10,000," Lewis said.
Her congregation got excited by the project and found creative ways to raise the money. VIM team members started posting online about it. A crowd-funding site was launched. One youth member held a video game night at the church where parents could drop their kids off for $20 and they played games all night.
"Everybody pitched in. It was such a perfect solution for them that we trusted that God would provide the funds," Lewis said.
'Answer to my prayers'
One big contribution came from an unexpected source.
Moore said a woman at the church heard about the program, and was about to receive a settlement from being in a major auto accident. She wanted to tithe off that settlement and had been praying over how to do it.
"She said, 'Your program became the answer to my prayers.' Within a week, I had a check for $7,010," he added. "Her response was based on her love of reading, and she had a passion for addressing the needs in rural Africa."
The church's initial $10,000 goal was met and surpassed. They're currently at $13,000. When they return to Zimbabwe in March 2016, they will be bringing 75 e-readers, each loaded with 100 books.
"This is a really joyous partnership for us because we know The United Methodist Church has such a massive network," Lee said. "Now we can say through this one school that The UMC has really entered the digital reading revolution. We've been so grateful to Faith for leading the charge because we know when other congregations see the impact of this, we hope it will catch fire."
Moore feels this is probably just the beginning.
"I've already gotten inquiries from some of my friends over there who are headmasters of schools, asking when we're bringing e-readers to them!"
Lee is excited about the prospect of expanding Worldreader's reach in Zimbabwe.
"We're working across 13 countries in sub-Saharan Africa, but so far only one project in Zimbabwe, and that one was started years ago. We're hoping that through The United Methodist Church we're able to start a refresh pushing digital reading not just at this school, but spreading across the country.
"Don't' consider this just one project at the school. This could help influence the whole community, and then the whole country."
*Butler is a multimedia producer/editor for United Methodist Communications, Nashville, Tenn.