Church mobilizes to help cyclone survivors
Posted by Guest Author on
By United Methodist News Service correspondents
March 19, 2019 | CHIMANIMANI-CHIPINGE, Zimbabwe (UMNS)
Cyclone Idai left a path of destruction in Mozambique, Zimbabwe and Malawi, killing at least 180 people and damaging United Methodist schools, churches, hospitals and homes.
The cyclone made landfall near Beira, the fourth-largest city in Mozambique. While 84 deaths have been reported in the country, Mozambique President Filipe Nyusi said March 18 that the death toll could reach 1,000, according to a BBC report.
"Everything indicates that we can have a record of more than 1,000 dead," Nyusi said in a national radio address on Monday, adding that "100,000 people are in danger."
Thousands of families have been displaced in the Sofala, Zambézia, Manica and Inhambane provinces. The United Methodist Church's three annual conferences in Mozambique are working to support survivors by collecting money and other donations.
How to help
To make a donation to UMCOR's International Disaster Response, use Advance #982450.
Respeito Chirrinze, episcopal area disaster management coordinator (a program supported by the United Methodist Committee on Relief), said many roads have been destroyed and there are isolated settlements in need. Many areas are without power and facing food and water shortages.
"Given the magnitude of the impact, there is still no possible communication with the affected areas. Within the Mozambique conferences, we have already appealed to Christian communities to extend a helping hand to the survivors," he said.
"Cyclone Idai comes at a time when the wounds caused by Cyclone Dineo (in 2017) have not healed yet. I believe that The United Methodist Church in Mozambique, as it has always been, will generously extend its hand to support flood and Cyclone Idai's survivors."
In an email to Mozambique Area Bishop Joaquina Nhanala, Thomas Kemper, top executive with the United Methodist Board of Global Ministries, said, "The people of Mozambique are in my prayers and we will try to come alongside you as soon as possible."
He said the UMCOR disaster response team has been in touch with Chirrinze, who has been providing the needed information to allow the relief agency "to move as quickly as possible to address needs where they are."
"We hope to be able to have an initial rapid assessment completed by (March 19) to allow swift and direct response to need in the affected areas.
"We Methodists are one family, especially in moments of deep sorrow and disaster. Blessings and strength to you as you lead your people through this very challenging time," the note said.
Laurie Felder, UMCOR's director of international disaster response, said the relief agency also has been in communication with other United Methodist leadership in the region.
"As we learn of the widespread devastation caused by Cyclone Idai's torrential rains, winds and flooding across southern Africa, UMCOR expresses sorrow for the hundreds of lives lost and extends prayers of solidarity for those that will endure the effects of this disaster in the days and weeks ahead," she said.
In Zimbabwe, President Emmerson Mnangagwa declared a state of disaster in the Manicaland Province, where damaged roads and bridges have left people stranded.
The government reports that 98 people have died and more than 200 are still missing, according to the BBC.
Church members in the Chimanimani-Chipinge District are among those hardest hit after the tropical cyclone brought strong winds and rain to the area.
In the aftermath, the bishop's office sent an announcement calling on United Methodist church members to mobilize in support of victims.
The Rev. Alan Masimba Gurupira, assistant to Bishop Eben K. Nhiwatiwa, said conference connectional ministries directors should rally church members "for this noble cause."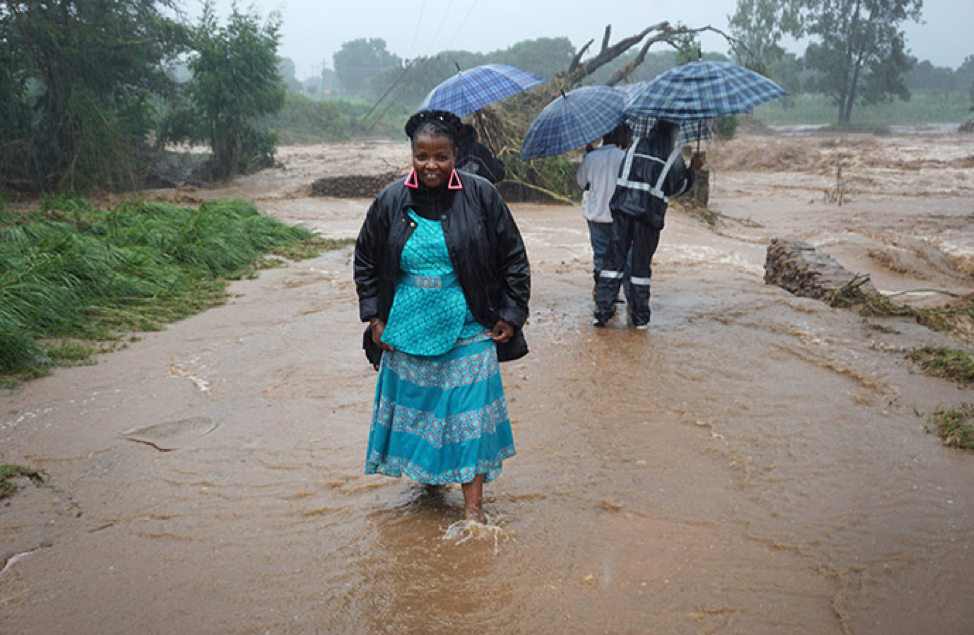 Kudzai Chingwe wades through floodwaters at the Mutambara Mission Center in the Chimanimani District of Eastern Zimbabwe. Photo by the Rev. Juliet Mwarumba.
The Rev. Duncan Charwadza, Zimbabwe East Conference deputy administrator and connectional ministries director, said he consulted with the Manicaland Provincial Civil Protection Unit, and "they have wholeheartedly welcomed our idea to assist as a denomination and advised accordingly a list of currently and urgently needed (items)," he said.
Topping the list are blankets, medication, water, beans, cooking oil, buckets, soap, clothing, diapers, diesel and water purification tablets, he said.
"From the information gathered from the pastors on the ground (in) Rusitu Valley, two people lost their lives, but at the present moment it might be more than that," said the Rev. Stephen Jeyacheya, Chimamani-Chipinge District superintendent. "A lot are missing. Among them is one of our members, the headmaster at Dzingire School."
All the buildings at the school were destroyed, he said, as were three church members' homes.
"A lot of people lost their houses and crops. All roads leading to Rusitu were destroyed. (There is) no electricity, hence no network most of the time. Accessing Mutare Town for referral patients, purchasing food for the schools and linking with the community at large is now impossible because of destroyed bridges," he said.
Three bridges — Gonzoni near United Methodist Mutambara Mission Center, Umvumvumvu near United Methodist Lydia Chimonyo Mission Center, and Mhandarume, which connects the institutions with Mutare — were swept away.
"The destruction has been so bad and the church has been affected badly," Jeyacheya said. "We are deeply in need of prayers so our God would comfort the affected families."
Dr. Emmanuel Mefor, a Global Ministries missionary and medical superintendent at the United Methodist Mutambara Mission Hospital, said the medical facility is now isolated.
"Our ambulance failed to return after ferrying a patient referred to Mutare Hospital on Saturday as the bridge was swept away," he said.
"Most mudslides occurred in Chimanimani, but the injured could not be brought to our hospital because we have been cut off from surrounding communities by the collapsed bridges."
The Nigerian medical missionary said Mutambara Hospital had no electricity or fuel to power generators and was unable to offer surgical procedures. The lack of electricity also affected the mortuary at the hospital and the mission had to ferry three bodies and hand over to waiting relatives at the strip, the only thing that remains of the bridge to Nhedziwa.
"The people here are suffering. They are traumatized," said the Rev. Lloyd Marange, Mutambara Mission station chairperson.
Charwadza, with the Zimbabwe East Conference, visited Lydia Chimonyo Girls High School in Chimanimani to assess the impact late Monday afternoon. It is the only United Methodist girls school in the Zimbabwe Episcopal Area.
"The water treatment plant at the school was damaged. This is a dire situation for the 650 pupils enrolled at the school as they are relying on water from a single borehole. There is no electricity or running water and this is stressful for the girl child," said Charwadza.
A neighboring farmer had offered his helicopter for relief efforts but Charwadza said the weather has not been conducive for flying.
"The girls' school is also sheltering people from the nearby communities who were stranded and could not return home due to the damaged bridges," he said.
Gurupira said the episcopal area is mobilizing the needed support. The health board already has donated gloves, aqua tablets, bottled water and other needed supplies for dispatch to disaster areas, he said, and Ngangu United Methodist Church has opened its church building for shelter to displaced members of the community.
"What is apparent is The United Methodist Church is being called to action as we live up to our values and offer service to society."
Communicators Chenayi Kumuterera, Kudzai Chingwe and Eveline Chikwanah from Zimbabwe and Joao Sambo from Mozambique contributed to this report, which was edited by Julie Dwyer.
News media contact: Vicki Brown, news editor, or 615-742-5469. To read more United Methodist news, subscribe to the free Daily or Weekly Digests.