Christ UMC, Baltimore, damaged in demolition accident
Posted by Erik Alsgaard on
By Erik Alsgaard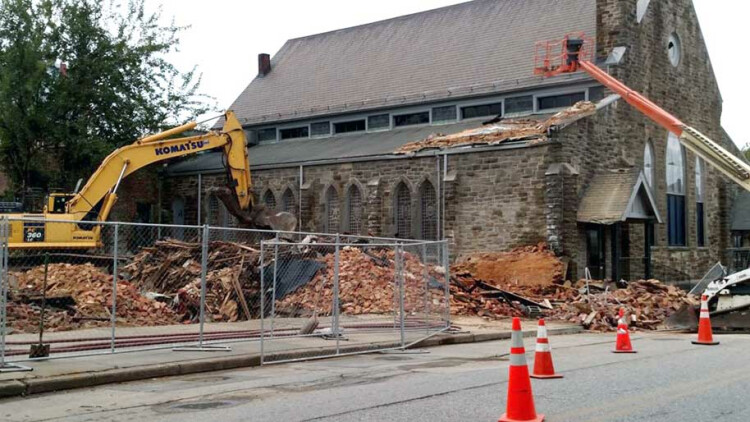 Christ UMC in Baltimore is seen in this Aug. 5 photo after part of a house being demolished next door crashed through the church's roof. Photo by Tracy Moffatt.
Tracy Moffatt, chair of the Trustees at Christ UMC in Baltimore, didn't work on Friday, Aug. 5. With some free time on her hands, and with a suggestion from her pastor, she went down to the church, near the massive Johns Hopkins Hospital complex, to watch the ongoing demolition of some row houses next to the church.
While watching, she began to video the work. In the process, she got way more than she bargained for.
In one instant, and with her camera rolling, the wall of the house nearest the church came crashing down on the church. Bricks and mortar plunged through the church's roof, causing damage to the sanctuary. Fortunately, even though there were people in the church at the time, no one was hurt.
The church's pastor, the Rev. Twanda Prioleau, was on vacation when the accident happened. She had, in fact, asked Moffatt to stop by the church Friday to check on the demolition.
"We knew they were going to do the work," Prioleau said, "we just didn't know when. When I stopped by the church on Tuesday (Aug. 2) on my way out of town, I saw that they had begun the demolition." It was then that she had the idea to ask Moffatt to check on the progress of the demolition work on Aug. 5.
Christ UMC was not able to worship in their building on Aug. 7, Prioleau said. Mount Zion UMC on Liberty Heights opened their doors to Prioleau's congregation, and the two worshiped together.
"Their opening their doors to us was a real blessing," Prioleau said. "I thank God for our connection. Because we're a connectional church, we were able to do a lot of things quickly."
One of those "things" included a funeral, scheduled for Aug. 8, that was moved from Christ UMC to Mount Zion. "They (Mount Zion) have been such a blessing to us," she said.
Prioleau and other church leaders are scheduled to meet with building inspectors and engineers on Aug. 8. What they find will determine the length of time the congregation is unable to use the building. State inspectors had looked at the damage Aug. 5, Prioleau added, and said it was best not to use the building at all.
In the wake of the accident, Prioleau said her congregation remains very positive about moving forward.
"We're rebuilding, no matter what that looks like," she said. "We are open to what God is up to in this season." Prioleau has already met with her church's leadership and the Baltimore Metropolitan District's building committee. The Rev. Ed DeLong, interim superintendent of the district, was in contact with Prioleau just hours after the damage happened.
Prioleau said that the company doing the demolition is a contractor for East Baltimore Development, Inc. According to its website, EBDI is a 501(c)3 "established by community, government, institutional and philanthropic partners to revitalize, re-energize and rebuild the East Baltimore neighborhood." When completed, the website notes, "the project will include 2,100 units of mixed-income homeownership and rental housing units, 1.7 million square feet of life sciences research and office space, a new 7-acre community learning campus with an early childhood center, a public K- 8 elementary school, fresh food stores and other neighborhood serving retail amenities, green spaces, and a new community linear park."
"We're just thankful that no one was hurt," Prioleau said. "We can replace a building."