Catalyst churches embrace vital discipleship
Posted by on
Sixteen congregations took dramatic steps toward vitality as they recently completed the Catalyst Initiative and implemented new ways of thinking about and being the church. The plans they outlined brought some who had gathered for the closing session to tears as they considered the possibilities for transformation.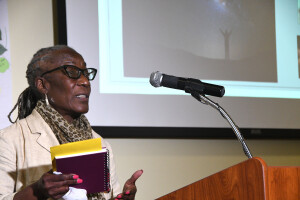 "You have no idea how you have moved my heart. Thank you for being willing to launch out into the deep, for resisting the naysayers, being bold in your witness, and being willing to learn," said Bishop LaTrelle Easterling at the closing ceremony on May 20. "This is what love looks like. This is Christ on the ground."
The faith experiments launched by churches in the Baltimore-Washington and Peninsula Delaware Conferences varied in size and scope, but each focused on moving outside the church walls to partner with the community to address a pain point to which they felt called.
Among the experiments, Petworth UMC began building bridges in their community through handing out dog treats in the park nearby; Frostburg UMC formed relationships with students at Frostburg University to address long-standing issues of racism; College Park UMC began to serve Latino immigrant mothers that inspired those women to start their own outreach; St. Paul's Praise and Worship UMC in Baltimore are working to reduce anxiety and increase a sense of belonging for families and youth at a nearby school; Oak Chapel in Silver Spring is partnering with others to support immigrant families on their journey to citizenship; and Asbury UMC in New Castle, Delaware, is building relationships with those in their childcare program to enable them to become empowered financially.
The Catalyst Initiative, made possible by a $1 million grant from the Lilly Foundation, is one of three Congregational Development Pathways, offered to churches in the BWC and Pen-Del. It uses cohorts and Synergist coaches to provide a year-long process of discovery, renewal and hands-on instruction to a church team of the pastor and a handful of lay people.
The Catalyst Initiative is designed to help churches love one another and their communities in transforming ways. Participants learn to cultivate discipleship more deeply and intentionally, to discern and experiment, to build better relationships with one another and those in the community, to evaluate and design ministry for the most impact, and to identify and leverage assets, and to create alignment and systems that sustain ministry into the future.
Community partnership and reaching beyond Sunday worship and congregational care to serve those outside of the church walls is a central tenant that reflects Bishop Easterling's call that all churches participate in missional action planning as they seek to become 100 percent vital.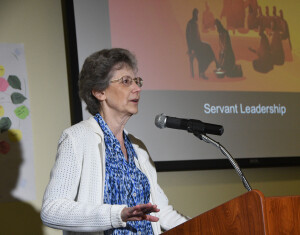 The Catalyst team from Asbury UMC in Salisbury sought to focus on increasing access to mental health resources for youth in their community. They were surprised and delighted to discover that Evolve Mental Wellness is across the street from the church. "God can open your eyes to what's directly in front of you," the team said.
At Reisterstown UMC, the churches narrowed their ideas about affirming the sacred worth of the people in their community to the students from Franklin Middle School who walked past the church each day. In conversations with the school and students, they learned that many students were experiencing bullying, fear and anxiety. In partnership with community groups, they developed a ministry in which every Wednesday students could stop in the church and participate in a series of stations that reduced anxiety. The stations focused on healthy food choices, yoga, reducing stress by petting furry rabbits, interacting with nature by planting succulents and activities.
One student asked, "Is all this for us? Why are you doing this for us?" The student then took a moment and answered their own question: "Because God loves us?" The people from Reisterstown affirmed that idea. "More and more, we are seeing people through the eyes of Jesus," the team said.
Not everything went according to plan for all of the Catalyst churches–and the learning and pivots that resulted were celebrated. At Jones Memorial UMC in Washington, D.C., for example, the team felt called to build authentic relationships with families at Anne Belks Elementary School and had an idea to experiment with a teacher appreciation event.
Upon further listening to parents and teachers, they pivoted to a pizza party for students with good attendance. The team learned that "it's not what we think is most important but what could make a bigger impact" according to those in the school. As a part of their continued listening and seeking to build trust with the school and families, Jones Memorial met the need for hygiene kits and for Pre-K and kindergarten books with characters that look like the students.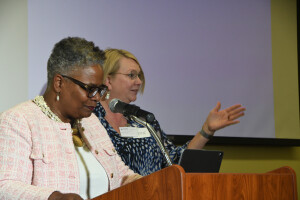 All 16 congregations reported that the Catalyst experience expanded their ideas about vitality, empowering them to become more vital as they: live and love like Jesus, see all the people, deepen discipleship, and multiply their impact.
At Poplar Springs UMC, the team began to understand how important it is "to make a habit of disciple-making. … Making disciples is not about filling pews and offering plates; it's about loving well," they said.
At Community UMC in Washington, D.C., the congregation reached out to unhoused people within a seven-minute walk from their church. They quickly learned that you can't keep faith in the building. "You have to show the love of God." At Ryland Epworth UMC, they undertook a similar outreach to the marginalized and discovered they couldn't do it alone. The team took its most faithful steps when they partnered with the DC Dream Center, a nearby nonprofit. Mt. Vernon UMC in Washington, D.C., also appreciated the value of being able to "pivot" away from initial ideas to pursue what works best. "We learned we have to have a plan B," the team said.
At National UMC in Washington, the team discovered that their muti-ministry-site congregation had 71 programs that were leading members in a dozen directions. The team focused on "refining, refining, refining" as they made efforts to continue preaching, learning and prioritizing. In their work, they realized the absolute necessity of clear and excellent communication and embraced the priority of "making the love of God obvious."
Among some insights and the lessons others learned are:
Churches need to be awakened through one-on-one conversations with people in their communities. It's best to listen to the community rather than assume you know what they want or need.
Sometimes love is socks and underwear.
Be willing to fail, then learn, pivot and persist.
It's important to move beyond your comfort zone.
Ordinary people can create an extraordinary impact.
This is the second wave of churches to complete the Catalyst Initiative. A third wave recently completed their orientation.
"Catalyst made our congregation come to life again," said the team from Jennings Chapel in Woodbine. The spark has returned." The other congregations agreed, "Catalyst brought us to life," said the team from Oxon Hill. "We can't sit still."
Churches that participated in this wave of the Catalyst Initiative are:
Poplar Springs UMC in Mount Airy, MD
Jennings Chapel UMC in Woodbine, MD
Paul Praise and Worship Center in Pikesville, MD
Reisterstown UMC in Reisterstown, MD
Frostburg UMC in Frostburg, MD
Asbury UMC in New Castle, Del.
College Park UMC in College Park, MD
Community UMC in Washington, D.C.
Jones Memorial UMC in Washington, D.C.
Mt. Vernon UMC in Washington, D.C.
National UMC in Washington, D.C.
Oak Chapel UMC in Silver Spring, MD
Petworth UMC in Washington, D.C.
Ryland Epworth UMC in Washington, D.C.
Asbury UMC in Salisbury, MD
Oxon Hill UMC in Oxon Hill, MD