BWC puts Love in Action
Posted by on

By Melissa Lauber
Photos by Alison Burdett & Tony Richards
'Justice is love in action'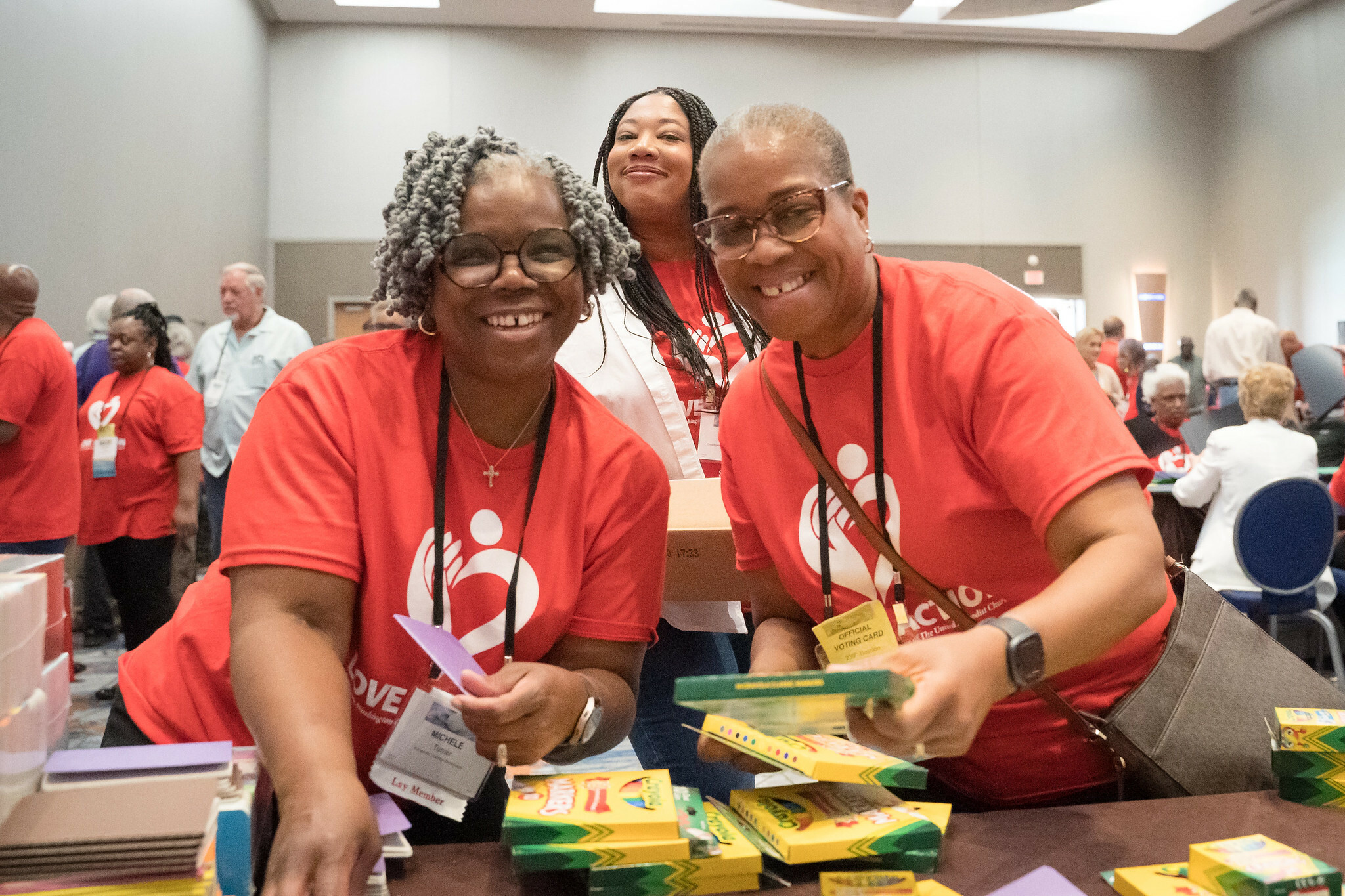 Sometimes the MAP can lead you on wonderful adventures. To create more vital churches, congregations throughout the BWC have been adopting Missional Action Plans, connecting churches in partnerships to serve their communities. On Friday, annual conference members followed the MAP philosophy and put their love into action when they joined in mission to the children of Baltimore.
Love in Action was a creative outreach in which many conference members left the hotel, got into yellow school buses and went to do maintenance and repairs at six sites where young people live and learn: Furman L. Templeton Preparatory Academy, Harlem Park Elementary/Middle School, Sandtown-Winchester Achievement Academy, Westport Academy, Westport Homes Boys and Girls Club, and Susanna Wesley House—a transitional house for women and children in need of safe and supportive housing. Skilled servant workers also remained at the Hilton Hotel to pack more than $15,000 in school supplies and books that conference members purchased for area students in eight additional schools and wrote notes of encouragement to the children of Baltimore.
School partnerships are an integral part of ministry among United Methodist churches in Baltimore, said Baltimore Metropolitan superintendent, the Rev. Wanda Duckett. For Duckett, this year's service project exemplifies the "all" in All About Love, the conference's theme.
"In this one way, on this one day, we are doing it all," said Duckett. "Partnering with schools and investing in children is also economic empowerment of families, it's prison ministry, it's increasing cultural awareness, it's gang intervention and gun violence prevention. It, directly and indirectly, touches all the bases outlined in Bishop Easterling's call to Missional Action Planning. It connects us with our communities and ignites a passion to form relationships that can impact generations to come."
In keeping with their commitment to partner with those in the community, the BWC partnered with Heart of America (HOA), a nonprofit that transforms learning spaces, bridges the resource gap and strengthens communities to give every student room to learn, discover and thrive.
Working at Sandtown Winchester Academy, the Rev. Tim Warner reflected on the purpose of the day. "Community is God's invention. And the more we wander into it, the more we find God there," he said. "It's really about the presence. Don't worry about the purpose for going. When you show up with God, God will lead you to the purpose, and you'll see God's power in the interaction with people. The transformation is going to happen. We are planting seeds that have internal implications every time we go into community. And no matter what the community is, particularly with the least, the lost, and the last among us, you'll find God showing up in amazing ways. God is literally waiting for us to show up in places and to do some things."
'I See God in the Numbers'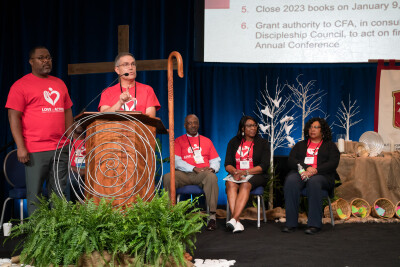 During the afternoon, the BWC's stewardship ministries reported on the budget, benefits, clergy compensation and the generosity of God.
The BWC's 2024 budget of $18,107,147 was unanimously adopted, including a mission-share income budget of $12,564,729. The benevolence factor for mission shares was reduced to 17.45 percent and the collection rate was set at 87 percent, 3 percent less than the 2023 assumption. Overall, the 2024 budget proposal is a decrease of $116,000 or 0.6% from the prior year. Members also honored Phil Potter, CFA's chair who led fearlessly, prudently, and with vision. He is stepping down from this position and will be replaced by the Rev. Daryl Williams.
The Rev. Cary James and the Board of Pensions and Health Benefits announced several changes coming to clergy health care, including increases in premiums. More details about these changes will be provided at a webinar in September to prepare people for HealthFlex selections in early November.
Members unanimously approved the recommendations of the Commission on Equitable Compensation, which increased the base salary for clergy by 4 percent, or $1,920, which will make the base salary $49,910; and raised the recommended housing allowance by 3 percent or $642. This will increase the recommended housing allowance to $22,036. The commission also reported that $4,100 is an appropriate amount for clergy's minimum account reimbursement.
'Measure Your Life in Love'
The BWC's Discipleship Ministries team, which addresses Leadership Development, New Faith Expressions, Advocacy and Action, Wellness and Mission, Archives & History and Young People's Ministries, works to empower churches to grow in vitality. Vitality is measured by the pillars of Seeing All the People, Deepening Discipleship, Living and Loving Like Jesus, and Multiplying Impact.
In a presentation that featured Seasons of Love, the team explored how each church and every person has 525,600 minutes that can be measured in love.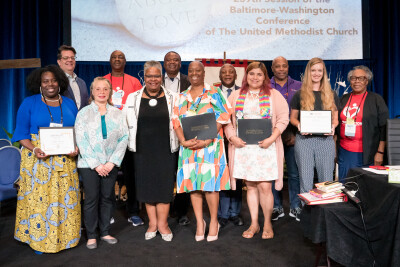 Several awards were presented to people and churches who excelled in ministry. The Harry Denman Award for evangelism went to Sadie Kollias, Pastor Angelic Williams, Bart Cookus, Pastor Cassandra Núñez, and Bishop LaTrelle Easterling. The Youth Worker of the Year was Natiya Bennett. Asbury, Jackson Chapel and Mt. Carmel UMCs were awarded the Advocacy and Action award and Oak Chapel UMC was honored with the Wellness and Missions Award.
The One Matters Award, for small increases in membership and a renewed commitment to discipleship, which comes with a $1,000 prize, went to Ames UMC in Bel Air. Honorable mentions for the One Matters Award went to Eastport UMC in Annapolis, Holy Cross UMC in the Cumberland Hagerstown District, Metropolitan UMC in the Baltimore Metropolitan District, Salem UMC in Central Maryland, St. Paul UMC in Greater Washington, St. Edmonds UMC in Washington East and Williams Memorial in the Frederick District.
The migrant ministry of Capitol Hill UMC, which cares for migrants who are bused in from Texas and Arizona, was lifted up as a stellar example of sacred work and adaptive leadership. In 2022, members of the BWC donated $45,000 to this ministry in second-mile giving. The needs continue.
Conference members also celebrated the Zimbabwe Methodist Fellowship in Beltsville, which was born as a church without walls in 2019 and has developed into the BWC's newest church start.
In other action, conference members:
Participated in a Bible study led by Bishop Peter D. Weaver about Pentecost and how we are all called to be apostles – Spirit-sent – to "go, go, go" into all the world.
Heard a Laity Address by Bisi Adebesin, of Liberty Grove UMC, who shared her call story.
Were invited by the Board of Ordained Ministry to say "yes" to the joyful call of God within their congregations and attend a Culture of Call event at Wesley Freedom UMC on June 24.
Welcomed two Deacons and six Elders who will be commissioned Saturday.
Heard six Elders who will be ordained Saturday answer the historic questions.
Voted, after intense debate, to postpone indefinitely the resolution to ask that people who intend to leave the denomination not serve in leadership positions in the conference, district and local church.
Supported the removal of discriminatory policies in the Book of Discipline.
Referred the policy for churches that want to disaffiliate and later return to the BWC, to the Board of Trustees.
Learned about the importance of supporting the Black College Fund, which the UMC supports, from the Rev. Kevin Kosh, Jr.
Heard a report from the Rev. Jessica Hayden about the work of the Discipleship Council. She applauded the effectiveness of Discipleship Ministry Reports, which are filled out annually by local churches, and how they're being used by church and conference leaders to help 100 percent of our churches grow to be 100 percent vital.
Members honored Hayden as she steps down from her position as chair of the Discipleship Council.
Received the Nominations Report for bold servant leaders to serve on BWC agencies.
Learned about Pathways for Congregational Development and the Center for Vital Leadership, which are creating vital leaders and congregations.
The day closed with an evening of fun and karaoke hosted by the BWC's Young Adult Ministries.