BWC mourns the loss of Tony Martucci
Posted by on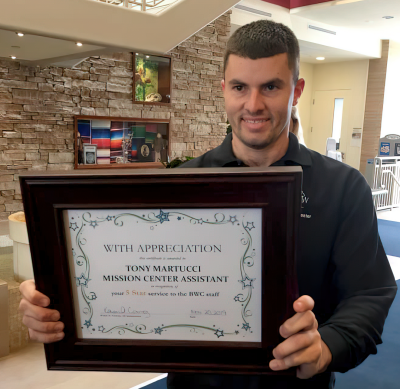 If Tony Martucci has a legacy, it will be his wave. The staff and some special visitors to the Baltimore-Washington Conference Mission Center in Fulton usually received a greeting, a short wave and a very few words from Tony. That greeting was always noted and often quietly treasured.
Tony, 31, was the Mission Center Assistant. He died unexpectedly on the evening of March 7, after a day of work and before going out for french fries with his father.
At the Next Level Speaker Series event, Bishop LaTrelle Easterling shared the sad news. "Our own Tony Martucci passed away last night, transitioning from life to life," she said. "He was a beautiful presence, an innocent presence. He was shy with us at times, and at other times he was bold. We're struggling now. We will miss him and we will remember him with fierce love."
"I reached out to Tony's mother to offer our condolences and prayers at this devastating news and to thank her for sharing Tony with us for so many years," the bishop said. "He was a blessing to our Mission Center family."
Perhaps no one at the Mission Center will miss Tony as much as Ricky Shaw, his supervisor. Shaw remembers when the Mission Center opened in 2010, and Tony was part of a work program at Reservoir High School for students with autism. The purpose of the program was to help the students learn to better socialize with others. He began working with Shaw, checking coffee stations, setting up tables for meetings and performing other routine tasks. When Tony graduated, he was hired at the Mission Center.
Tony, Shaw quickly discovered, was a person of routines, so his day was designed around routine. Every day at 11 a.m. – every day – was lunchtime. "Tony was very intelligent, but his autism wouldn't let him show it," Shaw said. "He was very easygoing, he kept to himself. When he felt like speaking, he would speak in short bursts. When he was frustrated, he would press his hands together. He smiled a lot."
Shaw never understood when people said he was patient with Tony. "I always thought of him as my good friend, who I worked with," he said. However, the pair did develop a shorthand.
One of Tony's favorite activities was watching animated Disney movies, especially The Jungle Book and The Lion King. When something happened in the Mission Center that triggered an emotion or thought for Tony, he would quote a line from a movie. Shaw watched all of Tony's favorites and learned the dialogue so that when Tony would recite a line, he would know what his friend was feeling. "They were little sparks of bonding, special moments," Shaw said.
"I'm still in pain and grief. I'm in shock mode," Shaw continued. "But I know that in the future there will be movie lines that I'll remember for the rest of my life."
While Tony brought joy to the Mission Center with his daily greetings, working there also touched his life. Shaw saw him once talking to his reflection of a display case at the Mission Center – he was practicing making eye contact. "It's all the little things," Shaw said. "Tony wanted to help. He wanted to be here. He felt he belonged here. He had a purpose, he had a job, he was so happy about that. I'm going to miss those waves."
A time of visitation and a prayer service for Tony Martucci will be held on Monday, March 13, at Donaldson Funeral Home in Laurel. Visitation is from 5 to 8 p.m., the service is at 6 p.m. See his obituary.
Sorry, it was in the link. Visitation is 5:00 – 8:00 pm. Service at 6:00.