BWC charters new church - Community with a Cause UMC
Posted by on
By Melissa Lauber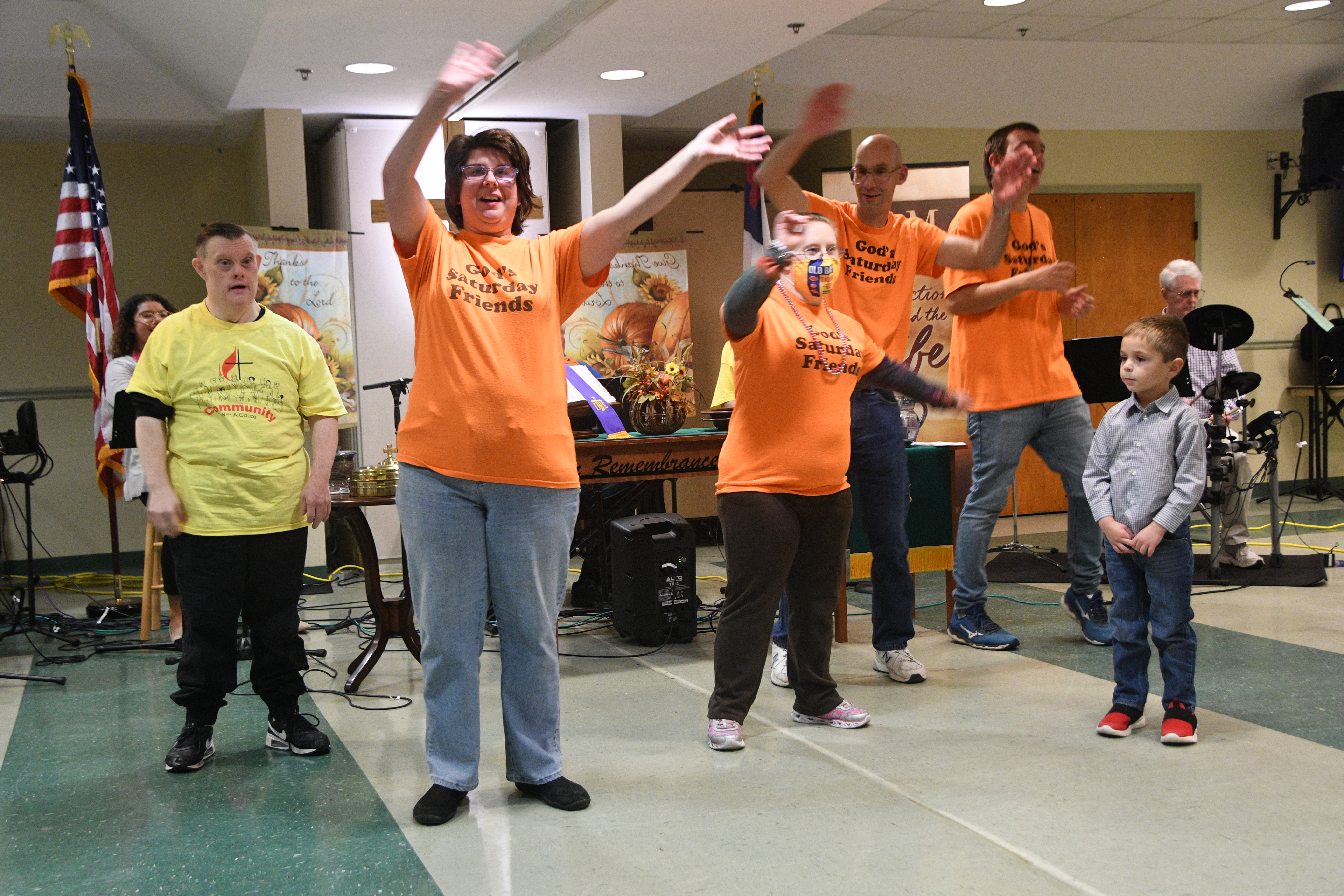 The newest congregation of the Baltimore-Washington Conference – Community With A Cause UMC in Southern Maryland – may also be its most unabashedly welcoming.
Visitors are met with vibrant greetings. People coming into the worship, even after it begins, strike a pose of joy and then hug their friends. When it's time to sing and praise God the joy is infectious, and there is not a member there who is not absolutely certain that their pastor, and the God he serves, love them unconditionally.
Community With A Cause was chartered and officially became a United Methodist Church on Oct. 17.
Pastor Don Geller was led to start this new faith experience following a "Walk to Emmaus" gathering in October 2007. At Lexington Park UMC, he and his wife, Cindy, started the Agape Club, which was a nondenominational special needs ministry aimed directly at "those whom God has gifted differently."
The Agape Club met on the second Friday of every month for the next 14 years, Geller said.
"We watched God grow that ministry from five special needs friends to over 100 when the pandemic temporarily shut it down." He was led to start this new faith community during a class at Wesley Theological Seminary, called Planting New Faith Communities, in which he wrote a paper about a hypothetical church called Community With A Cause.
While the Agape Club was started for their special needs friends, Community With A Cause was started to give the parents and caregivers of those whom God has gifted differently a place to worship of their own, Geller explained.
"Many of those parents and caregivers just stopped worshipping altogether as they became embarrassed or even shunned when their special needs family member acted out during a traditional worship service. What touches my heart the most is to see the faces of those parents and caregivers when their son or daughter participates in our worship services," he said.
Over the years, this faith community moved into Loffler Senior Center in Great Mills, where they meet for Sunday School and worship on Saturdays. It's been a labor of love, Geller said.
At a worship service celebrating the chartering, the Rev. Johnsie Cogman, superintendent of the Washington East District, agreed.
"What touches my heart is the truly unconditional love each person has for each other and for anyone who comes in their presence. They love Jesus," Cogman said. "This congregation is definitely welcoming to all. It is also a safe space, and the parents or caregivers can come and worship as well without the fear of "stares and glares" at their loved ones. When you walk into their worship space, you sense nothing but joy and happiness! When you leave, you leave with joy in your heart."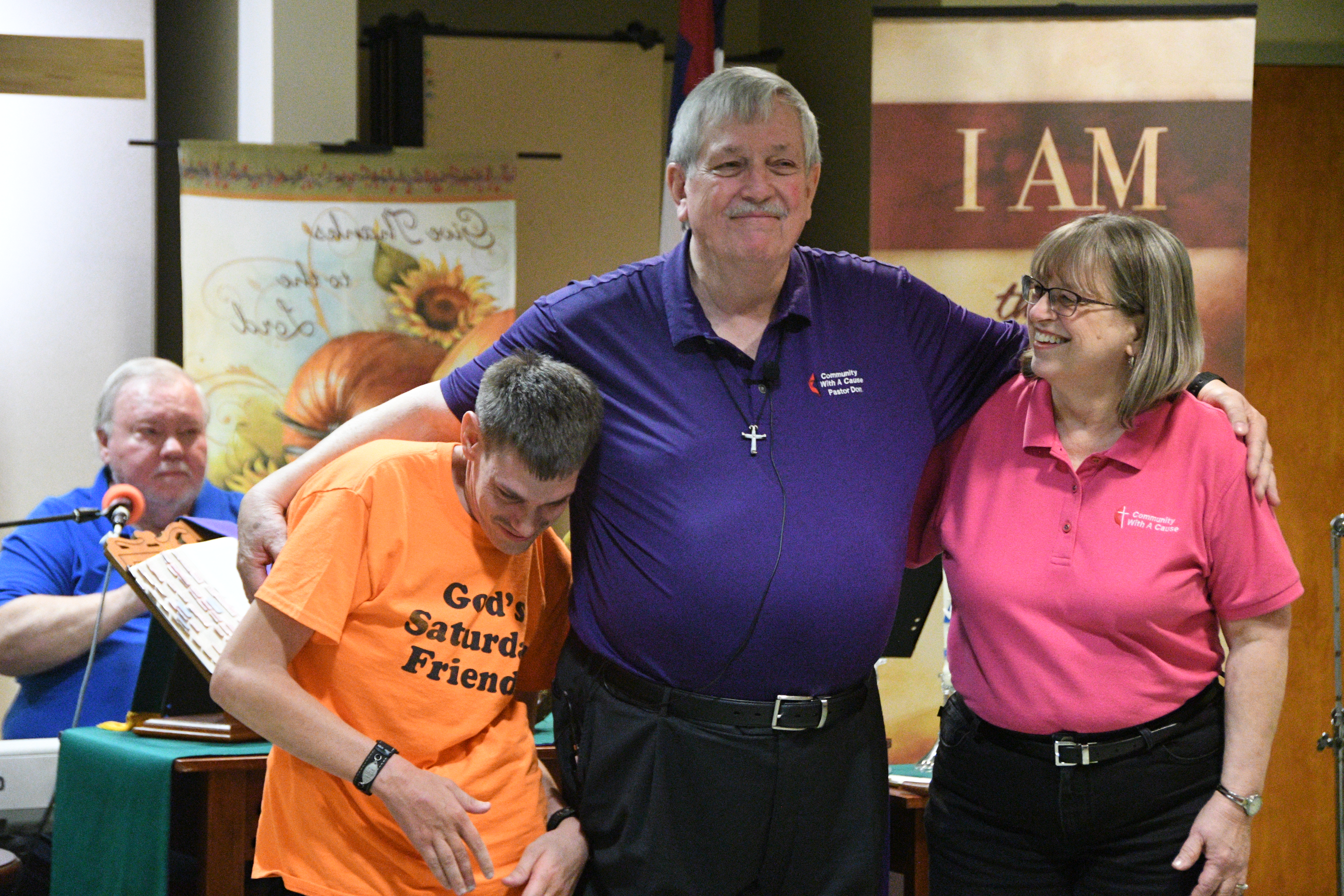 Geller is familiar with that joy.
One of the highlights of this ministry, he said, occurred during one of the Agape Club meetings a while ago. "There was a severely disabled young man named Jacob. It would take two caregivers to bring Jacob to the Agape Club. One night while we were singing, Jacob was bellowing and his caregivers were trying to keep him quiet, but I could see the twinkle in his eyes and I said to them, 'let him be! While we may not know what he is saying, God understands every word that young man is saying.' I literally watched Jacob crawl on his hands and knees that night to get into the middle of that circle with me."
Another highlight, Geller remembered, occurred during the Christmas play two years ago.
"To see the faces of parents and caregivers as they watched their special needs son or daughter participate in a church Christmas play for the very first time, was truly a God moment and will certainly be one of the highlights of my ministry for years to come."
The ministry is not without its challenges. One of the most challenging is finding time and resources as Geller works as a quarter-time, bi-vocational, licensed local pastor with a full-time job.
"I am constantly asked, how do you do it," Geller said, "and I immediately quote my special friend's favorite Scripture verse from Philippians 4:13; 'I can do all things through Christ, who strengthens me.'"
Tiffany and her best friend, April, are members of the church. They and several other young adults with disabilities wear T-shirts that say "God's Saturday Friends" on them. Friendship is what draws them week after week. Friendship and Pastor Don, who is "absolutely the best ever. Ask anyone. He is the best!"
"It feels like family here, that's why I come," Tiffany said. "I belong here."
In 2019, Geller officiated at Tiffany's wedding. She is now pregnant and has many of the same fears as other expectant mothers. But Tiffany is also feeling brave because Geller has agreed to be the baby's godfather.
She's not alone in feeling a sense of belonging. Parents and loved ones of the Saturday Friends describe how Community With A Cause creates a place where everyone can be themselves, without feeling shushed or shamed.
"Just look what God has done," said Dwayne, president of the church council. "I dare you to come to church here and not leave smiling."
At the chartering celebration, one father remembered his son's face when he rose joyfully out of the baptism waters. "I was seeing the Holy Spirit in action," he said. And a mother commented that "when I first came here, I immediately knew I was home. You can feel the love when you walk in. When I leave, I know I am walking with God and I can accomplish anything."
Like its members, Cogman has great hopes for the church. "My hope is for this church to continue to grow spiritually and be the light of and for the world," she said. "I want them to show other churches how to truly be the church."
She believes that Community With A Cause has something to teach more traditional congregations about opening their hearts, minds and doors to all of God's children and providing them an opportunity to experience God's unconditional love.
And as for the people of Community With A Cause, they're continuing to worship – with joy and in expectation. On the day following their chartering celebration, the church continued to celebrate – with three baptisms and by receiving six new members.
Geller is hopeful the church will continue to grow, and one day have its own building. He is also hopeful that others in the United Methodist connection "come to understand that this is church. While Community With A Cause might not be church as they know it, rest assured that this is a church specifically designed and tailored to meet the experiences and struggles that families caring for people with disabilities encounter; you have to experience it to understand it. I believe we dramatically underestimate just how much our special needs friends comprehend or understand," he said.
"Agape means unconditional love," said Geller, "and I tell everyone, once you have been around this community for any length of time, you'll find yourself asking who has the disability, them or me?! When I see the twinkle in their eyes, I know that God is getting through to them."
Learn more at www.community-umchurch.com/