Blended church embarks on discipleship Journey
Posted by on
By Melissa Lauber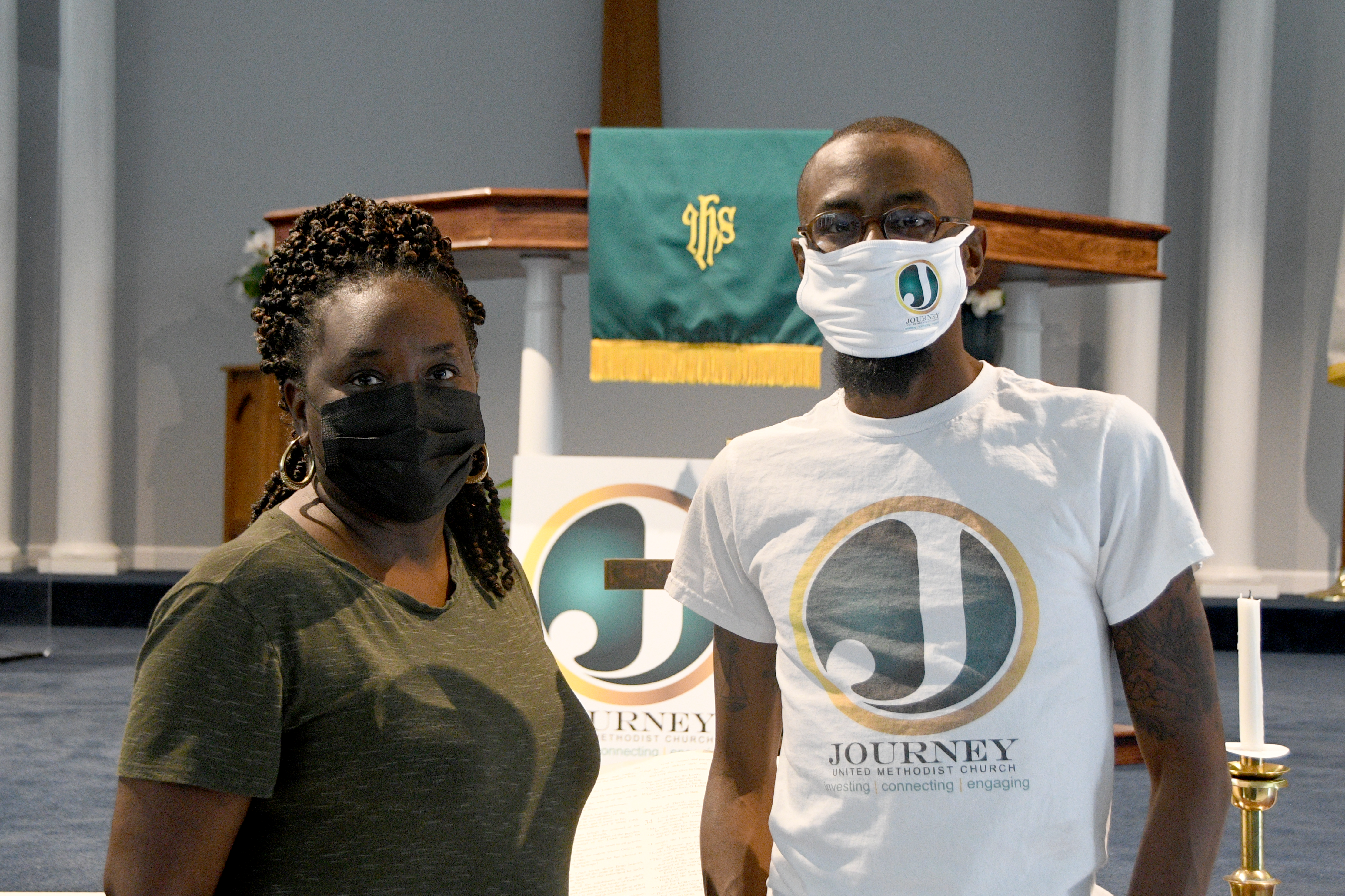 It's all about the Journey.
When two congregations in Southern Prince George's County were recently facing some struggles, they put aside some "treasured" ideas about church, blended their congregations and began to reach out to the community in ways that have led to a new vision, a parsonage being renovated for affordable housing, and the beginning of a project that will lead to 99 units of senior housing being built on their property.
Along the way, the churches chose a new name to reflect their new identity. They chose Journey. Although the name has not been officially changed, in people's mind the new Journey logo is now front and center and, for the people who call themselves Journey UMC, the road ahead is brighter than they imagined.
"It began with a dream," said the Rev. Michael Parker. "It always begins with a dream, doesn't it?"
When Parker was appointed to the two churches in 2018, his early assessments led him to believe that the two congregations each possessed the key to bolster the other's needs. Bells UMC in Camp Springs had a large building with lots of classroom and meeting spaces. The United Methodist Church of the Redeemer in Temple Hills had people who were eager to serve and lead. "Each church's greatest need was found in each other," Parker said.
A church member, Betty Edwards, suggested the two congregations join their Vacation Bible Schools. They did, and then began to hold other events together, spending a year exploring what it would be to merge.
But when it came time to vote, Bells UMC elected not to merge. It knocked the wind out of many of the leaders. But they kept praying. Then the pandemic hit.
"The pot went dry," Parker said. "We needed to figure something out." Because they had laid the groundwork, the process of blending the two churches went quickly. Everyone voted overwhelmingly to blend, and they did, on Easter Sunday, 2021.
The 216-year-old Bells UMC and the 63-year-old United Methodist Church of the Redeemer became Journey UMC – one congregation practicing ministry in multiple locations.
In addition to joining in lively worship together, the people of Journey are also invested in partnerships that create ministry. At their Temple Hills campus, they partner with the Department of Health and Human Services to run a Head Start program for 51 young children. At their sites, they also join with recovery programs for people with addictions, offer help and services to those experiencing domestic violence, support Easter Seals in their work with people with disabilities, and offer space to a Masonic Lodge and other worship space to three churches from other denominations.
"Our partnerships help us keep up with the pulse of the community. They enable us to live and practice our vision in bold ways," Parker said. "We're investing in mission and service, connecting to the community and engaging in discipleship."
While it was been difficult for some people to "part with what they love and embrace the new things God has in store," the blending has opened a new spirit and vision for many people.
"We're really beginning to dream, to think bigger and to think outside the box. We don't have to do things the same old way. We're opening our minds to new things," said Ericka Eason, who serves on the board of trustees, teaches Bible study and leads several ministries.
That spirit is reflected in a new initiative. Journey is in the negotiation phase of a contract to build an apartment building with at least 90 units for senior citizen housing.
The church in Temple Hills sits on seven acres of land. The Greater Washington District, which has a partnership with Georgetown University's real estate program, had a feasibility study conducted for the church.
A dream was born. With the help of the expertise from the district's Adrienne Terry Affordable Housing Initiative, the church will lease the land to a development company that will build and operate the apartment for seniors and offer "wrap around services" for the residents. If things progress according to schedule, residents will move in in 2025.
The church has several older members, who "we need to put our arms around." Said Parker, who believes he's found that "a recipe for fruitfulness in ministry is when you mix fresh ideas with seasoned wisdom. When you throw those two together," he said, "there's nothing a church can't do."
"One of the valuable resources that we have as United Methodist congregations, aside from the people, is our property," said the Rev. Gerry Green, superintendent of the Greater Washington District. "For some congregations, the property may seem like an albatross around the neck when the building or parsonage is in need of repairs. One of the great needs in our community is affordable housing. What if we can use our present property resources, parsonages and land and enter into partnerships that will result in affordable housing, along with a stream of income for our local churches and create a potential harvest of people with whom we can engage in ministry. The Adrienne Terry Affordable Housing Task Force is about that work."
Providing affordable house "is a part of the journey," Parker said. "It's the next faithful step." He admits that he and church leaders are sometimes scared and a little intimidated by the scope of the project. "There's no contract negotiation classes in seminary," he joked. "But at some point, we just have to say, "why not? What's the worst that can happen? Even if we fail, like the merger with Bells failed the first time, we don't strop dreaming, we don't give up."
Another dream of the church is also coming to life through the Greater Washington District's Adrienne Terry Affording Housing Fund that is assisting Journey with the use of their former parsonage.
Two years ago, the family that was renting the parsonage in Temple Hills moved out. The Adrienne Terry Affordable Housing initiative has been brought in to oversee the remodeling and renovation and finds a family in need of a home to live there.
According to the Rev. Sam Marullo, the director of the Rev. Adrienne Terry Fund for Affordable Housing, this is the second home this group has rehabbed and rented. The first was at Ager Road UMC in Hyattsville. The renovation of Journey's four-bedroom house will cost about $60,000. A working family is expected to move in before the end of the year.
[Marullo ( ) is available for consultations with United Methodist churches interested in using their property to provide affordable housing and develop alternative sources of income.]
As the Journey parsonage project began on Aug. 19, church leaders prayed over the house and the family who might live there. The house is under construction and church leaders are amazed at how quickly progress is made. "It's an amazing journey to be on. It's another way to connect." Parker said.
Eason is not surprised at the changes. "This is a dreaming church," she concluded. Last summer, she attended a BWC Training Tuesday on FEMA security grants for churches. She applied and was delighted, but not surprised, when the church received $150,000 to put in new exterior doors, card readers and more. "You can feel the Holy Spirit moving," she said.
Parker remembers before becoming a pastor, when he worked as a teacher and used to create bulletin boards. One of his favorites was "The sky is not the limit." That creed is being lived at the church, where possibilities feel limitless, and the Journey has begun.