Greater Washington Affordable Housing Challenge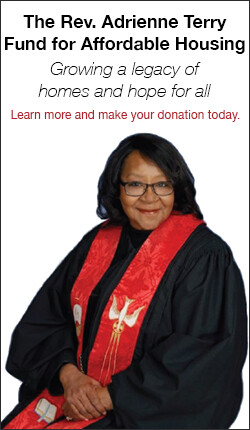 At our District Superintendent's installation, a District-Wide Affordable Housing Challenge was issued. Rev. Gerry Green encouraged us to work together to create, fund and support the residents in as many units of affordable housing as possible through The Rev. Adrienne Terry Fund for Affordable Housing. The spontaneous offering that day symbolized our commitment to seeding this effort. Thanks be to God, $2,216.71 was collected.
We have two simple goals:
100% of Greater Washington District churches participating in an automatic deduction (either credit card or automatic withdrawal).

Recruit 12 people to do the same.
Seventy congregations and faith communities that make up the Greater Washington District reside in 43 zip codes. Imagine with us if you will: if an average of 12 people per faith community were to donate $43 per month (less than a cup of coffee a day) to The Rev. Adrienne Terry Fund for Affordable Housing that would provide cash flow of about $36,000 per month ($432,000 annually) and the opportunity to be in relationship with and bless many of our most vulnerable neighbors.
We ask that you pray with your leaders about what might be your church's monthly monetary goal and/or number of housing units. (That goal must not negatively impact your ability to pay your apportionments in full.) Once you have your goal, please communicate that to the district office and begin paying it by the end of 2016 online or via automatic withdrawal.
If DC was a state, it would be the sixth poorest state in the country. We welcome participation from anyone who feels called to end homelessness and increase affordable housing in our nation's capitol.
» Got questions? Check out the FAQ page.
» Learn more about InspireDC's Affordable Housing Coalition.