Bishop Felton Edwin May – 1935-2017
Posted by on

Bishop Felton Edwin May, who served the Baltimore-Washington Conference from 1996 to 2004, died on Monday, Feb. 27.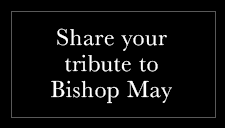 Bishop LaTrelle Easterling, resident bishop of the Baltimore-Washington Conference, said, "It is with deep regret that I have learned that Bishop Felton Edwin May, a giant of The United Methodist Church and a faithful servant of God, has joined the Church Triumphant. I urge us all to actively keep his family and all those who loved him in our prayers."
Bishop May is survived by his wife of 53 years, Phyllis May, a retired educator; and two children, Daphne May Brown and Felton May II; and eight grandchildren. Condolences can be sent to 3315 Oak West Drive, Apt. 123, Ellicott City, MD 21043. Emails can be directed to Daphne May Brown at .
Arrangements will be announced as soon as they are available.
During his time at the BWC, Bishop May lead several ministry initiatives, including "Saving Stations," which were tent-style meeting places to address the scourge of alcohol and drug addiction in Baltimore.
Bishop May was born in Chicago and raised in the Baptist Church. According to a 2001 article in the Baltimore Sun, Bishop May was baptized in the Woodlawn Baptist Church. "The musically inclined bishop studied piano and dreamed of becoming a doctor," the article noted. "To make ends meet in college, he did part-time office work at a Reform synagogue. That synagogue's rabbi, Louis Leopold Mann, is largely responsible for May … becoming a Methodist. Mann, a liberal and early civil rights activist, recommended May in the mid-1950s to a nearby Methodist pastor who wanted to integrate his church.
"That pastor soon had May leading Sunday school and services for a junior church for the congregation's children," the article reads.
"And then I began to read Methodist literature and its social witness, and it made sense to me. I felt I was called by God to do that," the bishop said.
After receiving a B.A. from Judson College, Bishop May was ordained deacon in the Northern Illinois Conference by Bishop Charles Wesley Brashares. He served two appointments in Chicago: St. James Church and Maple Park Church, a new church start. He then transferred to the Peninsula Annual Conference, where he served as associate executive director of the Methodist Action Program in Wilmington, Delaware. In 1970, he was ordained an elder by Bishop John Wesley Lord after receiving an M. Div. Degree from Crozer Theological Seminary. In the Peninsula Conference, he also served as pastor of Ezion-Mt. Carmel Church, Wilmington, superintendent of the Easton District and director of the Conference Council on Ministries.

He was a delegate to the Northeastern Jurisdictional Conference from 1972 to 1984, and a delegate to General Conference from 1976 to 1984. After his election to the episcopacy in 1984, he was assigned to the Harrisburg Episcopal Area where he served until 1996. In 1996, he was assigned to the Washington Episcopal Area. After retirement in September 2004, he accepted the position of Dean of the Harry R. Kendall Science and Health Mission Center at Philander Smith College, Little Rock, Arkansas.

In 1990, he served as Bishop-on-Special Assignment to organize and coordinate the United Methodist Bishops' Initiative on Drug and Alcohol Abuse and Violence in Washington, D.C. Bishop May served as a member of the General Council on Ministries, the General Board of Global Ministries, and the General Board of Higher Education and Ministry. He also served as chair of the National Shalom Zone Committee, the Special Program on Substance Abuse and Related Violence, the Commission on Pan-Methodist Cooperation, the General Board of Global Ministries' Finance Committee, the Northeastern Jurisdiction Board of the Multi-Ethnic Center, the Advance for Christ and His Church Committee, and the Council of Bishops' Emerging Issues Committee.

In 1999, Bishop May served as a member of the White House Presidential Mission on Children Orphaned by AIDS, which traveled to Africa. The mission's study of HIV/AIDS in sub-Saharan Africa led to a Clinton Administration recommendation that U.S. spending in response to the crisis of AIDS worldwide be increased by $100 million. He was also a participant in the White House's Faith Leaders for One America Initiative, the UN Millennium World Peace Summit of Religious and Spiritual Leaders, and the Camp David Presidential Retreat Interfaith Chapel Committee.

Bishop May received honorary degrees from Lebanon Valley College, Lycoming College, Wesley College and Rust College.

In Lieu of flowers, please give memorial gifts to the following: Project H.O.P.E., Feeding Hungry Children, Theressa Hoover United Methodist Women, C/O Dr. Etta Carter, 6403 Shirley Drive, Little Rock, Arkansas 72204; or to the Africa University Development Fund, Post Office Box 340007, Nashville, TN 37203.
*Some of the information for this obituary came from www.umc.org.