Bishop encourages Wesley grads to embrace the force of love
Posted by on
See a video of Wesley Theological Seminary's 140th Commencement Ceremony at https://www.youtube.com/watch?v=cSF6kH2DvH4
By Melissa Lauber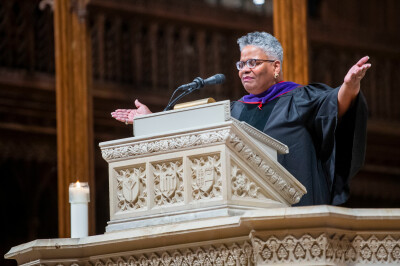 On May 9, 135 students received diplomas from Wesley Theological Seminary at a commencement ceremony at the National Cathedral in Washington, D.C. The students represented a diverse communion from across the United States and five other countries, 16 Christian denominations and other religious traditions, and representing a variety of walks of life, cultures and creeds.
What united them was their academic experiences at Wesley Seminary, which stands as a community of grace centered on helping students grow in their love of God and neighbor.
As the commencement speaker, Bishop LaTrelle Easterling, episcopal leader of the Baltimore-Washington and Peninsula Delaware Conferences, focused on this love.
"There is no greater force in heaven or on earth for pursuing righteousness and justice than divine love," she told the Class of 2022.
The bishop cited Romans 12:9-10: "Love must be sincere. Hate what is evil. Cling to what is good. Be devoted to one another in mutual affection."
She cautioned the graduates to be wary of diluting ideas about love and, instead, to embrace it as a force to transform, tear down strongholds and heal our broken world.
The word love, she said, "has been bantered about our lexicon so much that it is almost without definition and distinction." She explored the idea, from author and activist bell hooks, that "Love is the will to extend oneself for the purpose of nurturing one's own or another's spiritual path."
"Spiritual growth," said Bishop Easterling, "means helping others to achieve wholeness, abundant life, and the fulfillment of the purpose for which they were created." In the Bible, from the exodus out of Egypt to the creation of the new heaven and earth, "God's intent is clear. God desires that we are loved into fullness and freedom."
Students from the Class of 2022 spent two years of their seminary experience learning online. The week before graduation, the United States crossed the threshold of 1 million COVID-19 deaths, wars raged across the world, and human agency and the right to privacy were being hotly debated. "Political polarization is extremely high while human harmony is incredibly low," Easterling said. "Even as our sanctuaries are still draped in the white of Eastertide, we are living in the grips of a Good Friday world. … Bullying, bravado and brazenness are being heralded in the public square, when what we really need is less hubris and more humility. Too many pulpits are filled with pacifiers rather than prophets, ready to build golden calves, over and against proclaiming the liberating word of God."
But she told the graduates, "all is redeemable; not because of who we are, but because we are vessels of the extravagant, mercy, grace and love of almighty God. The world needs leaders who are ready to lead with love, discipline and resilience. … And, beloved, you who sit draped in these caps and gowns, you are the ones God has chosen to lead us into our future.
As leaders, Easterling warned, you will know inevitable failure. weariness and disappointment. The important thing, the bishop said, is to "get back at it" – and to rise.
"Rise up and stare down the darkness," said Bishop Easterling.
"Rise up and bring hope to the hopeless.
"Rise up and build community where there is chaos.
"Rise up and stand as counter-cultural vessels of change.
"Rise up and rebuke the spiritual forces of wickedness in high places.
"Rise up, not just for the absence of violence but for real shalom.
"Rise up and demand justice in every hill and hamlet.
"Rise up and amplify the voices of the marginalized.
"Rise up and lead churches that really see and welcome all the people.
"Rise up and start corporations that privilege people over profit.
"Rise up and tell the whole truth and nothing but the truth.
"Rise up and serve as elected officials who remember that democracy means of the people, by the people and for the people.
"Rise up and serve the Lord, in hope, patient in affliction and faithful in prayer.
"Rise up and proclaim that my redeemer lives.
"Class of 2022: We need you to get up, rise up, and lead."
At the commencement ceremony, the seminary's Board of Governors, faculty and students also honored the Rev. David McAllister-Wilson, and his wife, the Rev. Drema McAllister-Wilson. David McAllister-Wilson has served as president of the seminary for 20 years. He and Drema met 40 years ago when they were both students living on campus at Wesley. He was celebrated for his visionary leadership.
The seminary's alumni presented the John Wesley Society Award to the Rev. Dr. Dong Chan Park, who received his Master of Divinity in 1993 and his Doctor of Ministry in 1999 from Wesley. Dr. Park is the pastor of the Ilsan KwanglimChurch, one of the largest and thriving churches in Korea. From that home base, he has been engaged in many outreach ministries to Korea and the world.
Learn more about Wesley Theological Seminary at www.wesleyseminary.edu.