Bishop appoints Laprade superintendent of Baltimore Suburban District
Posted by Guest Author on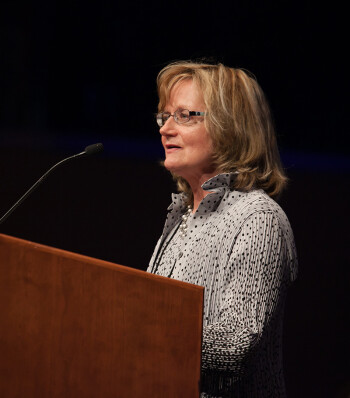 The Rev. Ann Laprade has been appointed by Bishop LaTrelle Easterling to serve as the superintendent of the Baltimore Suburban District.
Laprade, pastor of Potomac UMC on the outskirts of Washington, D.C., will begin the appointment July 1. She follows Superintendent Laura Easto, who has been named the new pastor of Potomac UMC.
Laprade has pastored Potomac UMC, Linden Heights UMC in Parkville, West Baltimore UMC in Baltimore City, Faith UMC in Rockville, and St. Andrew's UMC in Hagerstown. In each of these churches, her contributions have been significant. At Potomac UMC, for instance, she brought in more than 150 new members on profession of faith; oversaw and helped develop financial policies and procedures that are a model for other churches; created and led various new worship experiences; carried out two capitol campaigns, reducing the church's $2.9 million debt by $2.3 million; and created several opportunities for community outreach, including Bikes for the World, Faiths in Action, and the Cyprus Friendship Program.
She is the first woman to chair the Baltimore-Washington Conference Council on Finance and Administration. She has also chaired the conference Board of Ministries, the Council on Human Resource Development, and the Committee on Psychological Assessment. She has also served on the conference Committee on the Episcopacy, as well as the Board of Ordained Ministry.
Laprade brings outstanding leadership to the Cabinet table, said Bishop LaTrelle Easterling.
"Rev. Dr. Ann Laprade is a creative and innovative leader," the bishop said. "She is insightful and prayerful. She values relationship and the power of partnerships, and has proven herself to be a Christ-centered, transformative leader. When I met with the Superintendency Committee to introduce Rev. Laprade to them, they were quite excited about her leadership. They look forward to working with her to strengthen the fellowship and sense of community in the district."
Laprade is looking forward to helping address the challenges the Church now faces. One of the most important of these challenges is "to become inspired to move from an understanding of ourselves as members of an organization to a comprehension of ourselves as disciples of Jesus Christ. If we are open to this transformation, much else falls into place," she said. The desire of disciples to share the Good News "can hardly be contained because of the joy that our relationship to God and knowledge of Christ has brought us."
On her discipleship journey, persistence, resistance, and the pursuit of excellence and understanding have been touchstones of her ministry.
In college, Laprade studied dance and comparative religion. These two disciplines opened new worlds for her. Later, as a student at Harvard Divinity School, a spirit of questioning led her to study Sanskrit and she went to India for two years. These, and a myriad of other experiences, shaped her heart for ministry.
Laprade sees herself as a lifelong learner. Formally, she has a Bachelor of Arts from the University of Maryland in Baltimore County in dance and comparative religion; a Master of Theological Studies from Harvard University in comparative religion and Sanskrit; a certificate from United Theological College in Bangalore, India, in Sanskrit and Indian Christianity; an M.Div. from Harvard Divinity School; a D.Min. from Wesley Theological Seminary, where her thesis was on Encountering World Religions; and a Master of Science from Loyola College, where she studied pastoral counseling.
"All of our experiences have bearing on the ongoing creation of our lives, the result of a partnership between God and ourselves," she said
As a servant leader in the local church for 34 years, Laprade is "passionate about ministry as an opportunity to build bridges across all that stands in the way of The United Methodist Church as a unifying force that is life-giving."
She believes that the local church is "the heart of the connectional system and the place where our witness to the world is best made and where most people sustain their faith journey. There are very few contexts in our world today where we can gather across every possible way and means that would otherwise divide us. The church is one such precious place."
To other clergy and lay leaders in the church, Laprade lifts up the value of innovation as a point of orientation and focus. "The Good News," she said, "is that God has already given us what we need for transformation to happen. It is not a matter of invention or starting from the beginning, but of innovating, beginning from where we are and being alert to the leading of the Spirit. The goals of leadership are best accomplished by making room for the leading of the Holy Spirit."
Laprade shares her faith with her husband Tom McCarthy, to whom she has been married for 20 years. She values the importance of practicing Sabbath and other spiritual disciplines and practices.
One of her first loves is dance, which often connects her with God. From 1990 to 2000, she served as the founder and coordinator of a liturgical dance group for clergy. Recently she's discovered that running, which she began for its health benefits, can be a spiritual practice.
She also embraces silence in significant and transformative ways. "Listening underlies all my spiritual practice," she said. "If I am not listening, how can I hope to hear?"
Laprade is excited about listening to, and working with, the 98 churches and 79 pastors on the Baltimore Suburban District.
"One of the amazing and wonderful gifts each local church on the Baltimore Suburban District has to share is the gift of sacred history," she said. She is inspired by the generations of faithful Methodists and is looking forward to the journey ahead.
"One of the best resources we have is each other," she said. "I ask for the prayers of all the people in the Baltimore Suburban District, that we may grow to know each other and grow in faith to follow where God leads."