Bethune to be honored with statue in U.S. Capitol
Posted by on
By Melissa Lauber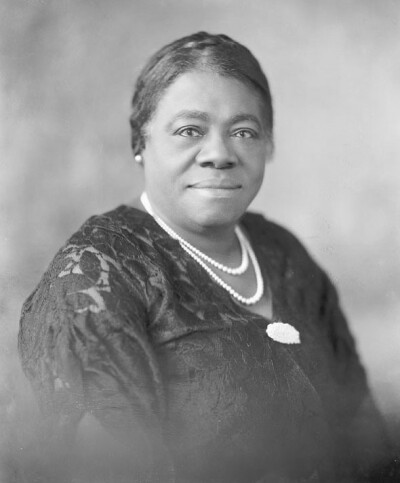 Mary McLeod Bethune's faith enabled her to create a legacy that speaks through time and space into today's culture. On July 13, this legacy will be elevated, as a monument to this United Methodist civil rights leader and educator is installed in Statuary Hall in the U.S. Capitol Building in Washington, D.C.
The 11-foot, 6,129-pound marble statue will represent the state of Florida. Bethune will be the first Black woman to represent any of the states in this collection. Engraved on the base will be her words: "Invest in the human soul. Who knows, it may be a diamond in the rough."
On July 10, people whose lives have been touched by Bethune's legacy gathered for worship at Asbury UMC in Washington, D.C. to launch a weeklong celebration of the statue's installation. Bethune joined Asbury Church in 1937, said the Rev. Ianther Mills, and was an active member of the congregation.
During the service, those gathered shared stories of how Bethune's legacy impacted their lives. In 1904, with only $1.50 and five students, Bethune opened a School for Negro girls that has grown into Bethune-Cookman University in Daytona Beach, Florida. She also was a leader of the National Council of Negro Women. The daughter of formerly enslaved parents, Bethune lived and worked at the Council House in D.C., serving as a consultant to four U.S. Presidents and befriending First Lady Eleanor Roosevelt with whom she worked as an advisor and social activist.
On that morning, which was the anniversary of Bethune's 147th birthday, Bishop LaTrelle Easterling, the episcopal leader of the Baltimore-Washington and Peninsula-Delaware Conferences, praised Bethune for her "unwavering contributions to freedom and excellence."
"Mary McLeod Bethune was one of the most brilliant and impactful leaders of the 20th century who saw challenges and always responded with strategic insight and enduring solutions," the bishop said. "Throughout 60 years of public service her contributions to education, women's and civil rights and equity transformed our nation and the world. Her intellectual prowess became the blueprint for the entire civil rights movement and contributed to The United Nations Charter. Dr. Bethune's life stands as a model of what can be accomplished through one committed individual."
The morning's message was brought by Dr. Sheila Flemming, a graduate of Bethune-Cookman University, who serves as chair of collaborative ministries at Cascade UMC in Atlanta. She is the founder and president of The Black Rose Foundation for Children, which was established to continue Bethune's work with children. (Bethune often spoke of the children she educated as black roses.)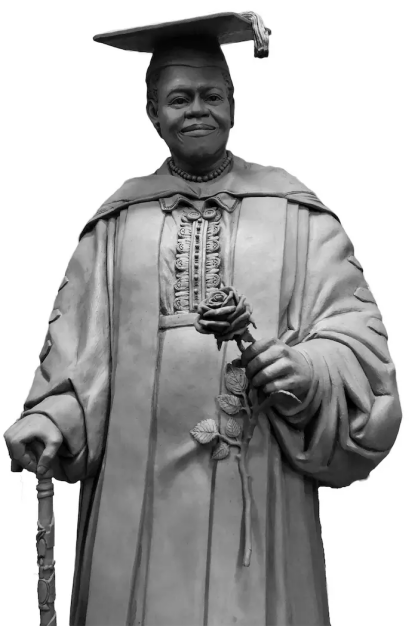 "We are kicking off a week-long celebration of history in the making," said Flemming, who noted that the Bethune statue was created by Nilda Comas, the first Hispanic artist to have work displayed in Statuary Hall. "She is still lifting as she climbs," Flemming said.
According to Flemming, Bethune's power and accomplishment were based on three principles, recorded in her writings. In order to live a full life, Bethune chose to "live close to God, lead with faith, and love all people," Flemming said.
Bethune believed that all things come from God, and so you must live close to God," Flemming said. She was also "confident that faith was essential to making the systemic changes needed to defeat authoritarianism, patriarchy and white supremacy." And "she truly believed that love conquers all.
To those inspired by Bethune's example of living close to God, leading with faith and loving all people, "it's time to go to work," Flemming said. "You are the legacy of Dr. Bethune. You must do something. Your voice must be heard.
Bishop Easterling encouraged people to pay close attention "to the seminal lessons Dr. Bethune's life imparted: one cannot control the ways others will attempt to undermine, impugn, or destroy your work. You can, however, control your response to their ploys. Whether or not one succumbs is a choice, and one that Dr. McLeod gratefully never made. In our current milieu, fraught as it is with attempts to turn the clock back on freedom, rights and justice, we must never capitulate. We must continue to use our gifts, platforms, opportunities and resources for the greater good.
In helping people discern how to make a difference, Mills offered inspiration from Bethune's last will and testament, with words inscribed on another statue of Bethune in a park across the street from Lincoln Park UMC in Washington, D.C.
"I leave you love," Bethune wrote. I leave you hope … the challenge of developing confidence in one another … a thirst for education … respect for the uses of power … faith … racial dignity … a desire to live harmoniously with your fellow men … and I leave you, finally, a responsibility to our young people."
"Faith is the first factor in a life devoted to service," said Mills, quoting Bethune. The people responded, "Without it, nothing is possible. With it, nothing is impossible."
Celebrate and Learn More: