Bethlehem Impressions: A Christmas Reflection
Posted by Guest Author on
By Mittie Quinn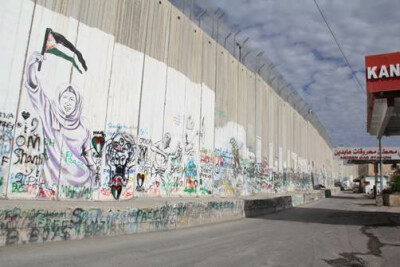 O little town of Bethlehem
How still we see thee lie
Above thy deep and dreamless sleep
The silent stars go by
Yet in thy dark streets shineth
The everlasting Light
The hopes and fears of all the years
Are met in thee tonight.
I had the blessing to visit Bethlehem recently. Visiting the Holy Land in modern times was, for me, a bit jarring. I'm not sure what I expected, but as I approached Bethlehem, my childlike memories of the manger and the little figures that I was allowed to carefully place in the scene somehow did not match with the busy traffic, the bustling marketplace, or the myriad of hotels with names like "Manger Square Inn" or "Shepherd Plaza" or "Holy Family Hotel."
Yes, sadly, commercialism is thriving in Bethlehem. There were no dusty roads leading to the grotto where the Holy Family may have found shelter; there were no shepherds abiding in the fields; I didn't see donkeys in Bethlehem, although they are prevalent in other parts of the Holy Land; and no one asked me for my passport so that I might be counted.
Equally incongruent with my images of Bethlehem were the markings of ongoing conflicts between Israel and Palestine. Bethlehem is today, as it was at the time of Christ, an occupied city. Bethlehem lies in the contested West Bank, Palestine, or the "Palestinian Autonomy Region" as Israeli guides prefer to call it.
As you enter the surrounding suburbs of Beit Jala or Beit Sahour (suburbs of Bethlehem that are approximately 80 percent Christian and 20 percent Muslim) and Beit Lehem (about 56 percent Muslim), large red signs warn that the area is unsafe for Israelis and that, in fact, it is illegal for them to enter this zone.
What?! Israelis can't enter? Does that mean Jews? So what would have happened to Mary and Joseph? After all, weren't they Jewish?
And equally incongruent is "the wall." You may have heard about this wall. Apparently, it's similar to the wall that the U.S. President would like to build along the Mexican border. Unlike the Mexican border wall, which is presumably to keep Mexican immigrants out, this wall has been built to protect Israeli settlements by keeping Palestinians in. These Israeli settlements have been built on land that has been designated as part of Palestine. This wall is about 40-feet tall with barbed wire rolls sprouting from the top.
I had to wonder: would Christ's ID have worked to get past the sentries at the gates? Or would Mary have been forced to deliver a baby in a field outside the wall? Were there big signs in those days that told them to turn back – that these lands were occupied by the Romans and thereby unsafe for Jews?
Today's lines in the sand do not resonate with lessons I have learned from Jesus.
As a person of privilege (US born, non-Arab, Christian), I didn't face any of these challenges. Following in the footsteps of thousands of other pilgrims, I ducked down to enter the special door of the Church of the Nativity and join the throng to wend our way beneath the altar.
There, in a stuffy space under the massive floors of the cathedral, first built in 325 AD and renovated repeatedly until the 12th century, lies the bedrock that supported the manger. It has been enshrined for all to see, and even touch, on bended knee. Around a corner, lies another grotto carefully preserved behind an iron gate – perhaps the place where the Holy Family rested after the ordeal of birthing a baby. I could only imagine what such a space would have looked like without the centuries of buildings around and above this holy spot, and without the hundreds of pilgrims who were anxious to take my place to see, touch, and pray.
For me, while the ancient and modern-day juxtaposition was jarring, I was reminded of the miracle and the mystery of this birth, in this place, and its perpetual message to us as Christians following in the footsteps of this tiny little baby.
In conversations with my fellow travelers, some of whom were Jewish, I found myself speaking about the importance of this tiny baby . . . an unexpected leader for the Jewish people, a baby with a messianic message, a divine human who would turn the world upside down and spread a message of love to generations and centuries of followers.
What wondrous love is this! This carpenter from Nazareth who captured the imaginations of his followers, who spread a message of love and reconciliation, who spoke with an authority that came from God.
O holy Child of Bethlehem
Descend to us, we pray
Cast out our sin and enter in
Be born to us today
We hear the Christmas angels
The great glad tidings tell
O come to us, abide with us
Our Lord Emmanuel...
*Mittie Quinn is a member of Dumbarton UMC in Washington, D.C., and chair of the BWC's Communication's Commission.