At Terp HUB, Slowing Down is Protest
Posted by on
By Neal Christie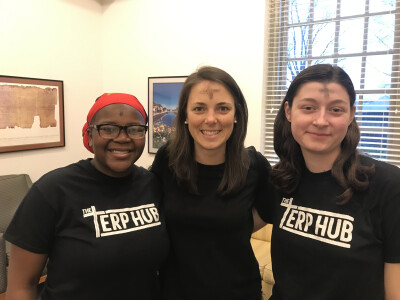 Where do student's find a community that welcomes all?
"The HUB was a main source of love and support that I needed as a young adult away from my home church. We adapted well to the pandemic and were very aware and responsive about the current events occurring on campus. There was never a time that I felt left out or alone, which is a great concern for campus ministry. Even as a graduate, I still feel that love and support as I go through the realities of post-graduation."
This is how Numbi Lutebula describes her experience with the Terp HUB at the University of Maryland, College Park. Terp—refers to the University of Maryland's mascot, the terrapins, and HUB is an acronym for "Here You Belong".
"My years at the University of Maryland, College Park, would not be the same without the TerpHUB," Lutebula said.
The Terp HUB is a boldly inclusive, antiracist, affirming of LGBTQI+ people that wants to be, "an alternative to the toxic theology far too many people experience in our churches and in universities today," its leaders say.
Twice a month the students gather for a meal and, following a brief sermon, they hold conversation and remind themselves that everyone has access to God. In this community there is no hierarchical or patriarchal authority who will define how the Spirit is working among the students. The Terp HUB ministry is also offering a small group study called "Beyond Binary" for trans-allies who feel called to create a fully inclusive campus ministry.
Cristin Cooper serves as the Campus Ministry Coordinator and the Rev. Michelle Meija, pastor at University UMC, as the United Methodist chaplain. Cooper describes the Terp HUB activities this way, "We offer events each month, like in October, where we will go to a pumpkin patch and we have downtimes to relax together. But it's really the leadership team, which is made of three University of Maryland student interns, who do the outreach and work with me to follow up with each student with no-strings-attached conversations over coffee, lunch or dinner and no agenda, except to be here now and to affirm the beautiful image of God in each student."
This is a student-led ministry that strives to be totally available to students as they are. Lutebula is a model of a student who has grown from her connection in the Terp HUB.
She majored in geography and her home is Baltimore. She was at the forefront of a new way of creating community on the college campus. When Lutebula was a sophomore, her pastor the Rev. Sherri Wood-Powe, who served the University UMC, recommended that Lutebula apply to be an intern for the newly revamped United Methodist Campus Ministry. From there, as an intern and with the help of others, the TerpHUB was created.
"My favorite thing to do with the TerpHUB is to eat," Lutebula said. "It may sound weird, but I loved it when we would sit down and eat food with each other. During those moments, not only did we share meals, but we shared stories, memories, and jokes. By breaking bread together, we learned more about each other and deepened the relationships we had. Every interaction we had around food felt genuine and natural. Just watching the HUB breaking bread and sharing meals with anyone and everyone who comes in, is witnessing God's love in fruition."
When asked about the importance of food in ministry, Cooper replied, "food slows us down and invites us to be present to the person in front of us and, in the food we encounter, to God's grace." This slowing down together over food is counter-cultural because, if we don't slow down, the mainstream culture will sweep us into a wave — slowing down is an act of protest".
Cooper goes even further, "In Supper Church we become present to the food — I have to eat, and you have to eat, so let's eat together. I am not inviting you to do what you are not ready to do. I'm not inviting you to do something that you will have to put on your calendar and prepare for. Eating a meal together is so essential that is being church for this campus ministry; it an equalizing experience where students let go of the temptation to compete with each other. The spiritual and physical act of eating food together literally connects them to their physical and spiritual hunger, a deep desire to be accepted for who they are called to be so that they can do what God calls them to do."
The Terp HUB nurtures this quality of community so that what they practice on campus will continue once they graduate. This was true for Lutebula, whose role was to invite other students into a different kind of community. "I loved Numbi's discipline and work ethic and was tender-hearted in spirit," Cooper said. "She knew right from wrong, how to slow down and take the right next step and calmed everyone down with her very calm demeanor. Every ministry needs ten Numbi's!"
"Post-graduation for me was not easy due to the realities of not having the same freedoms and responsibilities that I have grown accustomed to in the past four years," Lutebula said. "After graduation, I did not have anything lined up or planned, so I started out 'in the real world' looking for jobs and graduate programs. However, it all paid off because now I'm working two internships and applied for graduate school, starting next semester."
For the Terp HUB, three values guide their student-led ministry: openness, curiosity, and imagination. Taken together this is a recipe to create spaces of belonging. Students and Terp HUB interns don't claim they have all the answers. They come ready to see where the Spirit is in today and not where it was yesterday.
"Every student who comes here leaves knowing that they are loved and free to love."
When they are free to love and to give others the comfortable space to be themselves ,then they find freedom for themselves. "This journey, so far, really showed me that when you let God take over, God will finish what God has started. You do your part and leave the rest up to God," Lutebula said.
In the Terp HUB, people cannot show up in relationships unless they're are safe. It's not a mental exercise— "Here You Belong" -- comes from a place of God's grace.
To learn more about how your congregation can support the Terp HUB at the University of Maryland, College Park, contact Cristin Cooper at .