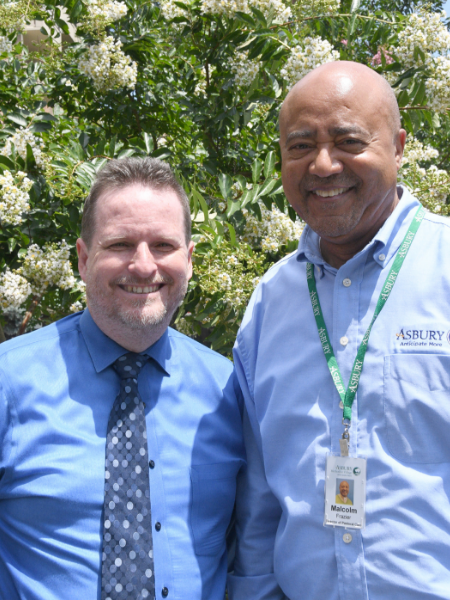 Brent Bayes, Marketing and Sales Director at Asbury Methodist Village, left, and the Rev. Malcolm Frazier, Director of Pastoral Care and Counseling at Asbury, share a vast array of activities at the cite, founded in 1926.
"Anticipate more" is the slogan of Asbury Methodist Village in Gaithersburg. But how much more is possible when older adults come together in community is just now becoming clear to the Rev. Malcolm Frazier, Asbury's director of pastoral care and counseling.
Frazier began this ministry in February and has been delighted to see first-hand the tremendous impact seniors have on the church and the culture.
Within The United Methodist Church, he noted, the emphasis is frequently on youth and young adults. But it is the older adults that are most often at the center of ministry.
According to census statistics, in 2030, the U.S. will undergo a historic demographic turning point when all the baby boomers will be older than 65, expanding the size of the older population so that one in every five people in the United States will be of retirement age. Within the UMC, the median age is currently 62.
Understanding people in this age group is becoming increasingly important, especially as the church seeks to stay relevant to the culture, Frazier said. "Our older adults should never be ignored."
Asbury Village, he's found, is an oasis for seniors that caters, with almost unparalleled excellence, to the physical, emotional and spiritual needs of people ranging from age 60 to 105. The average age of the residents is 81.
Founded by the Baltimore Conference in 1926, on 106 acres of land that was Walter Magruder's dairy farm, Asbury was created as a "Methodist Refuge for Elderly Folk."
While it is no longer directly tied to The United Methodist Church, Asbury does embrace Wesleyan principles and provides a home to 1,400 residents. Eighty percent of those residents live independently in apartments, while the remainder take advantage of a continuum of assisted-living care. Most live on the campus for about 15 years — creating a sense of home and community.
Asbury Village, Frazier notes, has also has the Brain Health Center of Excellence, assisting those with dementia with cutting edge principles of brain health.
Frazier works with two chaplains, a counselor, an office manager, and an outreach director overseeing the spiritual needs of residents from a wide variety of faith backgrounds. He notes the expansive list of activities the residents participate in involving the arts, continuing education, wellness and fitness, technology, nature and the environment, community service, spirituality and more.
"If you can envision it, we'll have it here," he said.
On a quick tour of the facility, Marketing and Sales Director Brent Bayes pointed out that the campus has six dining locations, eight libraries, 70 floor plans for the apartments, 23 pianos, a 17-acre nature preserve, a 288-seat theatre, a pool, seven trainers working in the gym, a community newspaper and TV station.
It also has Smart Living, which takes advantage of partnerships with area firms to provide residents with state-of-the-art technology; a partnership with the Strathmore to bring cultural events to the residents; and Asbury Village residents play a crucial part in caring for community children in need in the Gaithersburg Beloved Community Initiative.
And all that's just scratching the surface, Frazier said.
For him, it's the diversity of the residents that makes Asbury special. At a typical meal, he would not be surprised to find a government executive who shaped global policies, a renowned author, a Holocaust survivor and a retired United Methodist pastor all sitting at the same table.
"This place has a narrative to it," Frazier said. "Everyone's story is woven into that narrative."
For Frazier, part of that narrative is learning to better connect with the residents who are living with dementia. He has become a certified dementia practitioner and learning how to care for and be an advocate for those with memory loss.
It's his hope that churches in the Baltimore-Washington Conference begin to address issues of aging in serious ways.
It's also important, he said, that people realized that Asbury Village is not just a place where people come to be taken care of. "They come here to flourish in their later years," he said.
But growing older is not always an easy transition and Asbury Village can help churches who want to assist their members age with dignity and purpose.
When people retire and move to Asbury, they often take that opportunity to reinvent themselves, said Bayes. Asbury's marketing team can help people decide when the best time and way to move into this next stage in the cycle of life might be.
It is a time, Bayes believes, for courage, for becoming involved in the world in new ways and for legacy-making. Asbury staff also works with local churches to help people understand and live into what they want their legacy to be, he said.
For some people, retiring and entering this new stage of life compels them to seek meaning in new ways and they often turn to God to try to understand the transitions through which they're living, Frazier said.
"In this spectrum of aging, we slow down in many ways, but in other ways we're growing, and that growth needs to be honored and encouraged," he concluded. "Our churches need to examine their ideas about aging." It's time to "anticipate more."