An Advent homecoming to Methodism's first meeting place
Posted by Charles Harrell on
By Rev. Charles Harrell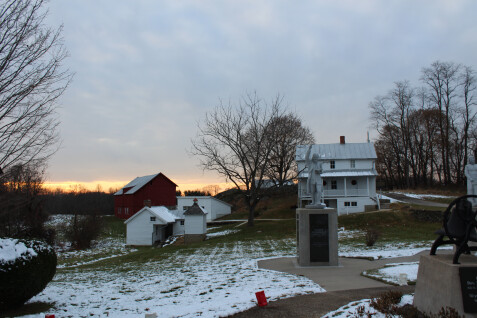 "Coming Home" captured the theme of this year's annual Advent candlelight service held on Dec. 10 at the Strawbridge Shrine near New Windsor. About 50 worshipers packed the Log Meeting House, a replica of the original structure that was home to the earliest Methodist society in what would later become the United States.
Participants, including members of the Shrine Association and some in period costume, offered prayer, read Scripture, and led singing in an adaptation of the traditional "Lessons and Carols" service.
John Strawbridge, a descendant of pioneering Methodist leader Robert Strawbridge and his wife Elizabeth, offered a reflection on the "anointing" we receive as followers of Christ, and gave the opening prayer. The Shrine's resident curator, Helen Kemp, shared a musical reflection of "The Star Carol."
The Rev. Patricia Sebring, pastor of Lovely Lane UMC, American Methodism's "mother church" in Baltimore City, brought the message. Keying on the ideas of "coming home" and the roads which bring us there, Dr. Sebring reflected on the rugged tracks used in coming to a new home in a new country – whether by the Holy Family to Bethlehem, or by pioneers like the Strawbridges in America. She reflected on the welcome we associate with "home," the greatness of God's gift of welcome to us in Christ, and God's calling us to extend that welcome, especially to those who come from far places still today, in order to make a new home here. Noting the wood comprising the Log Meeting House, she pointed listeners to the wood of the cross as the sign of God's surpassing welcome and love.
The closeness of the capacity crowd was a blessing on a cold night in the unheated Meeting House, as familiar carols and Scripture readings were shared. Afterward, worshipers followed a candlelit trail to the Visitor's Center next door, where fresh cookies, hot cider, and warm fellowship awaited. For news about the Strawbridge Shrine and its events or to schedule a tour, visit http://www.strawbridgeshrine.org/ or call (410) 635-2600.