Moral Courage Awards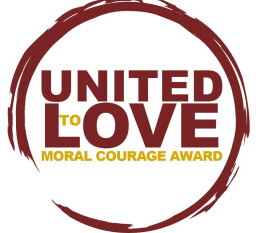 The United to Love Moral Courage Awards celebrate people who put their faith into action especially when doing so is uncomfortable or unpopular.
Moral Courage is the ability to put your faith in action for the sake of justice despite risk, comfort, and or societal silence. It is the ability to witness injustice, speak out against it, and possibly suffer in order to improve the plight of another because we are one. Moral courage can show up when people advocate and act for ecojustice, gender equality, gun violence prevention, immigration rights, racial justice, wealth equity, or the like.
There are many famous people who illustrate that for us, including the Rev. Dr. Martin Luther King (see resources below). We hope that by sharing the stories of moral courage in our midst that we may inspire a movement of love in action in our communities through our churches.
Do you know someone who does the right thing even when it is the difficult thing to do? Someone who advocates to improve the life of others? Are you that person? All persons who want to share their stories of moral courage are invited to apply.
Youth Award Nominees
Nominations open from Sept 1 - December 20
resources
"But If Not"
A sermon by the Rev. Dr. Martin Luther King given at the Ebenezer Baptist Church in Atlanta on November 5, 1967. The title comes from Daniel chapter 3, verse 18 in the story of Shadrach, Meshach, and Abed-nego.
A Timeless Letter
Letter from a Birmingham Jail by Rev. Dr. Martin Luther King, Jr. is as relevant today as it was when it was written in 1963. It remains one of the best teaching tools for those who don't yet fully understand the importance and shape of moral courage.