COVID-19 Peace with Justice Grant Recipients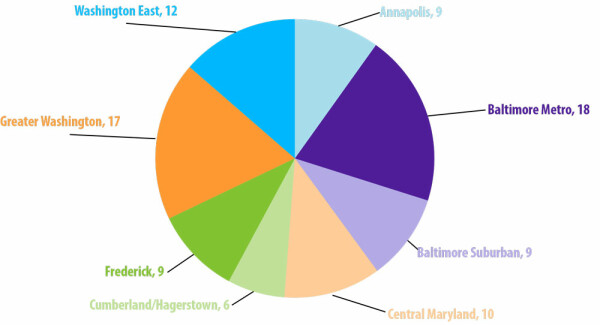 In response to the coronavirus pandemic, churches throughout the Baltimore-Washington Conference have been reaching out to the most vulnerable in their communities. To assist these ministries, the Conference has awarded several COVID-19 Peace with Justice grants.
The initial recipients are below.
As more money comes in, additional grants will be awarded.
Church Name / District

Ministry

Grant Amount

1

Melville Chapel UMC / Annapolis

The Elkridge Food Pantry is a totally volunteer-run organization, serving residents of Elkridge. The pantry continues to remain open during the Covid 19 pandemic, open on the second and fourth Friday of each month from 4:00 pm to 8:00 pm. We work hard to make sure every dollar donated is used to help those in need.

$500

2

Camp Chapel / Baltimore Suburban

Our Feeding Ministry provides non-perishable food and supplies to a local food pantry and emergency shelter. We also provide food for people who are moving out of the shelter into their own places. Due to Covid-19 the amount of people in need has almost double and many of the resources which support this ministry has ceased.

$500

3

Douglas Memorial / Greater Washington

Food Bank and Hot Meals

$500

4

Zion UMC - Lexington Park / Washington East

Zion operates a food pantry in the heart of an economically challenged community who relies heavily on food from our church to sustain their family's meals week to week. We average fifty families weekly with funding coming from donations from church offerings. We have managed to meet everyone's needs in spite of giving being drastically down. We continue in complete faith knowing that the Lord will make a way somehow.

$500

5

Middleway United Methodist Church / Frederick

Feeding the homeless in Jefferson County, WV has been one of our projects for over 7 years. The Jefferson County Community Ministries started feeding the homeless / needy / and hungry in 2012 and we joined in this quest to provide a meal on a monthly basis and deliver clothes and food to the Community Ministries food bank.

$500

6

Stone Chapel United Methodist Church / Frederick

Feeding the people in need in our community through a Food Pantry and cooking and distributing food to Homeless in Westminster.

$500

7

Lovely Lane UMC / Baltimore Metro

Manna House is serving its clients by passing out box lunches, mail, and other helpful information on the exterior of the facility, under the awning. Normally we get donated food items from sources we've established, cook, and serve them indoors. We've had to find new sources of different food, do extra cleaning in the building, and re-align staff duties, which are all costing us more than usual operating expense.

$500

8

Zion / Frederick

Feeding the people in need in the community through a food pantry and distributing the food to the Hospital with a local restaurant.

$500

9

St. James Memorial United Methodist Church / Baltimore Metro

The grant will help fund the Church's weekly Thursday Community Outreach Program were more than 50 hungry souls are fed.

$500

10

HANCOCK UNITED METHODIST CHURCH / Cumberland-Hagerstown

Food ministry to the homeless

$500

11

AMES UMC Bel Air / Baltimore Suburban

The micro-grant will allow continued ministry and assist individuals and families in need during these uncertain times. The ministry will be able to continue to do outreach service as disciples of Our Lord and Savior Jesus Christ.

$500

12

Poolesville Memorial United Methodists Church / Central Maryland

The Compassionate Care Ministry of Poolesville Memorial Church recently assisted two of our members due to needs from Covid 19 impact. We operate on a limited budget and anticipate many future needs in this atmosphere of unemployment. The grant of $500.00 would be a God-send for this ministry. Thank you.

$500

13

Glenmont UMC / Greater Washington

Providing food staples, hygiene products, and diapers to members of the church and community who have family members or are themselves entangled with the ICE or criminal justice system.

$500

14

St. John's UMC Baltimore City / Baltimore Metro

The United Flock Center is a ministry of St. John's Church and is a base community of un-housed people who gather for prayer, mutual aid, voter registration and employment advocacy. The UFUC is seeking a micro-grant as part of its effort to provide food for our 12 (and expanding members).

$500

15

Hughes Memorial United Methodist Church / Greater Washington

We provide a weekly Community Meal Ministry where a free hot meal is served to the community and anyone who stops by once a week. When we resume this service, hopefully in May, we will need take out containers, in addition to masks and other related supplies.

$500

16

Perry Hall United Methodist Church / Baltimore Suburban


We are requesting a grant for our Food Pantry. We are helping 100+ families per month and
have been receiving new requests each week. Having this grant would definitely help
our pantry meet the needs of those who need help.

$500

17

Pikeside UMC / Frederick

Since the beginning of this pandemic, a local ministry that we support known as Kidz Power Pack has been preparing thousands of lunches for children and distributing to our community. They are in desperate need of funds.

$500

18

Solomons UMC / Washington East

Our food pantry serves the Solomons and Lusby MD communities. We offer perishable and non-perishable foods for the community, as well as cleaning products, hygiene products, and paper products. Our clients are mostly seniors and families with children on free and reduced lunch.

$500

19

Eastport United Methodist Church / Annapolis

Provides monthly (& now weekly) food assistance for persons in Eastport neighborhood, including those in public housing.

$500

20

Sandy Mount United Methodist Church / Frederick

As the COVID-19 crisis began and neighbors began to lose jobs, SMUMC cooked and served free meals curbside on March 26th. With over 260 meals distributed, it's clear there's a need! We hope to continue this weekly. We have served two more meals but fear we won't be able to continue without more funds. We are applying for this grant in hopes that we can continue to serve the hungry in our community.

$500

21

Bel Air United Methodist Church / Baltimore Metro

We support the Harford county area. Every Wednesday we hand out dry goods, Every third Saturday we hand out Dry goods, protein, produce, baby products, pet food, and household items. The last Thursday of the month we receive a list of seniors from the department of aging. we give approximately 260 seniors bags of food, protein, and produce. BAUMC is the only church in the area supporting the seniors with drop off service.

$500

22

Christ United Methodist Church / Baltimore Metro

This would be for our Helping Hands Ministry. This ministry has been providing food and cleaning supplies for the community.

$500

23

New Market United Methodist Church / Frederick

We are located within walking distance of many homes and would like to start a food pantry since there are none nearby.

$500

24

Pleasant Grove UMC / Baltimore Suburban

This grant will help us provide food for NESAP (Northeast Social Action Program, Hampstead, MD). NESAP has a far greater community connection than Pleasant Grove UMC and is able to really address the food needs of the community. If, we are awarded the grant PGUMC will be able to match the grant for NESAP.

$500

25

Wesley Grove United Methodist Church / Central Maryland

As part of our community outreach programs, we contribute regularly to the Damascus HELP Food Pantry. Our church donates canned and boxed foods, which several of our members take and volunteer there weekly to restock the shelves and distribute the food to needy families in our community.

$500

26

Christ United Methodist Church / Greater Washington

On behalf of our Outreach Ministry, we would like to help assist our local Senior Citizens with a meal for lunch and help anyone who is in need of any type of assistance

$500

27

Westminster United Methodist Church / Frederick

The Loaves & Fishes Soup Kitchen of Westminster United Methodist Church operates every Monday of the year. We serve the low income and the homeless of Westminster. We prepare our meals in the church kitchen, providing hot nourishing meals to warm the body and a warm place to rest and socialize. Our money is totally funded by donations from our congregation on the second Sunday of each month.

$500

28

Oxon Hill United Methodist Church / Washington East

Bread Ministry - To help with expanded need during the Covid-19 crisis and massive unemployment

$500

29

Mount Olive / Baltimore Suburban

Maryland Food Bank, which lists Mt. Olive Loaves and Fishes Pantry on their website, asked the pantry to remain open to serve COVID-19 impacted people. Referrals made by the Department of Aging and 211. Groceries are provided by appointment. Food purchased from MFB and donated by congregants and community.

$500

30

Memorial First India UMC / Greater Washington

For financial support of Shepherd's Table, a feeding center in Silver Spring, MD

$500

31

The Journey of Faith Church / Washington East

The Food Pantry mission is to render help to ease the pain of hunger by providing food, fostering relationships, and ministering to those in need. There is an urgent call to serve our community during this pandemic as many families are struggling to put food on their tables.

$500

32

Faith United Methodist Church - Pasadena / Annapolis

We are expanding our "food for weekend backpacks" ministry. Since schools are closed because of the COVID 19, we are teaming with another ministry in Pasadena, Caring Cupboard, to feed students who have little or no food because of school closings. Since this is an expansion of a current ministry, we have not budgeted additional funding for additional food, deliveries, and any necessary supplies for expansion.

$500

33

West Baltimore United Methodist Church / Baltimore Metro

Feeling those on limited fixed incomes. We do this monthly.

$500

34

Beechfield United Methodist Church / Baltimore Metro

FOOD PANTRY MINISTRY

$500

35

Shiloh Community UMC / Washington East

Sharing the Wealth, a community meal ministry that provides a complete meal to anyone who is in need. This ministry is offered on a monthly basis. Meals in addition to any items that may be needed from our no food pantry are delivered to local and extended community residents on a no discriminatory no questions asked basis.

$500

36

Jerusalem-Mt. Pleasant UMC / Greater Washington

Every fourth Sunday of the month, the church prepares meals for a homeless shelter which houses approximately 30 women.

$500

37

Cherry Hill UMC / Baltimore Metro

Our Food Ministry/ Pantry Ministry and Soup Kitchen
We Service underprivileged families in the Cherry Hill Community. We have been serving in the neighborhood of 70-100 per week. This number is growing with the Covid-19 Pandemic we are seeking help to help us in this effort.

$500

38

Mayo UMC / Annapolis

We provide food and grocery store gift cards to families in our community that qualify for free breakfast and lunch so that they can provide quality food over the weekend. Prior to the COVID pandemic, our community had around 37% of its population living below the ALICE line. We are anticipating an increase in need as jobs are lost and businesses are closed. We want to ensure we can continue to provide support and possibly expand that support as the need arises.

$500

39

St. Andrew's UMC / Annapolis

We provide a food pantry for 25-35 households each month on the 3rd Saturday of the month. We provide a bag of groceries and a $10 gift card to purchase non-perishables.

$500

40

Franklin UM Church / Annapolis

We have implemented a Food Pantry at Franklin and are a partnership with Maryland Food Bank in Halethorpe, Maryland, in which we were serving anywhere from 50-60 families per month in the Southern Anne Arundel County. Since the Pandemic we service 800 families on April 4 with the help of our Sister church St Matthew, We still have ppl calling us but our food is very limited. We need help to buy more food for the next several weeks!!

$500

41

Sharp Street Memorial UMC / Baltimore Metro

Our vision is feeding God's people-body, mind, and spirit with healthy food and heavenly food until no one goes hungry. We cannot not feed people during the COVID-19 pandemic, so we had to come up with a way to still feed people that's safe for us, but also safe for them.

$500

42

Christ Church of the Deaf / Baltimore Metro

feeding the needy, now including home delivery

$300

43

Salem Baltimore Hispanic UMC / Baltimore Metro

To purchase food and provide to a local senior citizen home in Highlandtown. Seniors are vulnerable adults, and at this time it is recommended they remain indoors to avoid COVID-19 exposure. Salem Hispanic members can prepare sandwiches and put in small notes in brown paper bags to distribute.

$500

44

Centre UMC / Baltimore Suburban

Our ministry is a Food Pantry that is operated by Centre for our cooperative parish. We serve families in rural parts of Harford County and beyond with groceries and toiletries once a week. We rely on donations, and we have seen an increase in new clients over the last month. We would like to use the grant to maintain our stock but also to provide small quantities of fresh items that we don't usually carry, such as dairy products.

$500

45

Mount Zion United Methodist Church / Central Maryland

We are open to anyone in need of food no matter their race, religion, or sexual preference. We provide numerous boxed and canned items, along with bread, frozen meat, and fresh produce. We have clients come from all over Maryland to receive food. I've been told our numbers grow so much because we're nice.

$500

46

Glen Mar Church / Central Maryland

Purpose: To collect, make, distribute, transports, and provide food, medicine, essential household supplies to low-income people and/or those in a high-risk group; make and distribute home-made cloth mask to local hospitals and direct care workers

$500

47

Ebenezer United Methodist Church / Central Maryland

We were called to this ministry to feed those in need. We supply food to anyone who comes to our pantry. We provide new children's shoes for any who need them. We routinely let our families look through and take household items, clothing, etc.

$500

48

Bethany Korean UMC / Central Maryland

Thoughtful Social Solidarity Project(TSSP) will provide emergency aid to the disability, homeless, and low-income seniors impacted by the COVID-19 virus.

$500

49

Epworth United Methodist Church / Central Maryland

Epworth has long supported families identified as at risk by MoCounty Family Services through their in-school Linkages to Learning program. Our families come from Rosemont Elementary School. When we have additional resources we have expanded to include Forest Oak Middle School. Normally we provide these families with school supplies, hat/coats in winter, Thanksgiving, and Christmas baskets. We also run an afterschool leadership program at Forest Oak for at-risk youth. They have asked for support and we have only been able to provide them 5 gift cards of $30 each for the families most in need. We would love to expand this further.
Normally we serve these families through an annual back to school event (with free medical evaluations, school supplies, backpacks), several free family community events. The number of families served at Rosemont and Forest Oak varies each year. It is at least a total of 35 Rosemont Families and 30 Forest Oak.

We also are connected to the Ana A Brito Foundation, started by Epworth UMC. Here we have over 100+ students enrolled in English and computer classes with simultaneous free childcare. These classes have been canceled due to COVID 19. These families are very vulnerable.

Finally, we support Mujer Fuerza y Coraje - an informal group of new immigrant Latin American moms. They use our space for English classes and enrichment programs each Friday. These families are also extraordinarily vulnerable.

We have a very simple ministry during the COVID-19 Crisis. Our pastoral team and outreach team are meeting weekly to identify families that have lost income and need basic food support. We are providing families with 50 dollar gift cards at a time with pastor discretion of need. Our church contacts include a large Latin American and West African immigrant community - working primarily in the service sector and the informal sector cleaning homes, caring for the elderly, landscaping. The COVID19 shut down has halted almost overnight income. Many of these families will not get the government checks because they file taxes with TIN numbers.

Any resources provided would simply give basic needs back to these very vulnerable families.

$500

50

Sharp Street United Methodist Church / Central Maryland

The Sharp Street Food Bank currently operates 1 x per month and is open to all in the surrounding community. This grant will enable us to serve a greater spectrum of people who may be struggling with shortages of food and essential items through this season of COVID-19.

$500

51

Flintstone Charge Food Pantry / Cumberland-Hagerstown

To feed the hungry. There is a pop-up pantry that is accessible 24 hrs a day & stocked with nonperishable food. The Charge participates in a monthly food drop that aides 150 families. There's a food pantry that is run from the parsonage basement, along with a freezer that holds frozen food. We are the only source of aide in Flintstone and Oldtown.

$500

52

Benevola United Methodist Church / Cumberland-Hagerstown

To supplement food, personal hygiene products, cleaning products, and household goods for surrounding community families in need. While providing some basic needs, we also refer clients to other organizations which assist them with life skills that will hopefully improve their situation (i.e., budgeting, job interviewing skills, etc.)

$500

53

Williamsport UMC / Cumberland-Hagerstown

Ministry brings together the community and helps those less fortunate with a hot meal.
We serve an average of 100 to 125 meals a week. During these difficult days, we are handing out takeout meals. We are set up as drive-thru pick up in our parking. This is a vital ministry in our community. The majority of our folks are older and we do feed the homeless. We also have a clothing ministry to help them with their needs.

$300

54

Mt Zion United Methodist Church / Cumberland-Hagerstown

Our church's home mission ministry provides assistance to community members with needs such as food, utilities, rent, medical, household goods, and clothing. Our church is located in a very rural area and there is not an abundance of job opportunities available. This grant would allow us to meet the needs of more of God's children.

$500

55

Liberty Grove UMC / Greater Washington

Feed the local community - notably those out of work due to COVID-19 - but regardless of need. Provide bags of non-perishable food and fresh produce to the local community, twice a month. We routinely feed 25 families comprising 100-125 people. We want to expand this to deliver food to our elderly congregants who are isolated in their homes.

$500

56

College Park United Methodist / Greater Washington

During this time of financial difficulty and insecurity, the newly developed food distribution at CPUMC is providing food to families in the neighborhood who have expressed a need for additional help during this time.

We are offering food on the off weeks of the local food bank in CP. We are organizing to have donations. We are putting safety protocols in place to ensure everyone stays healthy.

$300

57

Christ United Methodist Church / Greater Washington

To provide food to families in Southwest DC who are food insecure and/or homeless and to show them the love of God.

$500

58

CHUMC / Greater Washington

For unhoused and housed neighbors continuing the breakfast meal, (including coffee, food, and friendship,) that offers dignity and relief from the COVID shutdown. Supporting those who are food insecure, maintaining the relationships with CHUMC, giving volunteers an opportunity to contribute, and supporting faithful small businesses who have donated to us for years.

$500

59

Hughes United Methodist Church / Greater Washington

To provide gift cards to get food to the jobless families.

$500

60

Mount Zion UMC (Washington, DC) / Greater Washington

Georgetown Saturday Suppers provides meals for shelter-challenged people every week. We seek help buying the food at this time. Normally we feed an average of 70 people per week with radical hospitality. During Covid crises we switched to lunches to-go bags.

$500

61

Millian Memorial United Methodist Church / Greater Washington

We are seeking funding to help with our monthly food pantry. We feed about 60 families a month and often run out of food.

$500

62

United Methodist Church of the Redeemer / Greater Washington

We are seeking to continue feeding our unhoused members and community members.

$500

63

Emory Fellowship / Greater Washington

Emory Beacon of Life food Pantry feeds hundreds of people from the community and beyond on a daily basis, also provides backpack weekend meals for families during the school year and summertime. Many depend on these meals. The ministry runs on donations and in the current state food supplies are low and many are without food.

$500

64

Nottingham Myers UMC / Washington East

Supplement local food bank and provide benevolence assistance to church family members 85 plus years old, who are living independently with essential living expenses. i.e. rent, food, utilities, medical, etc. during this pandemic.

$500

65

Indian Head UMC / Washington East

Feeding the community

$500

66

Community United Methodist Church (Pasadena) / Annapolis

Community United Methodist Church has operated a local food bank for many years. At present we feed about 167 families each month. When schools closed so did our food bank. However, due to great need we have again opened the food bank as of April 30. With donations down and need at its greatest, we need to purchase food. Hence, this request. Every cent will be used to acquire food for distribution.

$500

67

Magothy United Methodist Church / Annapolis

Magothy hosts as one of its ministries, the Door Step Mission food pantry. We are one of the only food pantries that has been actively serving the vulnerable population of Anne Arundel County during the coronavirus pandemic and before. $500 will go a long way to helping us purchase food and hygiene supplies to keep our pantry fully stocked.

$500

68

St. Matthews UMC / Annapolis

For the baby pantry to provide diapers and food within the community and surrounding areas.

$500

69

Brooklyn Community UMC / Baltimore Metro

We provide a meal to the community and also give them food from the Anne Arundel County Food Bank. We call this program Body & Soul. We do this once a month on the 4th Tuesday. Prior to COVID-19 we would feed 40-50 people. Since COVID-19 our number double. Last month we served 111 families. We are located in a food desert and the needs are great. We want to be able to help as many families as possible.

$350

70

Emmarts United Methodist Church / Baltimore Metro

We are continuing our ministry within the community by providing masks and we still need more fabric to manufacture masks.

$100

71

Epworth United Methodist Chapel / Baltimore Metro

Mission Outreach Faith and Action seeks resources to support its continued love offering of bags of food based on heightened community need. We look to supplement possible reduced donations from Food Bank with staple items to include in delivery care packages to families , seniors, and sick and shut in.

$500

72

John Wesley United Methodist Church / Baltimore Metro

We are seeking this grant for John Wesley UMC's Food Pantry. On an average week during the months of September thru June we provide either a hot meal or a bag of food to between 80-100 people.

$500

73

New Waverly / Baltimore Metro

Our church would like to continue with our soup kitchen ministry by providing bagged lunches.

$500

74

Patapsco United Methodist Church / Baltimore Metro

Patapsco United Methodist Church has a food pantry which has been in existence for nearly 6 years serving the community each and every Friday. During this COVID-19 crisis we continue to serve people finding that there are new people coming as this crisis continues. During this time we have put no restrictions on those we serve meaning we are serving the same families week after week from several communities. There are also many who are unhoused that come week after week. Because there are limited resources for these families and many have children home where as they would normally be in school we are also providing a greater amount of food. Giving monetarily and of food stuffs has decreased as people are watching their budget as well as unable to shop and bring food to the food pantry. The grant would also allow us the opportunity to offer some fresh fruit and vegetables and other perishable goods.

$500

75

Piney Grove UMC / Baltimore Metro

We have a food pantry and give food away once a month. We have noticed more people are coming for food. And we are running low on meat and want to provide vegetables and vegetarian options.

$500

76

Grace United Methodist Church / Baltimore Suburban

We have a long-active Food Pantry in addition to serving weekly Community Meals (Oct.- May). During the COVID-19 pandemic, the need for food assistance has increased significantly. Therefore, we must purchase more food/products to meet the needs of the requests we receive. We provide non-perishable food bags, toilet paper and fresh made sandwich bag meals each Wednesday. We offer this to all who come to receive this help with no questions asked.

$400

77

Havre de Grace United Methodist Church / Baltimore Suburban

Grace Place is a feeding ministry serving the homeless and hungry. Covid-19 means we can no longer serve a hot lunch so we are giving out groceries but folk with limited cooking facilities need ready-to-eat or nearly ready-to-eat food which is expensive.

$500

78

Hereford Faith & Life Church / Baltimore Suburban

We are seeking a micro-grant for the Hereford Food Bank ministry of Hereford Faith & Life Church. During this COVID crisis we are remaining open to serve our regular clients. We also started providing Student Bags for students in the Hereford Zone of Baltimore County where the schools are not providing meals. Each bag has a week's worth of breakfast and lunch foods for a family of children. Additionally, we have the unexpected expense of masks, sanitizing wipes, hand sanitizer, gloves, etc.due to the Governor's orders and our desire to keep our volunteers and clients who are mostly in the higher risk category as safe as possible.

$500

79

Fairview UMC / Central Maryland

Due to Covid-19, our church is in need of help to assist a family of five whom all have contracted the virus. These funds could help with some financial relief for this needy family. Also we run a food bank and can use funds to help keep our food bank up and running.

$500

80

Morgan Chapel / Central Maryland

Even before the pandemic, there has been a tremendous food insecurity problem in this region. We have a food pantry that is open 2x's a month and a pet pantry open 1x a month serving more than 70 families per month. Both are still open - as drive throughs -- and the number of families served is rising and expected to reach more than 200 families this month.

$500

81

Rehoboth UMC / Cumberland-Hagerstown

Rehoboth is firmly committed to serving the most vulnerable population in Washington County and beyond. Our long-standing relationships within the community is our greatest strength! Our congregation is entrepreneurial in our approach to missional activity, streamlining efforts and inviting as many people to serve as possible, especially those who are not part of our worshipping congregation. Our focus is to minimize waste and increase mutual engagement and support. For the past seven years, our church leaders strategically and actively engaged community leaders and businesses to give and work together. The Sonrise Cafe is a prime example, a meal and relational ministry that serves the elderly and poor with nourishing home-cooked meals. Since the pandemic, we are in the process of shifting our operation to deliver food to two low income senior communities in Williamsport (66 residents), City Hall fully supports our efforts and will advertise for us. Since we are in partnership with Maryland Food Resources, this allows us to secure proteins and ingredients for pennies on the dollar! We also share food resources and missional efforts with the following ministries or organizations: Rehoboth Learning Center (certified school for the children of essential employees), Heart to Table (frozen soup ministry (new parents, eldery, poverty) Cameo House (state residential home for mothers and children), Salvation Army Soup kitchen, Noth Point Veterans home dinner delivery, Brooke's House (women in recovery), W House (halfway house), Faith Feeding Freedom/ Immanuel House (homeless ministry in Martinsburg), Potomac Towers meal program, Williamsport Food Pantry, Micah's Backpack, DC Homeless ministry (we co- founded this mission 20 years ago). The grant would allow us to shift our operation from the church dining hall out into the community, beyond the physical location of our church building. We would purchase equipment for our kitchen that would allow is to cook more food efficiently. Currently, we are using ovens to prepare all meals but need a grill to prepare mass quantities of certain items like sausage and pancakes. We are a certified commercial catering kitchen and have county approval to prepare, cook and transport meals. The grill would give us the ability to cook more food in less time and maximize those who come to cook together. Thank you for sharing this opportunity. We truly wrestled with applying for this grant since we have received assistance from the BWCUMC but felt a sense of urgency and calling to try. We are certain that our unique position in the community and the strength of our relationships requires us to be bold in asking for support, it will allow us continue to serve the community through this time of adversity and opportunity for God's Kingdom.

$500

82

Tom's Creek UMC / Frederick

We will be purchasing and then preparing soup and bread to be given out in Taneytown MD for those in need twice a week. The church has a commercial kitchen and we will be 6 people or less to prep and package the food for distribution to any in need.

$500

83

Trinity UMC / Frederick

Trinity UMC Emmitsburg has been providing a "Community Meal" since September of 2015. We serve approximately 60-70 people from Emmitsburg and the surrounding small communities, even including some in Pennsylvania. We have received many calls from people who are hoping we can provide them with nourishment of some form during this crisis.

$500

84

Bethesda UMC / Greater Washington

We request funding for our church's "mask ministry" to help with the covid-19 virus. We are sewing cotton face masks available free to people in need. During the COVID-19 crisis, it is very important to wear a face mask, but unfortunately, well-designed face masks are in short supply. The cloth face masks that our team creates are a "hybrid design" and offer features not found in any other available cloth face mask. They come in a variety of sizes, are comfortable to wear, and provide a better fit, which makes people more likely to wear them. Our team is distributing masks to people in need: families, seniors, folks with at-risk health conditions. We've already donated dozens of masks to local hospitals and community organizations that serve the homeless.

$100

85

Mt. Vernon United Methodist Church / Greater Washington

Community feeding of hot meals, food pantry, and clothing ministry twice a week. To cover costs for supplies and beverages for hot meals served.

$500

86

St. Paul's United Methodist Church / Greater Washington

St. Paul's Hunger Ministry feeds 110+ households each month year-round in the 20895 ZIP code. We face declines in donor support (money and food pantry items) and physical distancing closures. We have shifted to sending grocery store "gift cards" by mail, enabling clients to purchase essential and perishable products.

$500

87

Bowie UMC / Washington East

Many in our community of Old Bowie do not have a free to low cost food resource within walking distance. The community is somewhat remote. We wish to extend our feeding service from 100 to 200 persons and provide persons with a balanced, nutritional meal. Persons will pick-up meals in a safe service platform.

$500

88

Christ United Methodist Church / Washington East

This would be for our Helping Hands Ministry. This ministry has been providing food and cleaning supplies for the community.

$500

89

Faith United Methodist / Washington East

It is a Food Pantry whose services are of particular importance during COVID-19. The funding would help purchase food stuffs and defray costs for the facility. The Food Pantry service up to 50 families weekly.

$500

90

La Plata UM / Washington East

Church families impacted financially during these hard times have been invited to make a confidential call to the church office to let the Pastor know that help is needed. Funds received from the micro-grant will allow financial help to be extended to those families as long as possible.

$500

91

St. John United Methodist / Washington East

Partner with East-John Youth Center and Solomons UMC to provide food for families in need during Covid19 pandemic.

$500
PWJ microgrant: Tri-city charge food pantry
PWJ microgrants: Capitol Hill UMC
PWJ microgrants: United Methodist Church of the Redeemer
PWJ microgrants: Mt. Olive UMC
Epworth Back to School 2020
Peace With Justice Micro Grants