Friday, June 19, 2020
,
8:00 AM - 10:00 AM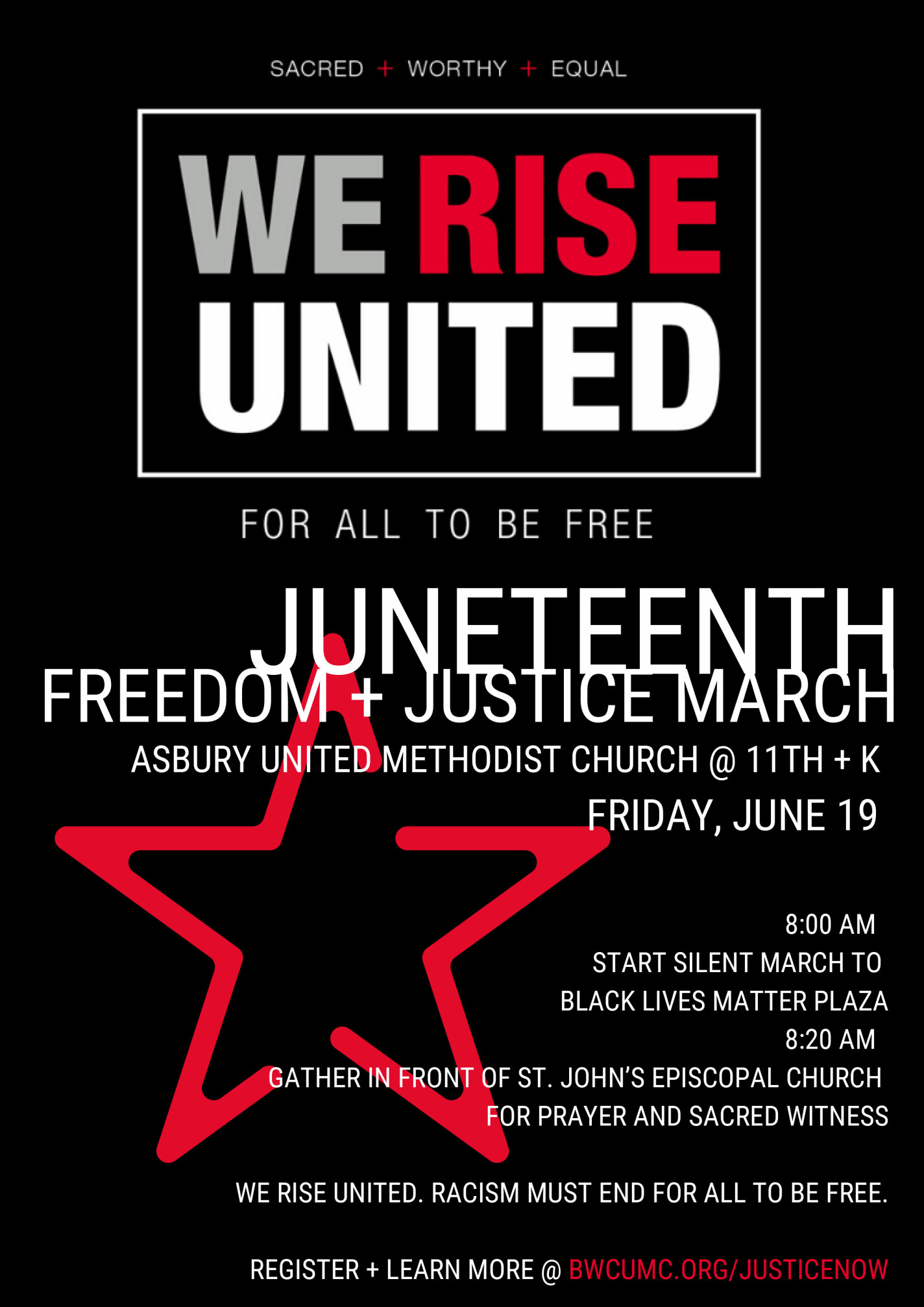 From Asbury UMC, at 926 11th St, NW, in Washington, to Black Lives Matter Plaza near St. John's Episcopal Church, we will march for freedom and justice on Friday, June 19, from 8 to 10 a.m.
Join us on the day of the oldest nationally celebrated commemoration of the ending of slavery in the United States (two and a half years after the emancipation proclamation). This is the time for the church to reflect what it means to be free, just and black in America; to unite around loosening the chains of injustice, untying the cords of the yoke and setting the oppressed free.
We will have a moment of vigil and invite people to bring prayers and signs to leave at the plaza. After the vigil, we will be sharing our demands directly with elected officials based on our faith, rooted in the Gospel of Jesus Christ and our United Methodist Social Principles and Resolutions. Come as you are most comfortable.
Clergy are asked to wear clerical collars. Please bring a water bottle and dress comfortably. To protect your health and the health of others, face masks are mandatory.
Schedule:
7:30 am Gather at Asbury UMC
7:55 am Welcome and Opening Prayer by Rev. Ianther Mills
8:00 am Start Silent March to Black Lives Matter Plaza
8:20 am Gather in front of St. John's Episcopal Church for prayer and witness
Racial Justice & Juneteenth Sacred Witness Action [FLYER]
Register for Justice NOW action events to receive updates and notifications