Thursday, November 09, 2023
,
9:00 AM - 12:30 PM
Cost: $10.00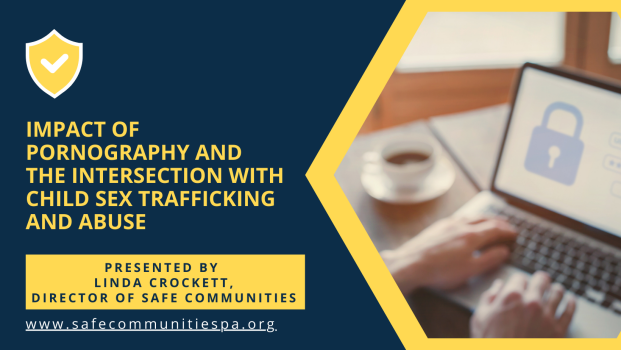 Impact of Pornography and the Intersection with Child Sex Trafficking and Abuse (Online Training)
Thursday, November 9, 2023, from 9:00 am - 12:30 pm via Zoom
Presented by Linda Crockett, Director of Safe Communities (https://www.safecommunitiespa.org/)
This workshop delves into the world of pornography and its impact on congregants, children, our communities, and ourselves. We'll discuss common types of pornography, including genres with enormous popularity reveal some astounding statistics and information on the use of porn, and look at its impact on the brain. Participants will also explore the deep connections between pornography and the growing problem of domestic child sex trafficking and child sexual abuse –in our own communities.
Prior to the workshop, registrants will be provided with links to two videos to view, material to read, and worksheets to complete prior to the workshop as follows:
A one-hour video featuring an interview with Linda Crockett, Executive Director of Safe Communities, and Pastor Mark Harris, Associate Director, who was a victim of child sex trafficking and now advocates for all survivors of child sex abuse
A brief video featuring a pastor and how his secret addiction to porn nearly destroyed his life.
This is a 3-hour virtual training, with 1-2 hours of asynchronous learning required prior to the training. Instructions for completing the pre-work will be emailed to registrants on Monday, October 23, 2023. The Zoom link will be emailed to registrants after they complete the required pre-work. Successful completion of the training qualifies for 0.5 CEUs. The cost to register is $10.00. The hard deadline to register is Friday, October 20, 2023.
Contact Hilary Ann Golden at with questions about this training.