Friday, July 26, 2019
,
10:00 AM - Sunday, July 28, 2019, 2:30 PM
Group: Staff
MissionU 2019 - J

uly 26 - July 28
The Bethesda Marriott
5151 Pooks Hill Road
Bethesda, MD 20814
Event Details:
Check in begins at 10 AM on Friday, July 26, 2019. Opening worship will begin at 12:30 PM with the first class to follow. The Mission u event will conclude around 2:30 PM on Sunday, July 28.
Adult Session
Men and women will engage in a plenary session and a workshop of their choice over the course of the event.
"Practicing Resurrection" Plenary Session. This study explores what it means to live a life of radical discipleship today using the Gospel of Mark as the foundation. This will be the plenary study.
During registration you will select one of the following two workshops:
Women United for Change: 150 Years in Mission. This study is the first in a two-year study commemorating United Methodist Women's 150th anniversary in 2019. It will provide a historical survey of United Methodist Women and its predecessor organizations.
What About Our Money? The focus of this study is both personal and communal. We will explore our own relationship with money, the money choices available to us, and how we individually and collectively respond to economic inequalities in light of our faith.
Youth Retreat
Youth experience their own mission-minded retreat during this same time including their own study of Mark, Who Do You Say I Am?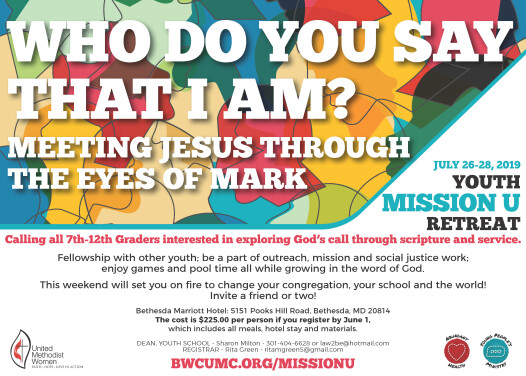 Paper registration for Adults (PDF)
Paper Registration for youth (PDF)
---
MissionU events also include:
Worship & singing
Interest Groups around current issues
Mission Projects
Audiovisual presentations
Fellowship events