AN District News.....UMC Buzz...... June 29, 2018
Posted by Willine Kamara on
A message from our Annapolis District Superintendent
Good afternoon sisters and brother of the Annapolis District,
Yesterday our district and communities were impacted by the tragic event in Annapolis. Senseless violence has clouded our thoughts and interrupted our sense of security. More importantly, families' worlds have been turned upside down with the loss of loved ones and the injuries of colleagues, friends and neighbors. We give thanks and appreciation for first responders who help to prevent further loss of life.
Let me encourage the lay and clergy of the Annapolis District to pray. Pray for healing in our communities; pray for all affected families, pray for communities of faith that will finds ways to journey with those hurting. Find concrete ways to respond to this awful tragedy imposed upon our community. Join with neighbors and friends as we join with others to mourn loss and remember lives ended too early.
Faith communities in Annapolis and the surrounding area will gather to stand with those trying to make sense of the senseless. Below you will find vigils to attend; maybe, close to you.
There will be several Prayer Vigils to honor and remember the victims:
Friday June 29 at 7:00 PM, (tonight) Annapolis houses of worship (Christian, Jewish and Muslim) will hold a prayer vigil at the Westfield Mall, Pottery Barn parking lot, across the street from the site of the shooting. All are welcome.
Lawyers Mall between 7:45 - 8pm, assemble, distribute and light the candles, divide the group into two, and walk down along both sides of Main Street to Susan Campbell Park (at the end of City Dock). Bring candles, posters, prayers, and copies of today's issue of the Capital Gazette.
Sunday Night July 1st at 7pm Calvary United Methodist Church will join with other UMC churches to hold a Prayer Service with Communion at Calvary church to honor the victims and pray for the families, first responders, our beautiful city and community
As spiritual leaders, let's us be the face, arms, and presence of Christ! I offer these comforting words to you from scripture, "Peace, I leave with you, my peace I give you: I do not give to you as the world gives. Do not let your hearts be troubled and do not be afraid." (John 14:27 NIV)
Grace through Christ!
Rev. Dr Evan D. Young
Annapolis District Superintendent
Baltimore Washington Conference
Of The United Methodist Church
Message from our Bishop on the Annapolis Tragedy
The bishop also released a statement regarding the unfortunate turn of events that happened in Annapolis. To access that statement please click here.
Prayers of the People
We continue to pray for all the pastors and families who are in the midst of moving this week (or who have already moved) to new appointments, and for the congregations who are bidding adieu and saying hello to new pastors as well. This includes our newest class of clergy retirees, who this year represented more than 695 years of service. Well done, thou good and faithful servant. (Click here for a list of new 2018 appointments.)
School of Congregational Development Aug. 17 and 18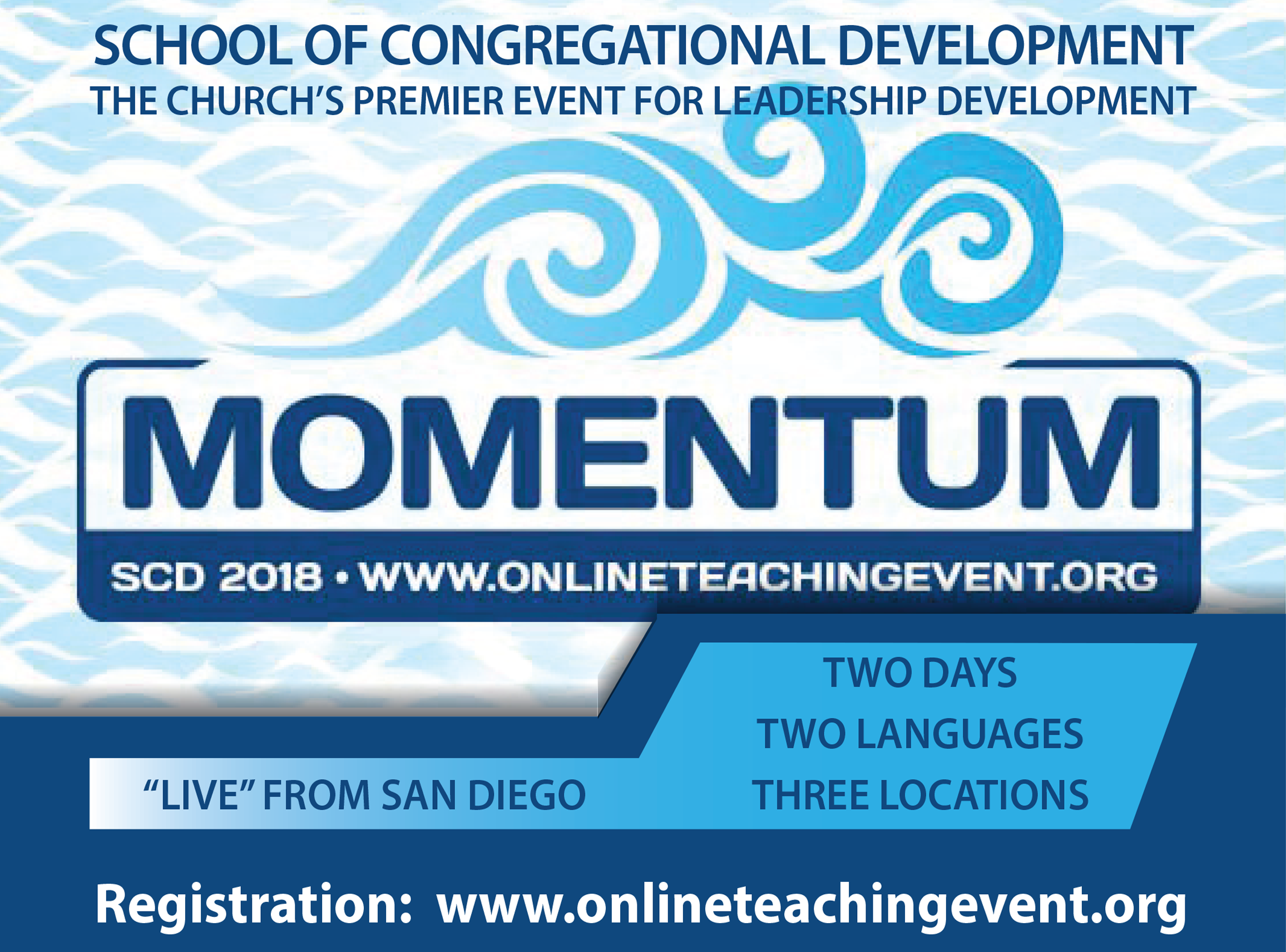 The 2018 School of Congregational Development is the church's premier event for leadership development. This August, you can see it online at three locations as it is broadcast live from San Diego, Ca.
Friday, August 17, Spanish Only-- 7 p.m. to $10 p.m. $10 per person
Presenter: Pastor Alejandro Alfaro-Santiz
BWC Mission Center- 11711 East Market Place in Fulton
Saturday, August 18, English Only -- 11:30 a.m. to 4:30 p.m. -- $29 per person (includes lunch)
Presenters: Genevieve Cavil-Harris, Cedrick Bridgeforth, Larry Hygh, Lynda Byrd.
BWC Mission Center - 11711 East Market Place in Fulton
Gethsemane UMC - 910 Addison Rd S., in Capitol Heights
Hopewell UMC - 3600 Level Village Road in Havre de Grace
Register at http://www.onlineteachingevent.org/
If you are a leader -- clergy or lay -- you won't want to miss this opportunity to discover innovative ways to create vital, dynamic, life-changing congregations. Join with hundreds of fellow Christians, friends, colleagues and past participants in this unique way to learn what is new, what's working, how to empower your leadership team.
For more information contact Jo Chesson.
Latest News and Information
New This Week
Are you interested or passionate in the future of Young People's Ministry within the BWC? Now is the time to let your voice be heard! As we realign our ministries for young people, we are seeking feedback and input from our local churches and young people themselves. We are collecting data through a survey that will be open until July 15 and inviting people to register and participate in one of three focus groups in September. The data collected will be used to create a strategic plan for Young People's Ministry within the BWC. For questions or additional information, please contact Cheryl Cook .
Combined worship service: Sollers UMC, 1219 Wrighton Road in Lothian, will host a combined worship service July 1, at 9 a.m., with St. Matthews UMC, Shadyside. A cookout-style feast will follow. More information at 202-388-1945.
Mt. Zion Magothy UMC will hold a Comedy Show on Friday, July 6, starting at 7 p.m., featuring Ms. Maybell and Friends, with special guest, Minister Grace Brooks. For tickets and more information, call 240-355-9875.
Continuing Highlights
Social Principles 2020: As the United Methodist Social Principles are revised, Board of Church and Society leaders are calling for United Methodists to weigh in on the content. The deadline for submitting comments is Aug. 31. Responses will be collected and may influence the final draft submitted to General Conference. Read more.
The newly revised Baltimore-Washington Conference Policy Manual is now available online.
Request: The Northeast Cooperative Parish is looking for any church who had a VBS using Rolling River Rampage theme before August that would be willing to pass on any props/flats, puppets etc. If you have any information or supplies, please contact Pastor Rick Oursler at .
AN CLERGY INTERVIEWS
All Annapolis District Clergy, please note that an email has been sent out regarding 2018 Clergy Interviews. Please note the DS would like to meet with all Clergy and newly appointed Clergy to the Annapolis District this fall. Slots will fill quickly, so please make sure to pick your interview date and time today. A huge thank you for all of the churches in the Annapolis District that assisted and/or considered hosting clergy interviews this 2018.
Church Conference Training's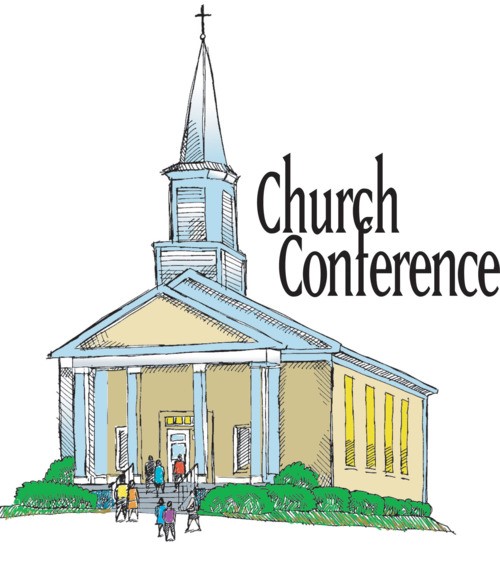 2018 Church Conference training's will be held on August 21, 2018 at Franklin UMC, August 23, 2018 at First: Laurel UMC, and August 29, 2018 at Pasadena UMC. There will be two training's held at each location. The first training is scheduled from 10:00 a.m. to 12:00 noon, and the second training is from 4:30 p.m. to 6:30 p.m. We encourage churches to send at least two representatives as we will provide a tutorial on the updated platform scheduled to launch on July 16, 2018.
Please note that the training's are free of charge and we are encouraging all churches to send their administrators and/or persons that assist with the completion and submittal of documents. To RSVP/Register please visit the Baltimore Washington Conference website or click here.
If you have any questions, feel free to contact your Annapolis District Administrator, Willine Kamara at .
Classifieds
Free piano: Chevy Chase UMC has a baby grand piano that is available to anyone who may want it. All they need to do is make arrangements to move it. Contact the church office at 301-652-8700, or e-mail .
Free to a good home: complete three octave set of Malmark English Handbells, with accessories. These bells, which haven't been played in 15 years or more, need to be completely refurbished, but that will be cheaper than buying new. Contact Jean Weller at for more.
Free: Mahogany upright piano to anyone who is willing to move at their expense. Call Sollers UMC 410-741-1772, or Shelia Smith at 410-741-1152.
Asbury Town Neck UMC is looking for an experienced part-time custodial/maintenance employee to maintain its facilities. Major responsibilities include: cleaning, light maintenance and basic handyman skills, setting up/breaking down chairs and tables for events, safety and security of the building. Twenty hours per week. The pay is $13.50 - $15 per hour commensurate on experience. Candidate will be subject to a background check. Submit resumes to .