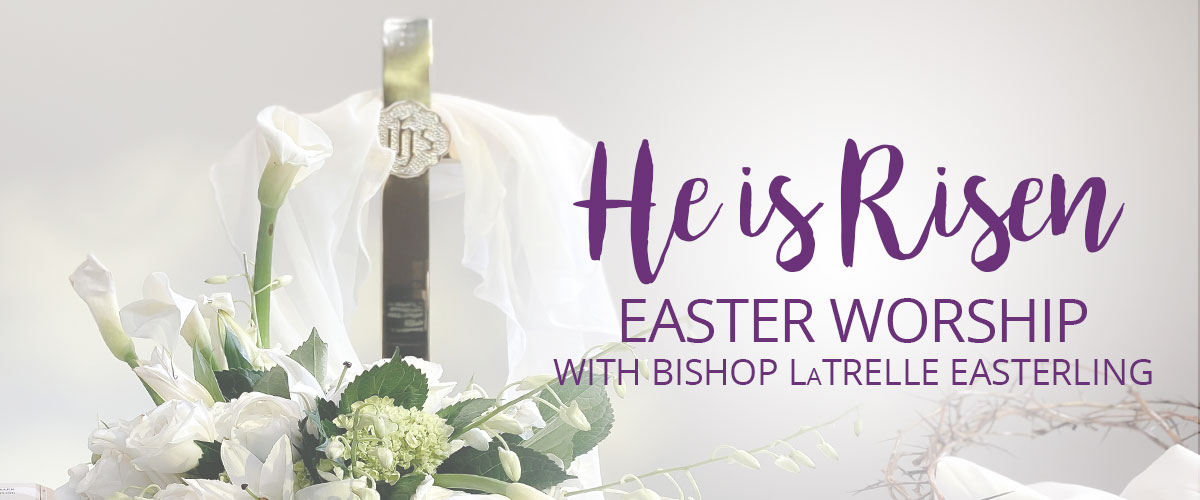 04.08.20
An Easter Sunday worship service will be broadcast on YouTube on Sunday, April 12, at 11 a.m. Please share this link with your friends, family, and congregation: https://www.youtube.com/watch?v=zp65TI6ub3k&feature=youtu.be
In this time of the coronavirus pandemic, we gather as Easter people, united as one, and declare, "Christ is risen, Christ is risen, indeed!"
Order of Worship
A WELCOME MESSAGE: Bishop LaTrelle Easterling
PRELUDE: "Lento" from Airs for Trumpet by Georg Philipp Telemann
CALL TO WORSHIP: Frederick Douglas Powe, III, Rev. Sherri Wood-Powe, Rev. Kyle Durbin
OPENING HYMN: "Christ The Lord Is Risen Today"
OPENING PRAYER: Rev. Kyle Durbin
SPECIAL MUSIC: Revelation 19, BWC Choral Trio with Keys and Drums
PRAYER FOR ILLUMINATION: Rev. Sherri Wood-Powe
SCRIPTURE: Matthew 28:1-10 (CEB)
Rev. Sherri Wood-Powe, Rev. Kyle Durbin, Frederick Douglas Powe, III
SERMON: "Faith Greater Than Our Fear," Bishop LaTrelle Easterling
HYMN OF RESPONSE: "Give Me Jesus," Kehembe V. Eichelberger
OFFERTORY MESSAGE AND HYMN: Rev. Sherri Wood-Powe
"It is Well With My Soul," David Wise and the TenTwoSix Music Group
PRAYERS OF THE PEOPLE: Christie Latona
*** A Moment for Silent Prayer***
CLOSING HYMN: "HE LIVES," UMH310, BWC Choral Trio with Organ
BENEDICTION: Bishop LaTrelle Easterling
POSTLUDE: "Hallelujah Chorus," from Messiah by George Fridrich Handel, Severna Park UMC Choir, Organ & Chamber Orchestra
Worship Resources
Music
We have provided links to the hymns and spirituals that were sung. You have permission to use these as you wish with proper citation.
Christ The Lord Is Risen Today | Revelation 19 | Give Me Jesus | He Lives | Hallelujah Chorus
easter Candle
On this Easter and in the season ahead, we invite you to create a sacred space and moment in your home by lighting a candle.
Thank you:
We offer our thanks for the ministries of Rev. Kyle Durbin and Rev. Sherri Wood-Powe, worship team leaders; Myca Jones, videographer; Rev. Andre R. Briscoe, Jr., and Chris Dillard, musical directors; Richard Demy, sound engineer; Clint Murray, Severna Park UMC Director of AV; Olivia Gross, altar designer; and Alison Burdett, graphic artist.
And our musicians:
BWC Choral Trio: Kehembe Eichelberger, Holley Phillips, Christopher Dillard
Brian Sanders, Trumpet
Andre R. Briscoe, Jr., Organ and Keyboard
Nicola Patterson, Organ
Gerald White, Jr., Percussion
The Baltimore Brass Quintet
Severna Park United Methodist Church Choir