Appendix B: Going Deeper
Additional Preparation Resources
Depending upon your experience with the content of this study, you may want to include or replace core preparation items with one or more of the following. These are a mix of resources from different sources that we think will provide interesting perspectives for your discussion and continued exploration of these topics and material. Including these resources here is not a blanket endorsement of the individuals featured. We share these as part of a continued invitation to reflect.
Session 1 Session 2 Session 3 Session 4 Session 5 Session 6
Session 1:
Session 2:
Session 3:
Session 4:
Watch this animation documentary by Mark Lopez's "Segregated By Design" as it reveals the unspoken history of how federal, state, and local governments unconstitutionally segregated major metropolitan areas in the US through law and policy. The documentary is based on the tremendous book, "The Color of Law: A Forgotten History of How Our Government Segregated America" by Richard Rothstein. (17 min)
"A History of Microfinance" with Muhammad Yunus illustrates microlending and micro-credit has made a world of difference in the lives of families living in poverty. (23 min)
Session 5:
Watch "Everyone Counts: Accessing Health Care and Addressing Health Disparities in a COVID-19 Era" hosted by the Baltimore-Washington Conference and featuring Dr. Lisa Cooper and Dr. Chidinma Ibe who discuss the health disparities and marginalized communities. (60 min)
Bryan Stevenson, who founded the Equal Justice Initiative shares some hard truths about America's justice system, starting with a massive imbalance along racial lines: a third of the country's African-American male population has been incarcerated at some point in their lives. These issues are wrapped up in U.S unexamined history. "We need to talk about an injustice." (23 min)
Session 6:
Additional Antiracism Resources:
Click below to see a guide to the BWC's Racial Justice Resources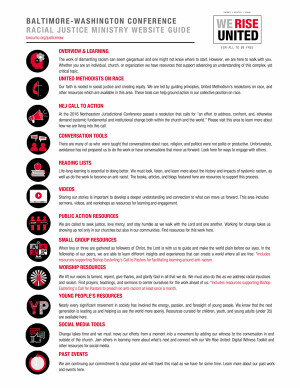 Visit the BWC's Racial Justice page for hundreds of additional antiracism resources.