Youth connect with Christ in the first WAVE
Posted by on
By Melissa Lauber
WAVE 2022, an online experience for youth, debuted Jan. 7-8, with preaching, music, conversation, teaching, and the enthusiasm of young people spread out, individually and in large and small groups, across the Baltimore-Washington and Peninsula-Delaware Conferences.
Bishop LaTrelle Easterling praised the youth for taking leadership in creating the first joint event between the two newly affiliated annual conferences. "You are leading us," she said. "Thank you for modeling that it can be done and for being mature disciples. I'm excited and encouraged by you."
At the last minute, the experience was moved online from the Convention Center in Ocean City as a precaution against the spread of COVID.
Things were "different and yet the same," said Becki Price, who led the event planning in the BWC. "The focus was still providing youth with an opportunity to start or deepen their relationship with God through Jesus Christ. … I'm always excited by the depth of faith the youth bring to the planning and execution of the event. They always amaze me with the mature, creative ways they approach the event."
"I would add," said Carl Saimans, the event director for the Pen-Del Conference, "that I am always impressed with the unquestioning willingness with which the youth step up in any situation to do what is needed for the success of the event. It is such a pleasure to see them work and worship with abandon. I wish we could all be so devoted to God and his work."
One of the highlights of the event was a conversation with Bishop Easterling, this area's episcopal leader, who answered questions from the youth about herself, her faith, and her life as a bishop.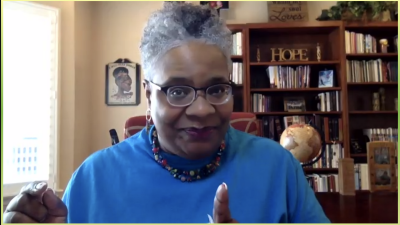 The questions were both deep and light-hearted. One youth asked what advice she has for teens dealing with the pandemic. "You are living through a pandemic the likes of which none of us has seen in our lifetime," she said. "You are phenomenal in the ways you've pivoted and adjusted. You've continued to be adaptive and not let this overwhelm you."
"However," she cautioned, "when it does get overwhelming, you need to speak up and let somebody know. Even if a situation can't be changed, voice it. Speak your truth and be nimble, flexible, and adaptable. This thing is changing daily. It's okay to say, ' I'm mad about it.' Don't be afraid to tell your truth. Together, we have to continue to muster the fortitude to make the best of the situation that we can."
The bishop also shared some insights into her life. She loves to watch footfall, likes bowling, pizza, reading, and watching Law and Order and Schitt's Creek on television. She has two adult sons, three cats, is married, and grew up in Indiana with two loving parents who grounded her, her brother, and two sisters in the love of God. She attended law school. If she wasn't a bishop, she said, she might be a White House correspondent or an attorney.
The bishop shared how she lost her father, who died when she was 17. As a result, she said, she still doesn't like saying goodbyes and has learned the importance of not taking people in her life for granted.
When asked about the challenges she faced as a teen, Bishop Easterling shared about the times when she did not feel accepted. "We're wired for relationship," she said. "Everyone wonders, where do I fit in? If you don't fit in with the 'in-crowd,' you have to wrestle with why not." The important thing, she said, "is to be able to understand who you are, to walk in your personhood and to be able to love yourself. Even when some folks are mean, you have to be able to do that hard work," she said.
She also encouraged the youth to keep asking questions, especially about faith. "We don't let people ask enough questions about faith," she said. "I would rather have more questions than answers. The sin of certitude is one we need to repent of."
The youth also asked about her biggest hope for the UMC, which is undergoing challenges and disagreements over a number of issues. "That's a big question," she said. For me, the church needs to get beyond this issue of human sexuality, which we've been grappling with, and been mired in, since 1972. We may not be able to arrive at a place of complete agreement. But, hopefully, we can get to a place of mutual respect, understanding, and discipleship so that we can then spend our resources, our time, talent, and tithes being the agents of transformation that we're called to be to the world. "
"So many folks hunger to know what it is to be loved," the bishop said. "The message of how God loves us still needs to be offered in a world that sometimes feels like it's growing darker by the day." She called on the youth to "be a holy presence, to be light, to be salt to the world."
The theme of WAVE was "Find your Piece," based on 1 Peter 5:7, "Cast all your anxiety on God because God cares for you."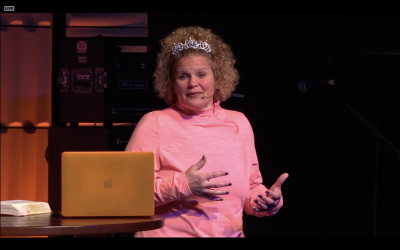 The keynote speaker, Heather Flies, a youth pastor from Minnesota, shared some thoughts on anxiety with the youth and explained that most people address their anxieties by trying to excel or gain attention in one of three areas: performance, appearance, or relationships.
"Anxiety can often make us feel like we're distant from God," Flies said. "When that happens, it can feel like God's not there, or that God doesn't care about us. We feel Iike something's missing, or not right, in our lives and it's human nature to try to make things right."
But, Flies told the group, "there's a different way to live – we can seek out our identity in Jesus Christ, and we find who we are in who he is."
Imagine we have a foundation to stand on that keeps us secure and grounded, Flies said. "Trouble comes when we put our trust in a foundation that's built on performance, appearance, or reputation. But when we stand on who Jesus is and what he believes about us, we will not crumble."
"The God of the universe delights in you," Flies told the youth. "Do you believe it? Is that your foundation?"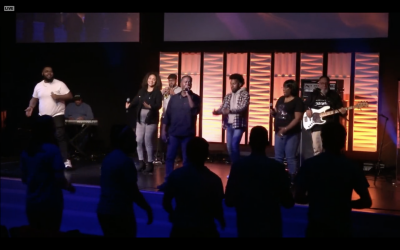 During the two-day event, the youth also worshipped with the band Urban Street Level and participated in workshops on good mental health and on human trafficking.
With the first WAVE a success, people are already beginning to look to next year. "There's plenty of opportunities to get involved in the planning and development of youth events," Price said. "We want to hear your voice!. Please contact us at to find out how to get involved. God willing, WAVE 23 will be back in person."