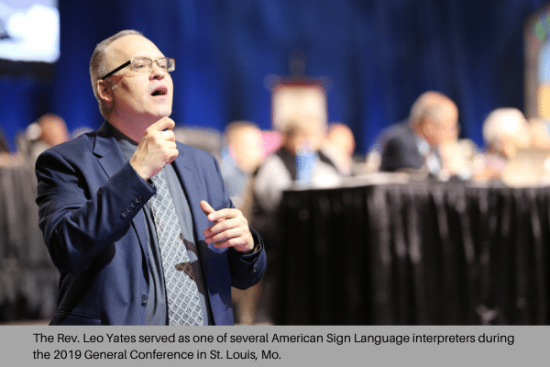 Touch the back of your hand to your nose. Now, open and close it.
That's it… keep going. A little bit faster… try not to laugh if you're looking at yourself in the mirror.
You've just said, "Rudolph the Red-Nosed Reindeer" in American Sign Language.
That was just one of the joyful signs shared by the Rev. Leo Yates on Dec. 5, as he taught American Sign Language (ASL) for the holidays. By the end of the 60-minute session, participants were able to sign the Christmas carol, "O Come, All Ye Faithful."
Cindy Blair, a member of Magothy UMC of the Deaf, assisted Yates in teaching the words. Blair, who is Deaf, is Yates' sister-in-law.
"Raising Deaf awareness and encouraging accessibility was my main motivation (for this training)," Yates said. "This hasn't been done before and with the way this year has been for many folks, we need to infuse more grace in our work."
Yates, a Deacon, serves at Emmanuel UMC in Laurel. The training, he said, is associated with the church's sign language tutoring group.
"It's something I do with the church each month and with a nearby assisted living facility (via Zoom). For sure, I wanted to bring some holiday cheer."
ASL is Yates' first language; both his parents were Deaf. "This work, I feel, connects me with my Deaf parents. They used to teach classes before. Plus, it raises Deaf awareness at the church and the extended community."
Other words and phrases that Blair and Yates taught included elf, cookie, Santa, Hanukkah, Kwanza, Christmas tree, the Three Wise Men, Mary, Joseph, baby Jesus, angels, shepherds, and more.
Here's another one: tap your chest a few times. Now shape your hand into a letter "C" and hold it just in front of your chest and move it up to the left/right. That's "Merry (or happy) Christmas."
Yates said that American Sign Language traces its roots to Thomas Gallaudet, born on Dec. 10, 1787. Gallaudet noticed his neighbor, Alice, was staying home and not going to school. He learned that she stayed home because she was Deaf.
"Thomas felt it on his heart to start a Deaf education system," Yates said. "Alice's dad paid for him to go back to England and learn how."
At that time, however, there was still some animosity between the two countries and, according to Gallaudet University's website, young Thomas couldn't pay the fees to learn from British teachers. However, while in England he met Abbe Sicard, the director of the Institut Royal des Sourds-Muets in Paris, France, and two of his faculty members, Laurent Clerc and Jean Massieu, both highly educated graduates of the school.
Gallaudet accompanied them back to France to learn more from them there, according to the school's website. "Recognizing that he still wasn't ready to set up a school on his own, he called upon Clerc to accompany him back to America," the website notes. "On the way back, Clerc taught Thomas sign language and Thomas taught Clerc English, and together they established the American School for the Deaf in 1817."
That French version of sign language eventually morphed into ASL, said Yates.
Gallaudet later married one of the graduates of the school, Sophia Fowler, and they had eight children. The youngest child was named Edward Miner Gallaudet. At the age of 20, Edward Miner Gallaudet journeyed to Washington, D.C., to run a school for Deaf children there. Seven years later, in 1864, President Abraham Lincoln signed the charter to establish a national college for Deaf students. Gallaudet University is named in honor of Edward's father, Thomas Hopkins Gallaudet.
Yates will be offering an encore presentation on Saturday, Dec. 19. at 10 a.m. Use this Zoom link. Yates said that people may reach out to him if they have questions or need some assistance with this or want something special for one of their upcoming recorded services.
Watch a video of Yates teaching and signing, "O Come, All Ye Faithful," at https://www.youtube.com/watch?v=zzmtnmYIjvQ&feature=youtu.be
Other videos:
Learn to sign: "Jingle Bells" https://www.youtube.com/watch?v=0zokfyH0CYk
To enjoy: "The Christmas Song" https://www.youtube.com/watch?v=DlG1nmVBwlU