Wesley Seminary students attend second presidential debate
Posted by Erik Alsgaard on
By Erik Alsgaard
UMConnection Staff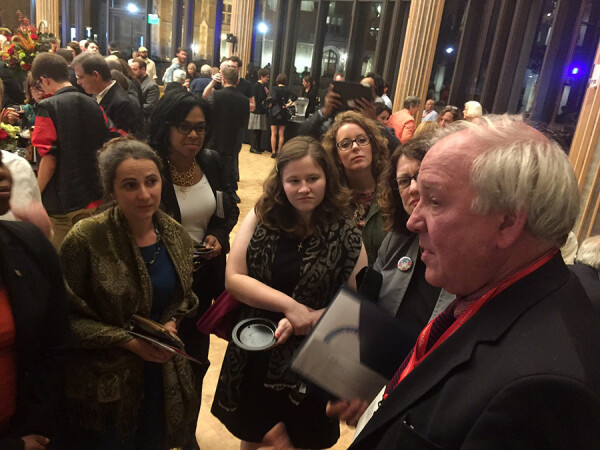 Prof. Mike McCurry, right, greets students from Wesley Theological Seminary after the Danforth Dialogues Oct. 8 on the Campus of Washington University in St. Louis. A group of students from the seminary attended the second Presidential Debate as part of a class taught by McCurry, who is also a co-chair of the Commission on Presidential Debates. Photo by Erik Alsgaard.
ST. LOUIS – A group of students from Wesley Theological Seminary had the opportunity of a lifetime Oct. 9 when they attended the second presidential debate of 2016, held here. The debate, between Republican nominee for president Donald Trump and Democratic nominee Hillary Clinton, took place on the campus of Washington University in St. Louis.
The students attended as part of the class, "Religion and the American Presidency," taught by Mike McCurry, Distinguished Professor of Public Theology at Wesley, and one of the co-chairs of the Commission on Presidential Debates.
This new blended course from the Center for Public Theology, part of the Institute for Community Engagement at Wesley, is one of the many ways the Center is creating programming and events that examine ways that faith traditions impact policy and politics, said Sheila George, director of communications and marketing at the seminary.
Students, who attended at their own expense, said that this was the first presidential debate they had attended.
Bantie Brownell-Forschner said she appreciated having the experience.
"I thank Professor McCurry for giving us the opportunity to attend," she said after the debate. For her, watching the debate in person was difficult.
"It was painful to actually listen to Donald Trump in person," she said, "because when I've watched previous debates on television, I can turn it off or go into another room."
Others echoed Brownell-Forschner's comment about watching live an event that was made for television.
Lauren Bennett, who had never been to St. Louis before nor attended a debate, said that she didn't necessarily see herself as a political person. "I've never really considered religion and politics before coming to Wesley," she said. "It's been an interesting journey to consider how those two intersect."
Like Brownell-Forschner, Bennett also enjoyed the Danforth Dialogues, held on Saturday, Oct. 8, at Graham Chapel. Those conversations, moderated by NPR's Krista Tippett, featured time with noted columnists E.J. Dionne of the Washington Post, and David Brooks of the New York Times, talking about the intersection of faith and politics.
"It was interesting to come into this space (the arena where the debates were held) with that framework in mind," Bennett said after the debate. "Yesterday, we were talking about our democracy being unique because it was founded on these different beliefs coming together. And then to come here and watch each candidate bash each other repeatedly… it was difficult."
Bennett said that the trip to the debate has taught her that progress takes intentional listening and the imagination to place yourself in an other's situation to "consider their position from their point of view before making your own decision."
Brad Kenn said that the experience had been educational for him.
"We definitely have the separation of church and state," he said, "but I think what's interesting is that it's not 'church from state,' or 'state from church.' I think politics has always played a role in religion and vice versa."
Kenn said that if people fail to examine the roles these two institutions play in and with each other, it is detrimental to the country. He also said that the weekend re-confirmed, for him, the need to vote with a moral conscience.
"I wish we had better rhetoric from both sides," he said. "I know that a lot of my friends are disappointed in this election; they don't feel like they're represented by either party. That concerns me that a larger percentage of people feel like they're left out."
Laurel Fraser said she could feel the tension in the arena when she got to her seat, and how much stress and anxiety she was experiencing before the debate started.
"Hearing words of hate and mud-slinging during the debate, and hearing words of anger, was really unsettling for a person of faith," she said, "to feel like we were in this hopeless mess, and that was a dynamic I wasn't expecting."
She said that sitting at home, watching the previous debate, was a different experience.
"You can kind of relax, tune in and out," Fraser said. "But here, I was in the middle of hearing all of these really distressing words. The only thing that kind of helped me come back to the present and realize that I am here, in this historic moment and that I should enjoy it, is the idea that whatever comes from this election, there will be people who continue to talk about these issues. As a person of faith, I can only hope and pray that people will start to care for each other and for making that anger go away."
Sarah Montgomery said the weekend, for her, was exciting but also nerve-wracking. She, too, confessed to a feeling of anxiety.
"But also some moments of calm in between," she said after the debate, "because there's this feeling like you're not alone in those feelings."
Montgomery said the anxiety stemmed from the many different issues facing the country and the lack of communication, "or willingness to listen and really wrestle with somebody else's views."
Learning to listen and not dismissing people because you disagree with them are two important lessons Montgomery said she experienced on the trip, and that they will have an impact on her ministry in the future.
"I think it (the experience of the weekend) makes one empathetic," she said, "because you're sitting there, tonight, thinking 'There's no way someone can vote for the candidate I don't like,' and then you get people clapping and cheering for them and you're like, 'Wow, there are people out there who really believe this.'"