We mourn the death of Bishop Yeakel
Posted by on
Bish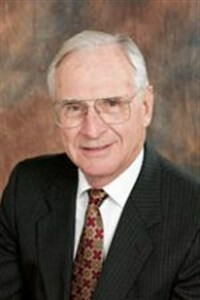 op Joseph Hughes Yeakel, who served as the episcopal leader of the Baltimore-Washington Conference from 1984 to 1996, died July 4 at the age of 93 at the Danbury Woods Senior Living Center in Wooster, Ohio. . The prayers of the Baltimore-Washington Conference are with the family and friends of this amazing man of God who served the church with all his heart, mind, and soul. We grieve his loss and rejoice in a life superbly lived.
Bishop Yeakel entered the ministry as a pastor in the former Evangelical United Brethren Church and served as a leader when that denomination united with the Methodist Episcopal Church in 1968. He was elected to the episcopacy in 1972, serving as resident bishop of the New York West Area from 1972 to 1984, and the Washington D.C. Area from 1984 to 1996. He was president of the denomination's Council of Bishops in 1992-1993.
Bishop LaTrelle Easterling, the current bishop of the Baltimore-Washington Conference, celebrates Bishop Yeakel's commitment to his call, which was "rooted in his deep love for God and God's people. He leaves a palpable legacy within the Baltimore-Washington Conference where I have heard many stories extolling his wisdom, witness and wit," she said. "The phrase I most often hear associated with Bishop Yeakel is, "Keep the main thing, the main thing." Bishop Yeakel did so with faithfulness, humility, and generosity.
He is also remembered as being one of the finest parliamentarians in the denomination who had a vast knowledge of and appreciation for the Book of Discipline and for his efforts leading the conference through a monumental strategic planning process. Later in his ministry, he was an outspoken advocate for inclusion. Bishop Yeakel "often lamented the deep division within the church. He was committed to the unity of the church and to justice for God's people," Bishop Easterling said. "His signature was among the retired bishops who on January 31, 2011, called upon the denomination to remove the restrictive language within the Book of Discipline. "
Throughout the Baltimore-Washington Conference and beyond, clergy and laity remembered and honored Bishop Yeakel as a caring and generous leader, someone who "gave himself away for the good of the Gospel," and a man of integrity and conviction with "a brilliant mind, prophetic ministry and wide, inclusive spirit." (See a remembrance from his friend of 68-years, Rev. Wilson Shearer.) He is being lauded and remembered as "a wise and compassionate bishop of the church with a pastor's heart and wisdom reflecting the mind of Christ."
Bishop Yeakel was born in Mahanoy City, Pa on March 12, 1928. He attended Lebanon Valley College and served a tour of duty in the United States Navy Seabees.
He served as pastor of the Gardners-Mt. Victory Charge near Mt. Holly, Pa., during his senior year in college. He attended United Theological Seminary in Dayton, Ohio (M.Div.), serving as a student assistant pastor at the Euclid Avenue EUB Church in Dayton.
He became a member of the Central Pennsylvania Annual Conference of the former Evangelical United Brethren Church as a probationary member and was ordained an elder by Bishop George Edward Epp. He was Assistant Pastor at Otterbein Church in Hagerstown, Maryland; Pastor at Messiah Church in York, Pennsylvania; and Memorial Church in Silver Spring, Maryland.
In 1963, he was elected Assistant General Secretary of the Board of Evangelism with offices in Dayton, Ohio. In 1965 he became the General Secretary of the Board and at the time of church union in 1968, he became the General Secretary of the Board of Evangelism of The United Methodist Church.
The Northeastern Jurisdictional Conference elected him to the episcopacy in 1972. He administered the New York West Area from 1972-84, and the Washington (DC) Area from 1984-1996. He retired on August 31, 1996.
From 1972-1980 and 1988-1996 he served on the General Board of Church and Society, and as President from 1976-1980 and 1992-1996. During 1980-88 he served on the General Council on Finance and Administration, and as its President from 1984-88. He was President-Designate of the Council of Bishops from 1991-92 and President of the Council of Bishops from 1992-93.
He married Lois Josephine Shank of Waynesboro, Pa., in 1948 while he was a college student. They were married for 65 years. Lois died in 2014 at age 86.
He is survived by five children: Claudia J. McIntyre and partner Allen Kvidera, Silverthorne, CO; Dr. J. Douglas Yeakel and partner Laurie Strasburger, Leadville, CO; Joanna Y. Drushal and husband, J. Richard, Lakeville, OH; Rev. Mary Jo Yeakel, Marion, OH; and Jody Y. Kampmeier and husband, Eric, Sycamore, IL; by sister-in-law, Irene Fraver, Durham, NC; many grandchildren and great-grandchildren. All of his children were present at his bedside when he died.
A service of Faith and Memories will be held later this year. There will be no viewing as Bishop Yeakel requested his remains be donated to the Cleveland Clinic to be used for medical education and research. His cremains will be inurned in the Lakeview Columbarium at Camp Casowasco Camp and Retreat Center in Moravia, NY.
Gifts may be made in his honor to Casowasco Camp & Retreat Center. For more information, visit https://casowasco.org.
Those wishing to send condolences to his family can mail them to: Josie Drushal, 5952 Township Rd 212, Lakeville, OH 44638. E-mail correspondence may be sent to