Vital Merger creates resurrection hopes
Posted by on
By Melissa Lauber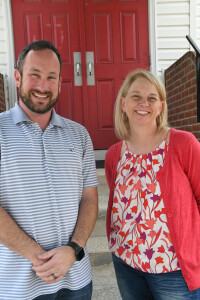 Most Christians explore, celebrate and embrace the idea of resurrection and new life. But three small congregations in Anne Arundel County are practicing resurrection – dying and coming back to life as something new and transformed.
"It's called a vital merger," explained the Rev. Bill Brown, the Director of Innovative Evangelism for the Baltimore-Washington Conference. "One church building will literally be torn down, so that something new that serves the community can be built; the other two churches have closed and a new congregation, with a new vision, will rise."
It's not for the faint of heart, Brown stressed. "An exceedingly clear vision and mission are needed." Right now, the congregations are in the Good Friday phase. Their churches disbanded. They're not worshipping or doing Bible study. They don't even have a name yet. New leaders are just beginning to gather to plan the future, which will begin in earnest in worship on Oct. 3.
But things have, in effect, begun. They began a year ago when the Rev. Ben Rigsby of Delmont and Severn UMCs was looking for the book "Legacy." One of his churches was struggling and one had, in his estimation, a few more years before they would have to begin to address decline. He wanted to provide the people with a way to live out their faith with integrity and meaning.
The book was out of stock on Amazon, so he called a colleague, Rev. Elizabeth LeMaster, whom he met briefly and served Wesley Grove UMC in nearby Hanover. LeMaster understood Rigsby's search for ways to enliven his congregations. Wesley Grove was also dealing with issues that were making her question if the church shouldn't seek a part-time pastor.
The pair immediately fell into deep reflection about the possibilities before them. Both are powerful believers in the possibilities of God, both are leaders who believe passionately in hope and grace and doing hard things in the name of the Gospel.
Rigsby came to the partnership they quickly developed with some background and knowledge of real estate; LeMaster had expertise in community service and organizing.
Rigsby had been wondering about long term-sustainability and how churches, which have substantial assets in real estate, tend to only use their buildings for a few hours a week instead of leveraging them into something grander. LeMaster was struck by Wesley Groves' successful pre-school, which drew in more than 100 families, few of whom wanted to connect with worship. The church, she thought, should be making an impact in the community. The pair began to pray.
What evolved was a dramatic vision. Wesley Grove UMC sat on two acres near Arundel Mills Mall. A real estate developer already had an easement on their property. What if they partnered with the developer, tore down the building and built a space that could house the church, a preschool, a place for families to meet and play, office space, gym, retail, and more. If community needs drove the vision of what the $2-million property could be, a very different kind of ministry center could result. It is hoped the revenue from this space will support salary and operating expenses and that tithes and offerings will go directly to mission.
They approached the neighboring developer and an enthusiastic partnership was created and the venture has begun. "Every time we hit a wall, God shows up," LeMaster said.
This new space will house a new worshipping community and outreach ministries. Rigsby, who has a passion for creation, will oversee this part of the new vital merger. While LeMaster, who values relationship and tradition, will work with the established portion of the congregation, with many of the members of the three previous churches. They will meet at Delmont UMC, in a more traditional setting.
The first significant step in this journey toward vital merger was introducing it to the congregations and getting their feedback and buy-in. Some people were excited about the plan. Some were resistant. Many recognized the potential but were reluctant about giving up the church that they cherished and that had sustained them and generations of their families.
The churches' previous pastors, the Revs. Marion Easterlng and Kathleen Lossau, had laid the groundwork for how the congregations might create legacies within their communities.
There was much conversation and much prayer and the people, even those who might have disagreed with closing their church, voted for the vital merger -- willing to let what they loved die so that something new could be born that can serve God in a new way.
One member shared with LeMaster that Wesley Grove was created by the merger of two congregations – Ridge and Friendship Methodist churches. Merging and growth were part of their tradition, she said.
Both pastors stressed that the community and its needs are at the heart of what the new church that is born will be. "We've been asking, 'does the Gospel call us to comfort or to spreading. We'd love to be a congregation that spreads the Word," Rigsby said.
"We're re-thinking what we could be called to," LeMaster said.
"Our strategy," they agreed, "is to evaluate what resources are in the community, figure out where the gaps are and how the church can come into the gaps. … We want to create a discipleship pathway that enables people to be able to live out their call to service."
To assist them in this venture, the vital merger has received a $93,152 grant from the Baltimore-Washington Conference's Unified Funding Task Force, which will provide enough money to cover one of the pastor's salaries.
Even with this aid, the path is a little daunting, but they're moving forward with enthusiasm. "My experience with God," LeMaster said, is that if you're not scared out of your mind, you're not following what God wants you to do. You have to trust God's vision." They're also, they say, "willing to accept failure is an option, and learn from it and move on."
Already, they're meeting with success. Recently, a plumber was doing some work at Rigsby's house, and he shared in a brief conversation some of what he was working on with the vital merger. "Why doesn't that exist yet," the plumber said.
When Rigsby explained that the work was ongoing the plumber responded, "well get going. I'm ready to join." Rigsby invited him to join in the creation of the new church and he has.
Along the way, both pastors admit they've met with some doubts. "You think, who are we to build this thing? This giant vision?" they said. "But then, you think, and you can feel God's answer: if you don't build it, who will?' Somebody has to do it."
Today, they said, "we're always seeking possibilities."