By Erik Alsgaard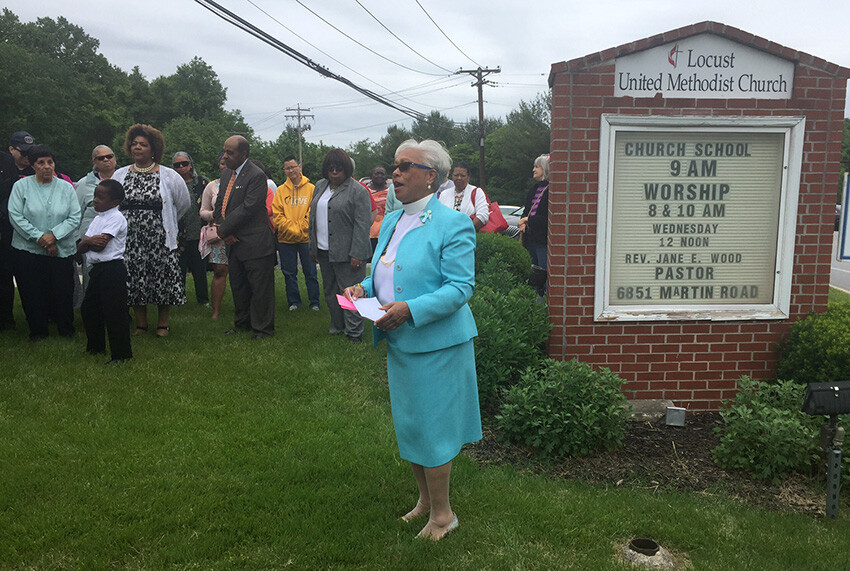 The Rev. Jane Wood leads a May 21 community prayer service in front of the church sign defaced by vandals.
During the overnight hours of Friday, May 19, someone spray painted "666" on the church sign of Locust UMC in Columbia. A person jogging by just after daylight saw the satanic symbol and alerted the church's pastor, the Rev. Jane Wood.
"They spray painted 666 in red," said Wood. "We were very disturbed by that. We didn't think that, in 2017, that that type of action – a senseless act – would happen to us at Locust."
The number "666" refers to the "beast," or anti-Christ, according to Revelation 13:17-18. A footnote in the Common English Bible states that "John uses an ancient form of numerology that involved adding together the numerical value assigned to each letter of a name." The Roman emperor at that time was Neron Kaisar (Nero), whose "numerological valued happened to be 666."
Locust is an historic church located near the intersection of highways 32 and 29 in Howard County. The area was once called "Freetown," an enclave of freed black slaves dating back to the Civil War.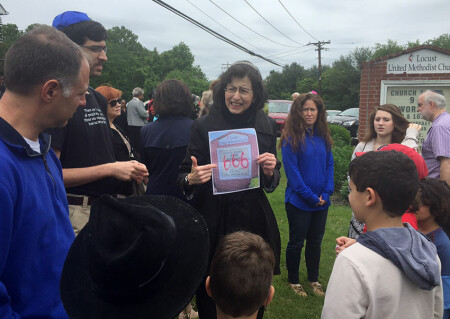 Rabbi Susan Grossman holds a photocopy of the defaced church sign at Locust UMC as children from her temple
look
on. Grossman leads the Beth Shalom congregation in Columbia, within walking distance of Locust.
Wood and other leaders called together a prayer service outside around the sign after worship on May 21. Members of the Beth Shalom congregation, along with its rabbi, Susan Grossman, and other members of the interfaith community, attended. Beth Shalom is located within walking distance of Locust.
Grossman said that in her 20 years of serving Beth Shalom, she had never seen anything like what happened at the church.
"This is so out of the ordinary," Grossman said. "Unfortunately, it is consistent with what is going on around the country, and around Howard County; there was a swastika painted recently on one of our schools."
Grossman said that she and her congregation were sorry that this happened. "We're coming together as a community to say that hate has no place here."
Beth Shalom and Locust have been in partnership for many years, said Grossman. The two congregations work together to support each other, hold classes, do children's ministry, and hold an interfaith worship service once a year.
"When people get to know each other," Grossman said, "incidents like this will be much less likely."
Wood told the prayer gathering that she was initially overwhelmed by the vandalism, but that the attendance and show of support overwhelmed her even more.
"I'm so joyful today that we've received the support of the faith community to enable us to know that no matter what faith we are, when we are the body of God, that we stand united together," Wood said. "I am grateful for the support of Glen Mar UMC and our brothers and sisters at the Unitarian Universalist Church in our community."
Seeing the damage on the sign was a momentary flashback for Wood. Her first appointment in the UMC was in Mt. Airy, at Simpson UMC. That church, she said, was vandalized by the Ku Klux Klan in the 80s.
"When I got the news, I was like, 'Not again," said Wood, but she quickly realized the damage at Locust "paled in comparison" to what the Klan had done.
Howard County police are investigation the incident, but, Wood said, they have no leads. Anyone with information on this crime can call their anonymous tip line at 410-313-STOP.