By Erik Alsgaard
"This isn't the end of racism. This is the start of the end of racism."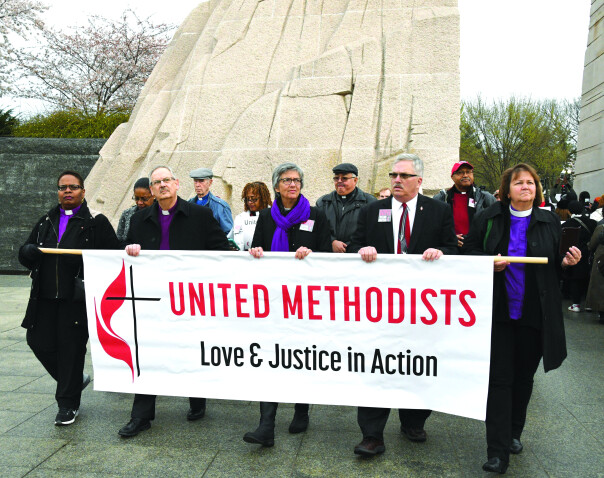 That was Jim Winkler, president and General Secretary of the National Council of the Churches of Christ in the USA, an organization with 38-member communions representing more than 45 million people. He was speaking in the shadow of the Martin Luther King Jr. Memorial, surrounded by cherry trees in full bloom, just before the "A.C.T. to End Racism" rally on April 4, the 50th anniversary of the assassination of the Rev. Dr. Martin Luther King Jr.
The NCC organized the rally on the National Mall as a continuation of the march towards racial justice, Winkler said. A long-time United Methodist, Winkler said that the rally drew the faith community of America: Jews, Muslims, Christians and more.
"They've all come together," Winkler said, "to not just commemorate the life and legacy of Dr. King and mark the 50th anniversary of his assassination, but to commit ourselves to end racism and to build our beloved community."
Along with several other United Methodist bishops, Bishop LaTrelle Easterling of the Baltimore-Washington Conference lent her presence to the cause. She said that she has a hard time using the word "celebrate" when talking about remembering King.
His death was an attempted silencing, she said, of a "trumpeter for justice. How can we celebrate those who wanted to end the work of a man who was simply asking that this country live into its creed that all people are created equal?"
Easterling, who grew up in the 1960s as a child of the Civil Rights Movement, said that King's life and ministry have greatly impacted her life and ministry. His boldness, his willingness to speak truth to power no matter the cost, have shaped her, she said.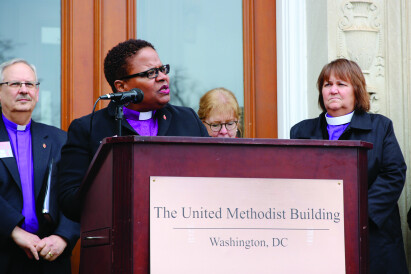 "Certainly, I hope that do we awaken to what is happening in this country," said Easterling. "In some ways, I feat that we are receding rather than progressing" one the issue of race. "The rhetoric being used in the public square and even, now, from some pulpits is very troubling. I wonder if Dr. King, if he were still alive, would wonder today if he was in time warp. I hope we awaken to what's really happening in our country before it's too late."
My prayer is that, soon, this work will become something that we talk about in the past tense," Easterling said. "That my children and my children's children will not have to gather in this place 50 years from now still fighting for full equality, full justice. It's my prayer that we will be the people we say we are: transformed by the gospel witness."
In the shadow of the rally stands Mount Vernon Place United Methodist Church. It's pastor, the Rev. Donna Claycomb-Sokol, spoke to the prayer meeting where several hundred people had gathered. Her church, she said, stands as a witness to the sin of racism and to the power of repentance.
Mount Vernon Place was founded in 1850, Claycomb-Sokol said, after a split in the then Methodist Church over slavery. "People insisted that the Southern church, the branch that believed holding people as slave was a right, needed a 'representative church' in the nation's capital," she said.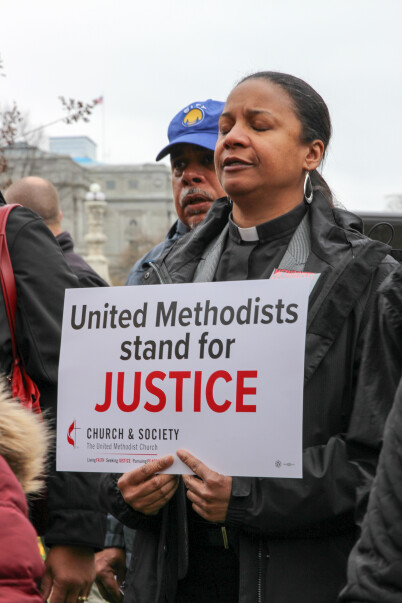 "Our grand, 1917 building was built as a monument for a denomination in which every bishop held slaves at one time," she said. "it is a building where people walk below the words, 'Methodist Episcopal Church South' as they come inside, with 'South' standing not for geography, but for split, for slavery, for sin."
Claycomb-Sokol outlined how her congregation is confronting its racist history head-on. The church, she said, has named race for what it is: "a social construct." MVP has also made their repentance public.
"If you walk past our building today, you'll read, 'We repent of our roots in white supremacy' on a banner that was hung on the 100th anniversary of the laying of our cornerstone," she said. The church held an intentional service of repentance where members of the church signed the banner.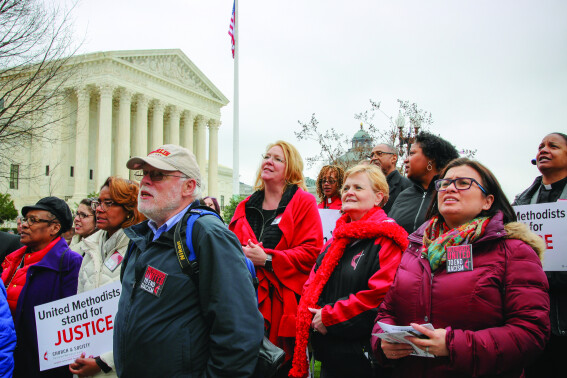 The Rev. Ken Crimmel, the Assistant to the Bishop in the West Virginia Conference, and the Director of Connectional Ministries, came to the rally because he believes in a church for all people.
"I believe all people are really God's people," he said. "It's so easy for us in our context, because West Virginia is 94 percent white, to think everything is okay; that we all get along. We really have to sometimes have this brought to our attention that there are a lot of people who don't enjoy the privilege that the majority enjoy."
Being at the rally, Crimmel added, is also part of the conference's commitment to the Call to Action resolution passed by the 2016 Northeastern Jurisdiction. That resolution calls for "an effort to address, confront, and otherwise demand systemic fundamental and institutional change both within the church and the world..."
Bishop Easterling, who also spoke and prayed on April 3 at a pre-rally prayer witness in front of the United Methodist Building, said that King was answering God's call when he was gunned down.
"He was murdered because of the color of his skin and because he had the audacity to call this nation to account," Easterling said. "We have made great strides. I love this nation, but we have so much ground yet to cover."