United Methodist Men meet to 'dare the impossible'
Posted by Erik Alsgaard on
By Erik Alsgaard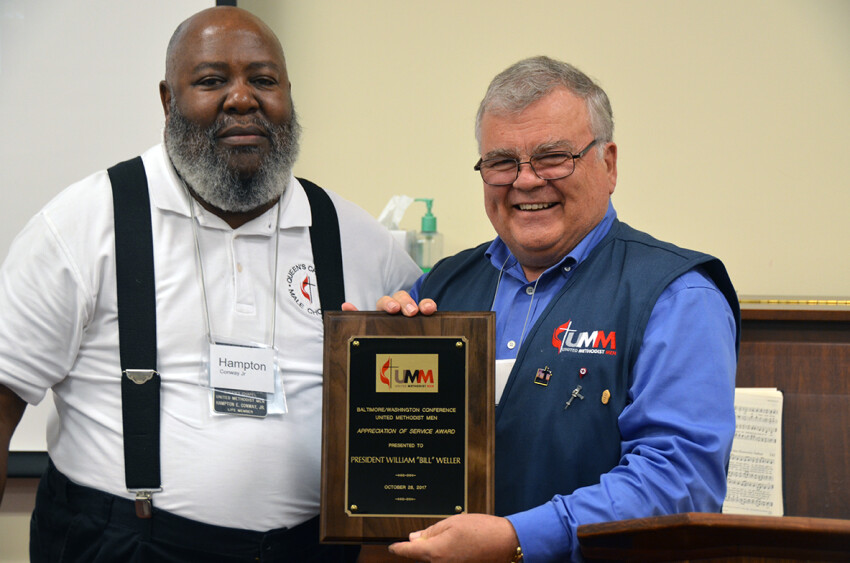 Hampton
Conway,
left, stands with Bill Weller at the UMM Annual Meeting Oct. 28. Conway is the new UMM president.
Bill Weller, the dynamic president of the Baltimore-Washington Conference's United Methodist Men for the past four years, was in his glory. He was leading his final annual meeting of the UMM Oct. 28 at the Mission Center in Fulton.
Speaker after speaker came forward to share how men are making a difference for Jesus Christ not only around the BWC, but around the world. "This reminds me of a story," he would say as they finished.
The men groaned; they knew what was coming. Weller, who is famous for his pun-filled jokes, inflicted another one on the 130 men. Camaraderie filled the room as they laughed.
The BWC's United Methodist Men is one of the most active in The United Methodist Church. With dozens of chartered men's units and hundreds of "EMS's," or "Every Man Shares" in evangelism and spiritual life, Weller said he wanted to showcase further ministry opportunities. "The impossible," he said, stating the theme for the day meant to encourage the men, "is often the untried."
Prayer is a central part of what it means to be a United Methodist Man, Weller said, so an emphasis on prayer advocacy and ministry permeated the meeting. Curtis Warren, who has been the unit's Prayer Advocate for the last 20 years, spoke of his service staffing an international prayer line, sponsored by the denomination's General Commission on United Methodist Men. Every Wednesday, he takes time to answer phone calls, listen to concerns, and offer prayer.
Hampton Conway Jr., who was elected as the new president of the BWC UMM, also volunteers on the prayer line. Every Tuesday, from 10 a.m. to noon, he said, he tries to be a blessing to God by blessing others, and he encouraged other UMM members to join him.
Conway, who is a member of one of the most active UMM units in the country at Queen's Chapel UMC in Beltsville, gave an overview of their ministry and how they minister to the church and the community. They have 66 men in the EMS program, he said; they have a budget of $36,000 per year; they were chartered in 1953; and every time they meet, "you eat."
Wade Mays, Development Associate for the Society of St. Andrews, spoke to the UMM not only about the gleaning ministry they do, but how important the BWC UMM's support is.
"You have been incredible," Mays said. "Over the last six years, the United Methodist Men of this conference have provided for more than 3.39 million servings of food." The United Methodist Men, on a denomination-wide basis, have been long-time supporters of SoSA, Mays said.
In addition, he said, the BWC UMM is in first place, as of the end of September, when it comes to giving to SoSA among all other annual conference men's groups.
The Society of St. Andrews, Mays said, helps to take food that would otherwise go to waste and serves it to the hungry. About 130 billion pounds of food goes to waste every year, he said, or enough to fill an NFL stadium from the field to the upper deck every day for a year.
"Fifty million Americans don't know where their next meal is coming from," Mays said. The SoSA mission is to glean food that would otherwise be thrown out, simply because it's the wrong color vegetable or the fruit is slightly over-ripe.
Another ministry highlighted at the meeting was Manna House, Inc., a feeding program in Baltimore. The Rev. Emora Brannan, BWC historian and long-time supporter of Manna House, spoke of how this ministry offers food, shelter, clothing, showers, case management, HIV and STD testing, and more, on a daily basis.
Incorporated in 1966 as Midtown Churches Association, they opened a soup kitchen in 1973 to assist the many community members who were knocking on church doors asking for food, according to its website. Today, they feed 200 people per day and are looking to expand. The dining room and kitchen need to be refurbished, Brannan said. He noted that the "Breakfast Club" is one option of supporting the ministry, where for $500 a church or a local UMM unit could sponsor the ministry for one day. To date, Brannan said, more than 200 churches and individuals, families and businesses, have joined the Breakfast Club.
In addition to the election of Conway as its new president, the BWC UMM also elected Ceferino Epps, a member at Olivet UMC in the Washington East district, as vice president; Riccardo Jefferson Sr., pastor of Mt. Vernon UMC in Whiteford, as secretary; Garnett Henley, a member at First UMC in Hyattsville, as treasurer; and Bryon Gould, a member at Christ Edmonson UMC and New Covenant UMC, as prayer advocate.
"I think we have built a strong foundation over these past few years," Weller said in his closing remarks as president. "Whatever you're doing – food ministry, outreach, prayer – I can't wait for all the sticks to start coming together."